Star's touch-and-go delivery
Rachel Griffiths has warned of the dangers of home birth after almost losing her youngest daughter, Clementine, now 3, in the delivery suite. Speaking about how grateful she is to have been in hospital, at Los Angeles' Cedars-Sinai Medical Centre, when the birth of her third child took its near-fatal twist in 2009, Griffiths says she is open to sharing her ''nightmare'' story as a cautionary tale for others.
''I want people who are choosing home births to know that when it goes wrong, time is not your friend,'' she tells InStyle magazine, on shelves on Monday. ''You have seconds, not minutes. There's no time to call an ambulance.''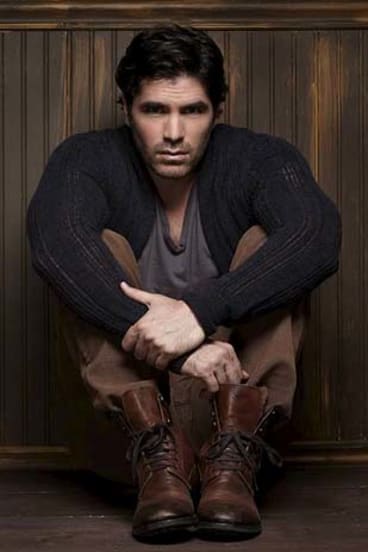 Griffiths has previously publicly thanked the hospital staff for ''saving my baby''.
The actor has relished the summer reclining on the deck of her northern beaches home with her husband, Andrew Taylor, and three children, Banjo, 9, Adelaide, 7, and Clementine after a decade in LA.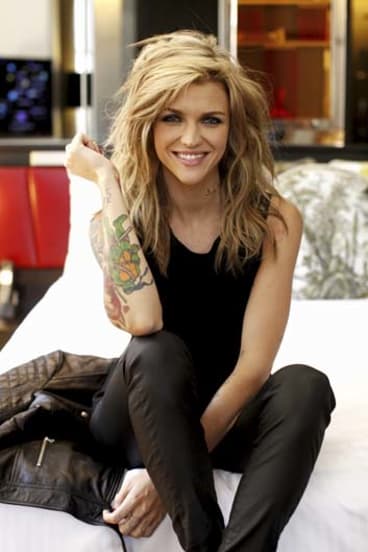 With Clementine wriggling on her lap, the Oscar nominee reveals the birth incident forced her to take stock, meaning she doesn't sweat the small stuff any more, intent on savouring her new, simpler life.
Far removed from her once-hectic Hollywood lifestyle, Griffiths is enjoying things such as catching up with her mum without the ''pressure of time - pressed between multiple appointments'', as well as the ability to meet girlfriends for a drink after work, ''which I would never do in LA''.
Clearly enjoying her time at home (''I just love being back here''), Griffiths tells the magazine she is savouring the smell of the local landscape and her kids are happier for it. ''We get mummy loving!'' Clementine says.
Griffiths, who now opts for shorter-term projects, also reveals she had to audition for her coming role as former New Idea editor Dulcie Boling in the ABC's Paper Giants: Magazine Wars, and only convinced directors by turning up in a blonde Dulcie bob, blue contact lenses and a girdle.
''[The directors] didn't see me as Dulcie. I didn't hear back from them for a long time,'' she says.
HARPER'S FAB 15
It's little wonder Harper's Bazaar editor Kellie Hush hasn't slept for weeks.
The editrix, about to jet off to Europe for the new runway season, is launching the 15th anniversary of the magazine's Australian edition on Monday with 15 different covers designed by international and local designers: Giorgio Armani, Victoria Beckham, Collette Dinnigan, Frida Giannini for Gucci, Christophe Lemaire for Hermes, Francisco Costa for Calvin Klein, Karl Lagerfeld, Alber Elbaz for Lanvin, Marc Jacobs for Louis Vuitton, Christian Louboutin, Stella McCartney (her cover is pictured above), Romance Was Born, sass & bide, Diane von Furstenberg and Carine Roitfeld.
''It's a huge risk and I had to be brave; it has been a massive three-tiered operation,'' Hush tells S of the collector's issue, done once before by Russian Bazaar.
''We had four management meetings to get it over the line and production has been expensive, there are 15 plate changes, and we had to print the cover way in advance and divide the print run by 15 and manually shuffle the magazine for each newsagency and employ extra people for that. I haven't slept in weeks!''
The easiest bit, according to Hush, was getting the designers, from Posh to Armani, on board. In fact, she had a surprising 90 per cent acceptance rate from her ''hit list'' and they all responded quickly.
''I sent a postcard from Oz and the only two who I didn't get from the initial list was Tom Ford, who is on paternity leave, and Nicolas Ghesquiere, who was about to leave Balenciaga. Giorgio Armani was the first to hand in his homework.''
Now to wait and see whether the risk pays off.
LATIN HEART-THROB RIDES WAVE OF FAITH
Mexican superstar Eduardo Verastegui is heading to Canberra, Sydney, Brisbane and Melbourne at the end of February after accepting an offer from the Australian Catholic University to talk about his ride from fame to faith.
The actor and singer - who became a Latin heart-throb in a boy band, appeared in a JLo video clip, acted opposite Modern Family's Sofia Vergara and was once linked to Ricky Martin - is now filming opposite Emily Watson and Tom Wilkinson in World War II film Little Boy.
He tells S he had a complete U-turn in his life, from Latino heart-throb to Hollywood missionary, after meeting an English voice coach who made him question the reason he wakes up in the morning and the roles he was playing.
''I realised as an actor you entertain people but you also influence how they behave, and after having a moment of awakening I made a promise that I would never use my talent to offend my faith, my family, my parents, my people,'' he says from Los Angeles. ''I promised my mother she would never have to cover her eyes watching me.
''I was searching for happiness in the wrong places, and that's when I realised it was inside of a bubble - this industry is full of ego and pride and vanity and it was killing me. I had everything in my life, but I was empty. I had nothing.''
Verastegui refused to take on roles he couldn't be proud of and didn't work for four years. ''We [Latin actors] have been stereotyped in a negative way in the media: the drug dealer, the thief, the Don Juan womaniser,'' he says. ''Very few Latinos have the opportunities to be heroes - and I don't mean Spider-Man or Superman but men who work hard with honour for his family. And women are most of the time portrayed as sex-symbol objects.''
He now also produces movies; his latest short film, Crescendo, will be shown at his series of lectures for the Australian university. ''I produced it with Justin Bieber's mother, Pattie Mallette,'' he says. ''The story is very close to her own pregnancy with Justin, about how life is not accidental, it is beautiful.''
BLONDE AMBITION
Unleashing a freshly peroxided blonde look on Friday, Ruby Rose filmed a big-budget video clip to rock icon Blondie's One Way or Another as the new face of Jag. The fashion label's ''Get Back'' campaign will be rolled out next month.
Rose, 26, the queen of the slashies (she's a DJ/actress/singer/designer/model) has recorded the Blondie track - produced by Paul Mac - for an effort to reinvigorate the faded label, which over the years has disappeared into the ''where are they now?'' files. It's a tall order Rose is ready to tackle.
''This isn't a normal ad,'' she tells S during a sneak peak on set as she donned blonde hair extensions.
''It's risky, so iconic, an honour - I'm just relieved it wasn't [Blondie hit] Heart of Glass because we would have had a problem, that would have been more daunting,'' she said.
Rose, whose Myer label Milk and Honey has folded, says she was happy to step into the ambassadorial role for Jag, with hopes to pick up her designer's pad and pen for the brand down the track.
''I did [Milk and Honey] for three years and after that I wanted a break, as much as it was a fun process. It went from being a small capsule range to an entire range of 40 items every season, and I didn't have the time and passion to commit,'' she says.
She is passionate, however, about her new role. ''The designers had me as a muse in mind when they put together the new range - it's all about the leather jackets, tight skinny-leg jeans.
''Everything in the range is so perfectly spot-on for me and the energy I go for when I'm performing and when I'm relaxed. It's like, 'dude, how did you know the perfect range?'
''I think they had such a following when they were at their peak and pinnacle as a label that, as the customer got older, they went a bit safer and it's almost like they had a hiatus, but what they need to do is to stay relevant.''
Meanwhile, Rose says she is happier out of the headlines these days, preferring Melbourne's relative anonymity. ''I've got a pet pig, I'm focused on music, I have a couple of motorbikes, I stick to myself. I love to come to Sydney for work but these days I love to read about other people now when I open the paper.''
PARDON THE EXPRESSION
Potty-mouthed My Kitchen Rules mumma Joanna Stirn, pictured right with teammate Jenna Jaede, says she is ''f---ing loving'' the experience of the competition and the fact she can ''f---ing express myself''.
''It's not like I talk to my children like that! I know it's probably controversial, but throughout the highs and lows of the competition it was just a way of expressing myself, and it comes naturally to me,'' says the 28-year-old from South Australia.
The self-proclaimed domestic goddess, who is into Nigella-esque cupcakes and chintzy, pretty things, says the Twitter trolling and social media abuse plaguing some other contestants do not rate high on her worry list.
''I don't have a lot to do with social media, it doesn't interest me or bother me,'' she told S.
As a mum, it was leaving her kids - Tony, 5, and Emilio, 3 - during the five months of filming that had her concerned. ''It was hard, so hard,'' she says of being away from home for nine weeks at a stretch.
''I remember being two days into filming and ringing my mum and crying, 'I don't know how I'm going to do this, it's only been two days'. It got easier as it went on and I became so focused on wanting to win.''
MORSELS
She may not be chomping on a croissant in Paris or strolling in New York City like Melissa George, but Kylie Gillies is enjoying her new-found friend, French bulldog Pepe. ''If it was a girl we thought about calling it Melissa … if it was a boy, George … but we settled on Pepe,'' the cheeky television host told S with trademark humour.
Aussie Tom Denniss is well on his way to creating a world record for the fastest circumnavigation of the Earth on foot, while raising money for Oxfam, by running the equivalent of 622 marathons in as many days across more than 20 countries on every continent except Antarctica. Denniss (track him at tomsnextstep.com) started at the Opera House more than a year ago with his first ''warm-up'' leg to Bondi Beach on New Year's Eve 2011. He has now completed the first three legs of the run - the length of New Zealand and across the continents of North America and South America, from the Pacific to Atlantic Oceans. After Europe, he will run briefly in Asia before starting the final leg of the journey from Perth to Sydney, which will take three months. He's due to complete his mammoth task about election time. ''The steps of the Opera House is where he commenced the run and it's also where he must finish!'' his wife, Carmel, told S via email.
Move over, Ivy Bar, The Darling Hotel is opening its pool space for events from March. While Justin Hemmes's Gatsby-esque lemon-striped venue has had the market cornered for launches and the like for the best part of a decade, the new venue will create another option for bikini-clad models and the city's most fashionable. Fashion Palette will christen the space, celebrating their fifth-birthday milestone at an invitation-only event planned for March 5.
Australian Idol winner Stan Walker usually creates headlines for his singing, but his acting is now garnering applause from New Zealand to Hollywood. Walker debuts in the Kiwi-made film Mt Zion, which grossed more on its first day than the biggest New Zealand film of all time, Boy, when it opened on Waitangi Day. The film tells the story of Turei, a young Maori musician who leaves his work as a potato picker for the chance to be the support act for Bob Marley's tour in 1979.
The last time he opened his mouth publicly he had, as some would say, a Barry Crocker when he advised men to seek out ''a small Asian female doctor'' when receiving a rectal prostate exam. So let's hope the first fella, Tim Mathieson, gets it right this time when he takes to the microphone to belt out a tune for a charity fund-raising event for The Children's Hospital at Westmead. S hears Mathieson will sing along with Jane Flemming and Maria Venuti at the function slated for April. No word on whether Julia will be clapping hands in the audience at this stage.

Jo Casamento is the Sun-Herald social columnist
Most Viewed in Entertainment
Morning & Afternoon Newsletter
Delivered Mon–Fri.