In the year since the world watched Kate Middleton glide into Westminster Abbey and emerge Catherine, Duchess of Cambridge, the wife of Britain's future king has wowed Hollywood, been named on best-dressed lists and charmed the recession-weary by sharing outfits with her mother. She divides her time between a cottage in windswept Wales, where the Royal Navy has stationed Prince William, and Kensington Palace, where an apartment is being renovated to their specifications. She smiles, rarely speaks and looks princess-perfect in a hat.
She is, with her legions of fans, saving the British monarchy.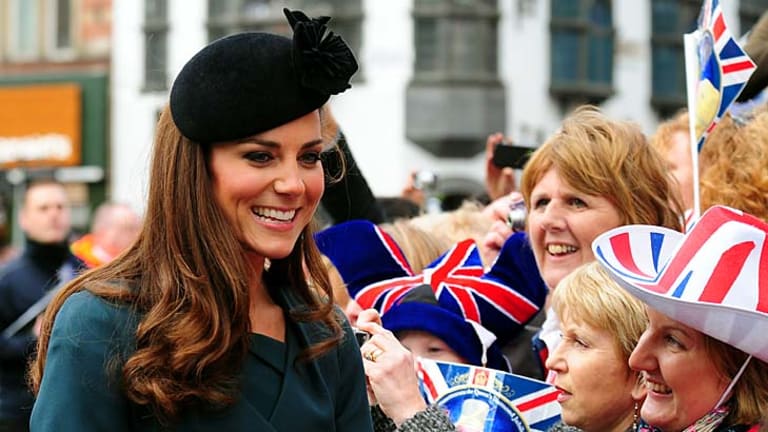 The irony is that in the year since the ''wedding of the century'', Kate has managed to surmount Britain's class system while reinforcing it. Her status as a commoner - her ancestors worked in coalmines, and her mother was a flight attendant - was a cause for criticism in media coverage during the years she and William dated. But now it has turned to Kate's advantage - and the monarchy's. Her appealing image as an ordinary woman who happened to marry a handsome prince has inspired an illusory sense of pride that the couple have levelled social distinctions in a historically class-conscious society - yet the resurgence in the royals' popularity entrenches those divisions even as Britain seeks to move past them.
In 2008, Britain's Daily Mail reported that some in society had labelled Kate and Pippa Middleton '''the wisteria sisters' - highly decorative, terribly fragrant and with a ferocious ability to climb''. The nickname suggested the question underlying many articles: could a commoner succeed as the partner of the future king? Class tension arose again and again, particularly in reports about the couple's brief split in 2007, with many speculating that the middle-class Middletons simply weren't posh enough to be royal in-laws.
The doubts about an outsider's ability to marry into the royal family were grounded in the woes of previous generations. Just two decades ago, the Windsors' future looked less than rosy. The Queen was unusually candid in a speech marking the 40th anniversary of her accession to the throne. She pronounced 1992 an ''annus horribilis'' and said it was ''not a year on which I shall look back with undiluted pleasure''. Her daughter, Princess Anne, divorced that spring; by mid-December, her sons Prince Charles and Prince Andrew had separated from their wives.
The granddaddy of royal tell-all biographies, Diana: Her True Story, incited scandal that year with its portrayal of the royal family as unwelcoming to the young Diana.
The unexpected death of Diana in 1997 and widespread public grief compounded the monarchy's turmoil. Polling by the British research company MORI for ABC News the week after Diana's fatal car accident in Paris found the Queen's favourability rating was at 30 per cent.
In November 1999 only 29 per cent of Britons told Ipsos MORI they thought their country would have a monarchy in 50 years.
The latest generation, however, was faring better. Prince William was effortlessly popular, and interest in his love life was intense. Many watching the hordes of photographers following Kate wondered about parallels with William's mother, the ''people's princess'', who, after years of courting media attention, died while trying to flee paparazzi. His girlfriend radiated a star power similar to that of the late Diana. Would she hold up better in the glare of the spotlight?
So far she has, in part because of the road paved by Diana's experience. During their engagement, William and Kate made only a few official appearances, choreographed to introduce the soon-to-be future queen in each of Britain's four territories. Middleton has been slowly acclimatised to life as a working royal: she did not appear at her first solo event until February and gave her first public speech only last month.
Those who wondered whether a commoner could handle royal life perhaps did not account for the strength that Kate's solid family background had instilled. The tight-knit Middleton clan is also tight-lipped. The family does not comment on what is written about them, even when tabloids publish photos of Kate's brother, James, in a maid costume or when her sister, Pippa, the bridesmaid who shot to worldwide fame, ruffled feathers while partying recently in Paris.
There is also the power that Kate's ordinary-girl image has in an age of austerity politics. Much has been made of efforts by the Prime Minister, David Cameron, who - was educated at Eton (like Prince William) and Oxford, to portray himself as part of the middle class. Against this backdrop, Kate wins easy points for buying clothes from chain stores and living without a butler. Kate is a rarity today: an appealing face frequently seen but hardly heard. This makes it easy for people to imprint their ideas upon her.
The palace is conscious of Kate's appeal - last April the share of Britons who thought the monarchy would be around in 50 years had risen to 56 per cent.
The Washington Post
Most Viewed in Entertainment
Morning & Afternoon Newsletter
Delivered Mon–Fri.