Circa's Carnival of the Animals comes to Canberra Theatre with gentle environmental message
Fish gotta swim, birds gotta fly – and the seven members of Circa's Company Magenta troupe swim and soar with the best of them.
In Carnival of the Animals, based on Camille Saint-Saëns's 1866 musical suite, they turn themselves into lions, elephants, swans and shoals of glittering fish.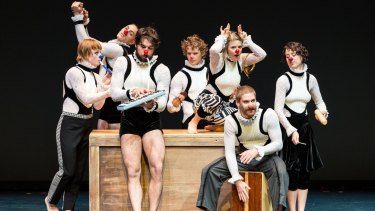 "It's a bestiary of different sorts of animals," says Yaron Lifschitz, the show's creator and Artistic Director and CEO of Circa. "The animals aren't portrayed literally. Like the music, they're an essence, a flavour of the animal. Sometimes they appear on projections, sometimes through the body, sometimes predominantly musically."
Canberra audiences know Circa's work well. In recent years, the Brisbane-based company brought to town Wunderkammer, S and Beyond – shows that combine circus with cabaret and vaudeville, surrealism and sensuality, with a raw, physical edge.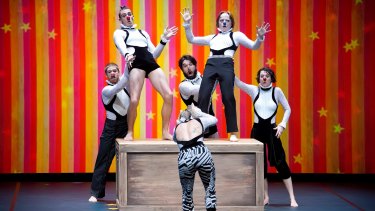 Carnival of the Animals, aimed at a young audience, is a gentler, safer show, but one that has delighted youngsters and their parents worldwide and introduced children to important issues.
"We wanted to give the piece an environmental message without banging anyone over the head with it, or being too dogmatic," Lifschitz says. "Saying there are lots of animals, that the world's a big, beautiful place, that it's full of extraordinary fauna and we need to take care of it – that's really important."
The show premiered at Brisbane's Out of the Box Festival in June 2014. Since then, it has toured around Europe, New Zealand, Canada, South America, Taiwan and Macao, while in Australia it was nominated for a Helpmann Award for Best Presentation for Children.
The red-and-white striped set looks like an old-fashioned canvas tent, but there's nothing old-fashioned about the show, which combines modern high tech video design with classic circus skills.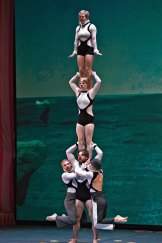 "It's an enchanting world of music, circus skills and projection animation," Lifschitz says. "It's full of beautiful circus acts from skipping and trapeze to acrobatics and hoop diving – all sorts of circus animals and all sorts of animals."
The back wall is a giant video screen, under a frieze showing some of the animals children will encounter on their tour of the world. A globe spinning in space becomes in turn the Australian outback, home to a two person-high rope-skipping kangaroo; an expanse of blue ocean, where coral islands float under a cloudless sky; and a sepia branch, on which blue and yellow butterflies emerge from their cocoons and flap in the azure. Juggling frogs ride unicycles across the screen, and an acrobat ducks to avoid being eaten by a monstrous shark swimming across the screen.
Those video designs are the work of Michaela French, a graduate of the Canberra School of Art, now lecturing and completing a Ph.D. at the Royal College of Arts, London. French based the effects on 1960s design images to give the impression of moving through a children's book.
"I wanted to recreate the feeling that I had as a child when I'd read a book and there was the sense that it might just be possible to slip into that imagined world and discover that it was real," she says.
The animals also come to life through Saint-Saëns's music. Squeaking violins bray like donkeys, and birds trill on a clarinet.
Other numbers are nods to Saint-Saëns's musical confreres. The music for the tortoises is a molasses-slow version of Jacques Offenbach's infamous can-can, a giddy whirl that has symbolised gay Paree in dozens of films.
The elephant clodhoppingly dances to once graceful music by Felix Mendelssohn and Hector Berlioz, rearranged for the ponderous double bass.
Surprisingly, the score was never published in Saint-Saëns's lifetime, because he worried he wouldn't be taken seriously. Today, it is one of his best-known and loved works.
Saint-Saëns's original suite only lasts 25 minutes. To bring it to a running length of 50 minutes, composer Quincy Grant extended the score. Two new sequences show threats that animals face both from each other and from the human world, including an ocean liner and a melting iceberg.
These segue into the 'Bones' section. While Saint-Saëns rescored some of his age's musical fossils for the brittle notes of the xylophone, Lifschitz uses it for a scene about global warming.
"The statistics about the degradation of Amazonian rainforests are appalling," he says. "Thousands of species are under threat. It's possible there won't be elephants when some of these children grow up; they just won't exist anymore. They'll be like dinosaurs."
Lifschitz also worries that classical music is under threat. "Five million Americans,' he points out, "don't listen to Leonard Bernstein talking about classical music anymore. It's not a done thing."
Lifschitz has used previous shows to reintroduce Shostakovich, Monteverdi and French Baroque music to audiences.
"One of the things we can do with the accessibility and easy engagement you get with circus," he says, "is to enlighten and reanimate some of the classical music canon."
Carnival of the Animals. Music by Camille Saint-Saëns and Quincy Grant. Directed by Yaron Lifschitz. Circa, Canberra Theatre Centre, 15 –17 September. Canberratheatrecentre.com.au or 6275 2700.
Most Viewed in Entertainment