Chaos theory
Look out - Russell Brand is coming and he's about to explode.
Holding court in his suite at the Savoy Hotel in London, Russell Brand is in his element. So much so, he reckons he belonged there all along. ''It was more of a nuisance when I didn't have all of the trappings and whatnot, because I had the same sort of personality,'' he says. ''It was ill becoming as an unemployed drug addict. So now it makes more sense.''
Brand is now part of the British establishment, and one of its best-known entertainment exports. Google the word ''Russell'' and he sits at the top of the list, above Russell Crowe. When Brand appeared as part of the closing ceremony for the London Olympics, he was clearly being given an official nod.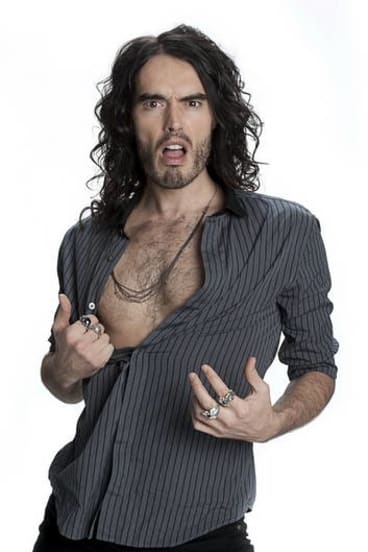 ''Yeah, it's interesting,'' the 37-year-old comedian and actor says. ''I can't tell you how close I came to saying, 'This bus is loaded with Semtex.' Because my microphone was live, you know.
''That's one of the things I talk about in the new show, my experience with sort of … what it's like to be part of the establishment. But I think that stuff's inside your head really. Inside my head I don't feel like I'm part of that.''
The past two years have been busy for Brand. A string of Hollywood movies (musical Rock of Ages, a remake of Arthur, The Tempest and comedy Get Him to the Greek), his own television show (Brand X) and top billing at arenas such as the Sydney Entertainment Centre for his comedy mark him as an elite entertainer. It is clear that despite his much-publicised divorce from singer Katy Perry, the man's career is on fire.
So what can Australian fans expect from his show I Am a Walrus when he comes here in December?
Brand launches into a spontaneous and rather startling rapid-fire Russell rave, delivered in his own charming way, which doesn't appear to involve him drawing breath at any stage: ''It's going to be absolute madness and chaos, there's going to be lots of spontaneity, lots of mayhem, the whole thing is about in fact the destruction of boundaries and how nothing's what it seems and how everything's an illusion and the only things worth being in tune with are the primal forces that govern our lives, whether they come from sexuality or spirituality. Whether they're the Bacchanalian excesses of wine drinking or whether it's hedonistic sex … it's meditation or prayer. You've got to move into the margins, you've got to get into the extremes, we've got to find ourselves on the higher planes.
''If anyone leaves that arena without having a religious experience or an orgasm, they get their money back.''
That was seemingly delivered in less than 15 seconds. But of course, as is Brand's special gift, I am not so much taken aback as charmed. He has a hypnotic and amusing way of engaging people, with a surprising humility underneath.
Brand, who is articulate in his musings and enjoys pointing out absurdities with his observational humour, says he earnestly studies the work of other comedians he admires. ''I'm a keen student of stand-up comedy - I watch it all the time,'' he says. ''I love Bill Hicks, I love Richard Pryor, I love Peter Kirk, I love Dudley Moore. Billy Connolly I just adore and I was lucky enough to work with him recently. It was f---ing amazing, it was an education, it was like being a wizard's apprentice.''
There are visions of a glamorous entourage surrounding Brand, but he reveals a rather quaint enclave of companions. ''It's my mum, the bird who does my hair and make-up, my mate Mick who drives me around, another bloke who promotes my tours, and my warm-up act Drew, he's coming to Australia with me. I'm surrounded by good people,'' Brand says.
After the huge press interest in his marriage to Katy Perry and their split 14 months later, Brand admits he is now much more guarded about whom he trusts. ''There are people in my life where I have absolute privacy, they just don't tell anyone anything, and I cherish that now.''
Of Perry, he says: ''I'm really happy with how my life is, but I feel nothing but positivity for her.''
Brand, who is a reformed heroin and sex addict and a known ladies' man, says he is still looking for true love, in his own fervent way.
''While now I think it would be nice to get married and have children, I think you've got to do that appropriately with the right person. Like really I'm just continuing a long and thorough process to find the right person/people,'' he says.
When it's suggested he's been very thorough in his search, Brand doesn't miss a beat: ''You must be fastidious and meticulous in the search for true love. No bra unclipped, no uterus untarnished.''
Women may come and go, but for Brand, paparazzi and the trappings of fame are now part of life. ''It's just the same if you're a coalminer, you get dust in your lungs … if you have fame you get photographed. It's that pain-in-the-arse component of the job. But I'm lucky I have a job that mostly I like.''
Russell Brand's high and lows
2000 Reaches the final of the Hackney Empire New Act of the Year for stand-up comedy.
2001 Scores an onscreen role with MTV in Britain, but is later sacked for dressing as Osama bin Laden.
2003 Brand, a heroin addict, alcoholic and sex addict, decides to abstain from drugs and alcohol with professional treatment. He has been clean since and describes himself as ''a vocal advocate for recovery''.
2004 Brand becomes a household name in Britain as the host of TV show Big Brother's Eforum, later known as Big Brother's Big Mouth. He stages his first solo stand-up show at the Edinburgh Festival Fringe.
2006, 2007, 2008 Named The Sun newspaper's Shagger of the Year.
2007 Brand the actor scores his first big film role in St Trinian's and a year later has his US breakthrough in Forgetting Sarah Marshall. He has followed up with Get Him to the Greek, Arthur, Rock of Ages and the voice-over lead in Hop.
2008 Brand is named host of the 25th-anniversary MTV Video Music Awards. He declares of Britney Spears's comeback: ''If there was a female Christ, it's Britney.''
2008 He resigns as a BBC radio presenter following an outcry surrounding prank calls he made with fellow broadcaster Jonathan Ross.
2010 He marries pop star Katy Perry, with the pair exchanging wedding vows at a tiger safari park in India.
2012 Brand and Perry divorce.
2012 Sings in the closing ceremony of the London Olympics, dressed as Willy Wonka atop a ''psychedelic bus''.
RUSSELL BRAND: I AM A WALRUS
December 8, Sydney Entertainment Centre.
TICKETS ticketmaster.com.au, 13 61 00, $89.90-$129.90.
TRAVEL Train, then walk, from Central or take the light rail to Paddy's Markets.
SHOW Brand's comical musings on life, love and fame.
STARS Russell Brand.

Christine Sams is an entertainment writer
Most Viewed in Entertainment
Morning & Afternoon Newsletter
Delivered Mon–Fri.