Choreographer Graeme Murphy puts an inventive twist on Swan Lake
When I was a young ballet student, one of my father's favourite, teasing questions to me was, "Do you know Swan Lake?" Whether I replied or not he would give the answer, "Well go jump in it," and then roar with laughter at his joke. More than any other ballet, Swan Lake has entered the popular imagination.
One of its best known sections, the Dance of the Little Swans, in which four female dancers link arms and perform a series of pert little steps in unison, has consistently been held up to gentle ridicule. A version of this quartet has oft been performed as a skit, usually by large, muscular men with hairy legs, wearing white tutus and pointe shoes. Even footballers have been known to teeter around the stage. Audiences are also captivated by Tchaikovsky's music and often entertain those around them by humming along (not always under their breath) to the tunes they know so well. Swan Lake is quite simply an endlessly fascinating ballet for a wide cross section of the population.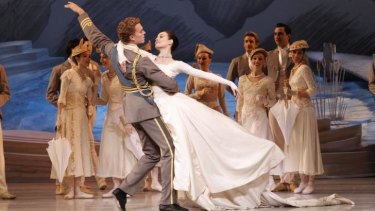 The Australian Ballet has had four versions of the full-length work in its repertoire in its 52-year history and, in fact, the company's very first performance in 1962 was of Swan Lake. Of those four versions, probably the most controversial has been one choreographed by Graeme Murphy with designs by Kristian Fredrikson – controversial, but nevertheless hugely popular, because it departs from the original storyline. The concept for this Swan Lake is jointly credited to Murphy, Fredrikson and Janet Vernon and it had its premiere in Melbourne in 2002. Since then it has had seasons across Australia and has toured to China, Japan, Britain, the United States and France. In February of this year it will have a short, return season in Sydney at the Capitol Theatre.
Murphy is undoubtedly a major Australian choreographer and all his works demonstrate his inventiveness and curiosity about people and their lives. He constantly surprises, not just choreographically but also in the way he manipulates classic stories. He repeatedly takes stories from the balletic repertoire, and from a variety of other sources, and produces new narratives. Afternoon of a Faun, Beauty and the Beast, Daphnis and Chloe, Death in Venice, The Firebird, The Nutcracker, Romeo and Juliet, Salome and The Selfish Giant have all been given the Murphy touch. His interpretations are often set in quite different eras from the original. Sometimes they deal with imagined events that continue the story on from its traditional ending, and in such cases they are usually given a slightly changed name – Death in Venice, for example became After Venice in Murphy's production. Sometimes the new storylines are very free adaptations, although the references to the original story are always present.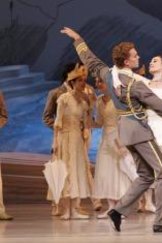 The Murphy Swan Lake is perhaps best categorised as one of these free adaptations. It is not so much a tussle between good and evil, a theme that is clearly present in the traditional Swan Lake, but it is definitely an examination of love and betrayal, another element of the original story. In Murphy's Swan Lake, a young bride, Odette, suspects her husband, Siegfried, of still being involved with his former lover, the Baroness von Rothbart. A number of writers have suggested the work refers to a well-known, fairly recent love triangle, that of Prince Charles, Princess Diana and Camilla Parker-Bowles, now the Duchess of Cornwall, and this supposed link has fuelled the controversy surrounding Murphy's ballet. Some critics have, a little unkindly I think, seen it as an opportunistic move on Murphy's part.
But the Murphy Swan Lake is also an examination of psychological states and mental illness. As the story unfolds Odette, already fragile, descends into paranoia and on her wedding day is removed to an asylum by Siegfried's mother. Act II opens in the asylum with a rather frightening setting that includes a large white bath with extensive chrome fittings, in which Odette is subjected to water therapy by two nuns. What happens after that? Odette has a dream-like vision of a frozen lake of swans before she leaves the sanatorium. She arrives unannounced at an incredibly glamorous party hosted by the Baroness and Siegfried is smitten by her. The ending, however, is ultimately a dark one.
Part of the seduction of this ballet is its design and some of Kristian Fredrikson's notes on the ballet are preserved in his collection of papers at the National Library of Australia. Swan Lake was a ballet that touched him deeply. "This ballet encapsulates some of my most important dreams and I would be both honoured and fulfilled to realise them visually in this country," he wrote to the general manager of the Australian Ballet, hoping to be given the design commission.
His papers also include a collection of clippings on mental illness and methods of treating the condition with hydrotherapy, as practised variously in the nineteenth and early twentieth centuries, which clearly fed into his designs for the scene in the asylum where Odette is treated by the nuns.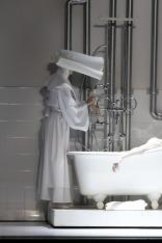 And once he began working on the costume designs he wrote to a friend: "Merely a clue to the new Australian Ballet Swan Lake – a wedding dress of pure silk satin undecorated except for a three-strand choker of pearls and earrings of pearl studs. In Act III the princess wears a simple gown of diamante and clear sequins, plus a Tiffany's necklace of pearls and diamonds and diamond and pearl earrings worth $80,000 (true!)."
The Murphy Swan Lake has never been seen in Canberra, and on current indications, probably never will. So take the opportunity to travel to Sydney. See if you think it really is inspired by the Charles/Diana/Camilla saga. And was it indeed opportunistic on the part of the creative team? Whatever the decision, this Swan Lake is a classic in its own right.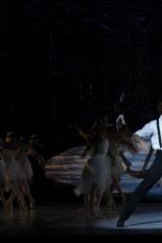 Swan Lake with the Australian Ballet and Orchestra Victoria is on at the Capitol Theatre, Sydney, February 20-28. Choreography: Graeme Murphy. Design: Kristian Fredrikson. Concept: Graeme Murphy, Janet Vernon and Kristian Fredrikson. Bookings: ticketmaster.com.au
Most Viewed in Entertainment