Review: Devdas the Musical
A musical about an Indian love triangle was unlike any show MICHELLE POTTER had ever seen.
Devdas the Musical, Canberra Theatre, August 16.
It has been a while since Indian dance has had any sort of profile in Canberra, so the prospect of seeing a show advertised as having "all the glamour and extravagance of Bollywood" was tantalising. It turned out to be for me an experience of mixed thoughts and emotions.
The extravagance and glamour were certainly there in the most dazzling display of costumes. Just about every time a dancer came on stage she was wearing something different, and every costume was beautifully made from glorious, glittering materials. Musically, too, the show was an occasion to be savoured. Singers and musicians, mostly playing traditional instruments, performed as an on-stage ensemble and gave the show a seductive aural accompaniment. There was nothing amateur about these two aspects of Devdas the Musical.
The show follows the story of a wealthy young man, Devdas, and the two women in his life: Paro, a childhood friend whom he loves but, because of issues of social status, can never have; and the beautiful, rich courtesan Chandramukhi, who loves him but who can never have him. The story, set in India in the 19th century, the time of the Raj, is told somewhat melodramatically using a voice-over narrative and through dance and simple mime.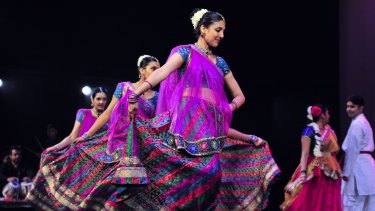 The dancing was a mixed bag. Looking at the show's website (there were no printed programs) it seems the dancers came from the Ruchi Sanghi Dance Company and School of Indian Dance. As a result, some dancers were far more experienced than others, making the standard very uneven. The best dancer, however, was very young, and surely still part of the school. I cannot name her, due to the lack of a program, but she played the young Chandramukhi. She was assured, competent in executing the choreography, and had outstanding stage presence. I hope she goes on to greater things.
The visual design was a little motley at times. In particular, a screen showing an autumn background dropped down at one stage. It looked very un-Indian and, even worse, didn't fit the width of the stage. Incongruous, too, was an old gramophone with a large horn sitting on a table in Chandramuhki's home (a raised platform located upstage). No doubt it was meant to indicate the era, but it sat beside a chair that looked suspiciously like a design from a well-known Swedish furniture outlet.
Despite these issues, I enjoyed Devdas the Musical, largely because, in its melodrama and its way of conveying the story, it was so unlike any musical I have ever seen. I still long, though, for some professional Indian dance to come back to Canberra.
Most Viewed in Entertainment