The Bangarra Dance Theatre perform Patyegarang
A visually beautiful and at times evocative production delights the senses but is less successful in revealing meaning, writes Michelle Potter.
Patyegarang
Bangarra Dance Theatre
Canberra Theatre, July 17-19.
Patyegarang is an anniversary gift from Stephen Page, whose company, Bangarra Dance Theatre, has been performing now for 25 years. His new, evening-length work focuses on an encounter between two people at the time of first contact in Sydney, home of the Eora nation. We follow the meeting and developing relationship between an Aboriginal woman, Patyegarang, and Lieutenant Dawes, astronomer, engineer, botanist, surveyor and colonial administrator, who came to Australia with the First Fleet on board the HMS Sirius. As a story of cultural connection, the work promised much. But for me Patyegarang lacked strength of definition, both choreographically and in its narrative and characterisation.
The choreography was occasionally quite evocative, especially when the men and women entered with spears or baskets to establish and then re-establish their identity. The strongest moments were those involving Elma Kris and Waangenga Blanco, probably the longest-serving dancers with Bangarra at the moment. They played the role of elders in the Eora community, watching over events with wisdom and concern for cultural integrity and resilience. Both dancers have a presence that is powerful, and an ability to engage the eye and the heart with their clearly articulated movement. At one stage, Tara Gower and Beau Dean Riley Smith performed a duet as two Lust Spirits during a section called Intimacy. Their performance was also an arresting moment in the work.
But mostly I found the choreography decorative rather than being a communicative force in the work. The two main characters, Dawes (Thomas Greenfield) and Patyegarang (Jasmin Sheppard) danced well enough, but Greenfield in particular left me wondering just who Dawes was. There seemed to be so little emotion between them, even in the scenes where they were meant to show that their relationship was more than one of a sharing of language and culture.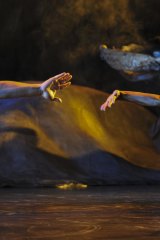 As we have come to expect from Bangarra, the production was stunning in its design. Jennifer Irwin's costumes, once again, had been cut to allow the fabric to move beautifully and to reveal the body in unusual ways. Her use of fabric and decoration that glimmers and changes colour under lights is extraordinary. Jacob Nash as set designer and Nick Schlieper as lighting designer added layers of visual beauty to the work. Nash's backdrop of a solid, confronting rock-face was often more interesting than the dance, especially when it changed colour over the course of the evening and revealed different aspects of its contours. Nash's design was minimal and dramatic. And the use of scarlet every so often added a powerful element of symbolism, whether in costumes, lighting, or those large items (huge X and V signs), which appeared to be made from sticks, and which descended into the performing space at times.
At the end of the evening I had enjoyed a visually beautiful production with an expressive score from David Page. Patyegarang delighted the senses, including the sense of smell as incense wafted into the auditorium when Kris entered on her quest to keep Eora cultural identity strong. But I was left with no further understanding of who Patyegarang and Dawes were, nor why their relationship was significant.
Most Viewed in Entertainment