What happens when two worlds collide
A collaboration between cultural institutions has everybody talking, Michelle Potter writes.
It is not often that a live collaboration between a contemporary dance company and a chamber orchestra is acclaimed as ''exhilarating'', ''intriguing'', ''inspired'' and ''unforgettable''. In fact, it is rare for such a collaboration to happen in the first place. Project Rameau, which brings together Sydney Dance Company led by Rafael Bonachela, and the Australian Chamber Orchestra led by Richard Tognetti, is not only a reality but it has garnered unstinting praise from critics and audiences alike wherever it has been shown. And with the entire orchestra playing on-stage, the performers - both dancers and musicians - also find the experience galvanising and have spoken of it as being akin to a conversation between them.
''It's thrilling to be sharing the stage 50/50 with a group of like-minded artists,'' Canberra-born violinist Mark Ingwersen says. Ingwersen, an alumnus of the Canberra School of Music, has been a full-time member of the Australian Chamber Orchestra since 1999. He has played for every performance of Project Rameau to date. ''I don't use the word thrilling lightly, either,'' he says. ''I've had some great experiences with the ACO all over the world, but Project Rameau is something that will stay in my mind for a long, long time.''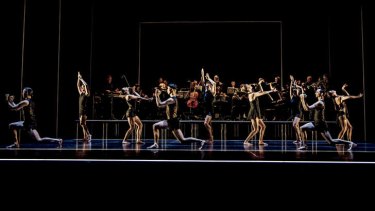 Sydney Dance Company and the Australian Chamber Orchestra are two of Australia's best-known performing arts companies and Bonachela and Tognetti had been talking about working together for some time before Project Rameau. Bonachela knew of the orchestra and had admired its playing before he took up the directorship of Sydney Dance Company. He had been travelling the world as pop star Kylie Minogue's choreographer, and during one such tour had been to some ACO performances. When the two eventually met, Bonachela discovered Tognetti was curious about his choreography and each came to the realisation that a collaboration between them would work well. A shared interest in the music of Jean-Philippe Rameau, the 18th-century French court composer, then set them on an adventurous collaborative exploration. Project Rameau, the work that emerged from their collaboration, might be called a contemporary take on the era of the Baroque.
At first, Bonachela and Tognetti thought they might commission new music to sit alongside that of Rameau, thus juxtaposing the contemporary with the Baroque in a musical sense. ''We even had a rehearsal in which Rameau's music was used for part of the rehearsal and then we played an electronic score and had the dancers improvise,'' Bonachela says. ''But Richard and I realised immediately that they couldn't compete.'' In its final form, Project Rameau is danced mostly to music by Rameau, whose works Tognetti has described as ''amongst the world's most sophisticated and unique theatrical compositions'', with the addition of one composition by J. S. Bach and two by Antonio Vivaldi.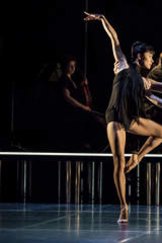 Since taking on the directorship of Sydney Dance Company in 2009 Bonachela has developed his company into a polished group of performers who make the most complex, physical moves look fluid, even easy. But although Project Rameau has a clear Bonachela signature to its choreography, it also looks quite different from his previous Sydney Dance Company pieces. Company dancer Charmene Yap explains that Bonachela's starting point was the music, which in this case had more flourishes and embellishments to it than the music Bonachela usually selected.
''The choreography for Project Rameau consists of quite detailed movement, especially in the arms,'' she says. ''It matches the nuances of the music. It is playful, has small motifs, is often quite intricate, and is full of little surprises.'' Other parts, however, look quite courtly in nature. A certain formality is noticeable at times, and Yap suggests there is a strong sense of line going through the work. Without losing any of its contemporary flavour, the choreography seems to match nicely with the formal characteristics of baroque dance as performed in the courts of 18th-century France.
In developing a dance vocabulary for Project Rameau, Bonachela gave the dancers a series of tasks and worked up the choreography from their responses. Yap says one of the tasks she was given was to take a section of the music and draw responses to it on a piece of paper. From those visual expressions of the music, Bonachela created movement phrases, which he then manipulated to suit his ideas. Although Yap admits that the vocabulary that emerged sometimes seemed awkward at first, the fluidity of the dancers on-stage is quite spectacular. Bonachela says he did not make a conscious effort to add Baroque-era characteristics to his choreography, but the music demanded he work in a certain way. ''I hope it gives a sense of the Baroque rather than an exact reference,'' he says.
Project Rameau is designed and lit in ways that reference Baroque theatre architecture. That architecture emphasised a stage space where the illusion of deep perspective was paramount and where use was often made of a scenic painting as a backcloth, one that led the eye deep into the background space. For Project Rameau, lighting and set designer Benjamin Cisterne uses lines of light to frame the performance space and suggest perspective, and adds as background strong rectangles of coloured light that give the impression of indefinable depth. He also uses strong side lights from the wings, which give a fiery effect, as if the stage is lit by candles, as indeed Baroque stages were.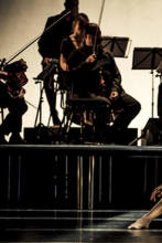 ''But I don't buy into the opulence that characterised the Baroque [era],'' he says. ''That comes through in other ways, particularly in the music. My take on the Baroque is done in a very contemporary way.''
Cisterne tends to design mainly, and sometimes wholly, in light and he confesses to a fascination with the work of American artist James Turrell. Cisterne's preocupations run parallel to Turrell's interest in light and the space it inhabits, which can be seen in Turrell's skyscape, Within Without, commissioned by the National Gallery of Australia in 2010 and occupying a site in the Gallery's Australian Garden.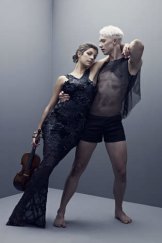 I am curious, however, to know how Cisterne has accommodated, design-wise, the presence of musicians who sit behind the dancers on a raised platform. Cisterne says they are lit from above so the audience doesn't see them in a bright light. ''They inhabit their own space,'' he says. ''There were some restrictions on how I could light the work of course. I couldn't have a blackout, for example.'' Bonachela adds that he wanted the musicians on-stage because during the Baroque period the orchestra was always looking at and engaged with the dance, following the dancers. ''The way the musicians are lit makes them appear as though they are almost suspended,'' Bonachela says. ''They look very elegant.'' As for the costumes designed by Bonachela and Fiona Holley, at first glance they look quite minimal - simple black costumes, sometimes made with transparent fabric, that hug the body and allow the shape and form of the choreography to be seen clearly. But as Yap points out there are quite intricate and individualistic elements to the way they are decorated. Like the choreography they are contemporary and yet subtly embellished to reference Baroque-era ornamentation.
Rafael Bonachela has been at the helm of the Sydney Dance Company for almost five years and his enthusiasm, energy and passion for what he does is unwavering. And the awards and accolades keep flowing in for him, his company and his dancers, including quite recently three awards at the 2013 Australian Dance Awards. But I suspect Bonachela was born to choreograph. He was making dances before he even took dance classes. He had an after-school game in his home town of La Garriga, not far from Barcelona, called ''let's make a dance''. The youthful Bonachela made up dances following the latest pop styles, enlisting classmates who were prepared to join in and using a boom box as accompaniment.
Project Rameau also suggests that Bonachela was born to collaborate. Collaboration in the arts is a much-debated topic, and it is an inherent component of most dance productions where designers and, on occasions, living composers work together with the choreographer and the dancers to produce a final, coherent product. But very few collaborations have the power to surprise and to awaken the senses to new ways of seeing, hearing and understanding. Project Rameau, on the other hand, is an extraordinary collaborative endeavour in which the Baroque, the historical era that is named after an irregularly shaped pearl, is seen through contemporary eyes. And what is surprising and ultimately so fulfilling for audiences is that the defining characteristics of the Baroque era's art, music and architecture - the theatricality of presentation, the high degree of ornamentation, the mood established with lighting, the interest in space and the way figures sit within that space - are all still apparent, as is the courtly nature of baroque dance. The praise that has been showered on Project Rameau to date seems thoroughly deserved.
Project Rameau, Sydney Dance Company and Australian Chamber Orchestra, 12-14 September, Canberra Theatre. Bookings 6275 2700, canberratheatrecentre.com.au.
Most Viewed in Entertainment