Dark tale of high life and tragedy a cabaret gem
The Street Theatre's small Street 2 studio space has always been an intense space for cabaret-style shows and Bijou continues that tradition. Chrissie Shaw has developed a sinister and sensual piece from a 1932 postcard of a woman identified only as Bijou in a Paris bar. Out of this, Shaw, along with director Susan Pilbeam, choreographer Liz Lea and pianist and musical adviser Alan Hicks, has devised an emotional history for this still glamorous but somewhat ravaged image.
Shaw glowers among furs and pearls in the first half as she sketches in a story set against the events of Parisian history and accompanied by appropriate songs and music. She makes it pretty clear from the outset that she's not keen on Poulenc, but Satie, Johann Strauss and Kurt Weill seem to pass muster. She moves among the audience's tables reading palms and rattling the tin to take up a collection for the entertainment.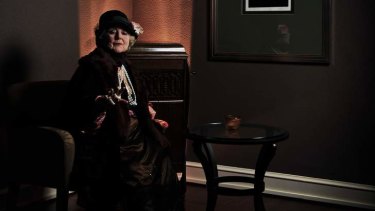 Soon, however, the atmosphere turns more sinister as she starts to reveal her life story: the men, the running of a brothel, her forays into an artistic life, and the terrible sexual exploitation of a child that starts it all. The story seems to stretch from the Franco-Prussian War and the Paris Commune through World War I and the 1920s to the growing threats of the early '30s. There's abuse, an illegitimate child, a marriage to German nobility, a life lived in and out of nightclubs and a succession of lovers. As old age threatens, the pearls and the furs vanish and there is a chilling disintegration.
Shaw maps this with aplomb, switching from song to speech and surrounding the audience with images of Bijou's life. The vulnerability of a woman in times and places where control over one's life is not easy comes across strongly in an encounter with those who have nowhere to go but the streets and, devastatingly, when a child is betrayed by one whom she should be able to trust.
Shaw is backed by Hicks' unobtrusive piano and occasional singing. There's a depth to the musical choices that supports the times and places of the narrative. The gently appropriate design work of Imogen Keen, Gillian Schwab's moody lighting and Victoria Worley's equally moody costumes go well with this.
It's a complex show with some timing that needs a little tightening, but time in front of appreciative audiences should provide that.
BIJOU: A CABARET OF SECRETS AND SEDUCTION
By Chrissie Shaw. Directed by Susan Pilbeam. SmallShows in association with the Street Theatre's Made in Canberra program. The Street Theatre, until September 8.
Most Viewed in Entertainment