DIY mates make history
A Canberra-based television series could well go global, Cris Kennedy writes
Jamie and Adam and their MythBusters team might be American but their show, the phenomenon that is MythBusters, is an Australian production, created and produced out of Beyond Productions' Sydney offices. Shown the world over, the television series has revitalised the way people communicate science on the screen.
Canberra film company Bearcage Productions hopes to be next in line for a global presence with a fresh new history series, The Boffin, The Builder, The Bombardier.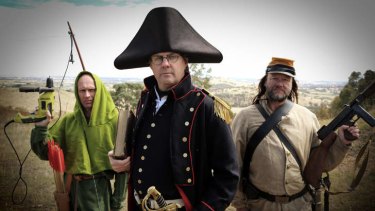 Shot in Canberra at locations including Hall and at the Majura rifle range, and with a team of local actors and historians, the series of 10-minute episodes screens at 8.15pm on Sunday evenings on ABC1.
''Three mates go DIY on history,'' is how the Boffin of the series - local actor and historian John Concannon - explains the concept onscreen.
Concannon and his pals Will Upjohn (the Builder) and Tony Miller (the Bombardier) play versions of themselves.
Concannon wrote and produced the series with Bearcage, writing roles for his friends, drawing on Upjohn's real-life construction skills and Miller's long fascination with military weaponry and costuming.
''John writes the three of them as hyper-real versions of themselves,'' series producer Harriet Pike says.
''Tony does collect those objects, owns those uniforms and weapons,'' she says.
Together, the Boffin, the Builder and the Bombardier explore great inventions that propelled history. They then build them themselves and road-test their robustness. Which is to say, they blow stuff up.
In the episodes already aired (the series started on March 31), they have explored the Gallipoli periscope rifle and the Chinese flying fire lance.
This week's episode, The Last Drop, looks at the Scurry (or pop-off) rifle, a piece of ANZAC ingenuity that helped trick the other side of the battlefield into thinking they were up against a much bigger force of soldiers.
''Our Boffin John is a historian and he uses objects to demonstrate how history is constructed,'' Pike says.
"Just as important as deconstructing history is making it fun, which he does with the characters that make up that history," she says.
Director Serge Ou keeps the pace moving with visual flourishes and endless pop-culture references. What will appeal to audiences is the childish sense of play and the tactile quality of sharing the experience with the three men constructing history.
''MythBusters changed the way people produced factual television with its genre-blending mix of history, science and entertainment,'' Bearcage producer Michael Tear says.
''Many shows are borrowing aspects of genre and here we use archival footage, we use recreation.''
In The Boffin, Concannon and his co-stars dress up in an array of costumes to play out re-enactments of big moments in history.
They're not playing out these scenes with Stanislavski-esque intensity and immersion, but as three Aussie guys having fun, squeezing into small costumes and bad wigs.
''Audiences respond to that sense of showbiz, but the quality audiences like about this series is that there's something tactile about building something, testing a theory, understanding how things work,'' Tear says.
Filming for the series took three weeks, calling on local experts in armoury, pyrotechnics, ammunition and live fire, all of which made for a complicated production.
''There's something about explosions that made our crews excited about this shoot, particularly the males,'' Pike says.
Harriet Pike comes from a film family. She is the daughter of Ronin Films' (and Electric Shadows, for those who remember it) director Andrew Pike, who literally wrote the book on Australian film history. Harriet worked for the family business for many years as producer and business manager before making the move to Bearcage three years ago.
Her role as head of development has her working across the range of film in the Bearcage production schedule, which includes television series and documentaries, television advertisements and corporate productions.
Over 24 years, the company has grown from a small operation run by filmmakers Michael Tear and Serge Ou, to a thriving business employing 25 full-time staff, as well as providing work for various crews and actors in the region. Their documentary The Digger - A History , produced for Foxtel's Bio Channel recently, won the gold award at the Cannes Corporate and Television Awards in the history and civilization category.
They recently finished production on the five-part New<!-- orginalstoryid:45043822 continue pg F18-->Zealand-German co-production, New Zealand from Above.
They have begun pre-production on Australia's first independent co-production with the new Chinese network CCTV9 with The Story of Australia.
Meanwhile, History Channel viewers can look forward to their coming series Building Australia.
Hosted by John Doyle (otherwise known as Rampaging Roy Slaven from the sports comedy group H.G. and Roy), the series will look at iconic Australian architecture as social history.
Australia's film industry is a difficult and competitive market to work in which, according to Tear, made the production of The Boffin a surprise.
''Every project has its own challenges to get to the screen, and while we have a slate of projects and some of them take forever to get up, some of them happen remarkably swiftly,'' he says.
''This was unusually quick.
''The Boffin was the right idea at the right time,'' he says of the production's Screen Australia funding and ABC1 sale.
Meanwhile, Pike is working on the future of the series, with a half-hour version in discussion for series two and international sales under negotiation. ''Australian characters don't always translate well overseas,'' Pike says, ''but, internationally, people are responding to the different take on history and it has a good appeal in that macho TV space.''
Following the new series of Doctor Who on ABC1 on Sunday nights ought to give the production a built-in audience of geeks and history aficionados, but a television series lives and dies on audience numbers, so fly the Canberra flag and switch on tomorrow night.
The Boffin, The Builder, The Bombardier screens 8.15pm Sunday evenings on ABC1.
Most Viewed in Entertainment