Gaga's followers take sheen off Madge's globe
Madonna may not be Lady Gaga's biggest fan but while she was accepting her Golden Globe, Gaga achieved a milestone of her own by becoming the first person to gain more than 18 million Twitter followers.
Mother Monster took to the social media site to thank her fans who have rallied behind the pop star since Madonna said she felt a comparison to the Marry the Night singer was "reductive".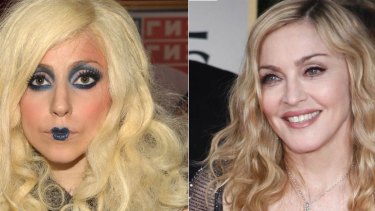 "Can't believe I have 18,000,000 Twitter Monsters, really rad, was just a few years ago I had barely any," Gaga tweeted.
Gaga, who was also the first person to have 10 million people follow her tweets less than a year ago, beat out other popular avatars including Justin Bieber, Katy Perry and Kim Kardashian by more than two million fans and trolls to become the most virtually followed person.
While Gaga has been laying low since her New Years Eve performance in New York, reportedly working on her new album, Madonna has spoken out for the first time about losing grip on her Queen of Pop crown.
During a recent interview where the she was plugging her new movie WE, which opens days before she is set to be the headline act at the 2012 Superbowl, Madonna was asked if she would ever duet with the artist formerly known as Stefani Germanotta.
"It never occurred to me, but never say never," she replied after admitting that Gaga's number one single Born This Way sounded "very familiar" and that she feels "she [Gaga] references me a lot in her work."
Gaga has not commented on the interview about her, but her 46 million Facebook fans and record-breaking followers in the Twittersphere supported her 2012 resolution - "Never be afraid to be kicked in the teeth. Let the blood and the bruises define your legacy."
Madonna is yet to join Twitter officially, however her manager Guy Oseary, who appears to also act as her social media manager, has drip fed details of her new album, M.D.N.A, to his 72,000 followers over the past year.
Most Viewed in Entertainment