Global stars go underground
Inspired chefs are digging deep in the search for authentic flavours, writes Sarina Lewis.
CHEF MATT WILKINSON, co-owner of Pope Joan and Bishop of Ostia, is idly stroking the long, green tendril of a mature broad bean plant as we stand chatting in the mid-morning sun at CERES Environment Park in Brunswick East. My attention is drawn to the delicious appeal of the bean's heavy pods, but Wilkinson's focus lies elsewhere, with the plant's root system and the earth from which it grows. It's a topic about which he is passionate.
''If you think about an orange tree, you see the bark, the leaves, the twigs, the flowers and the fruit,'' Wilkinson says. ''We see 5 per cent [of the plant] above the ground, but it is the 95 per cent of what is below the ground that matters.''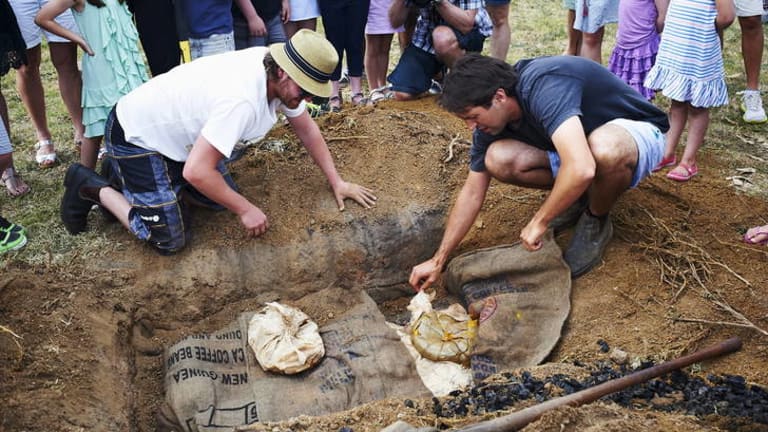 It was an epiphany he experienced about six years ago as his professional life brought him into the orbit of a small array of farmers whose lives - and, some might suggest, ours - depend on maintaining a soil vibrant with the life industrial agricultural methods strip from vast tracts of earth. This understanding sharpened Wilkinson's focus on the true meaning of provenance.
''The provenance of food taste is from the soil,'' he says. ''The sun warms it and the rain feeds it but you need to keep adding to the soil to feed and enrich it and that's where flavour and nutrition comes from.''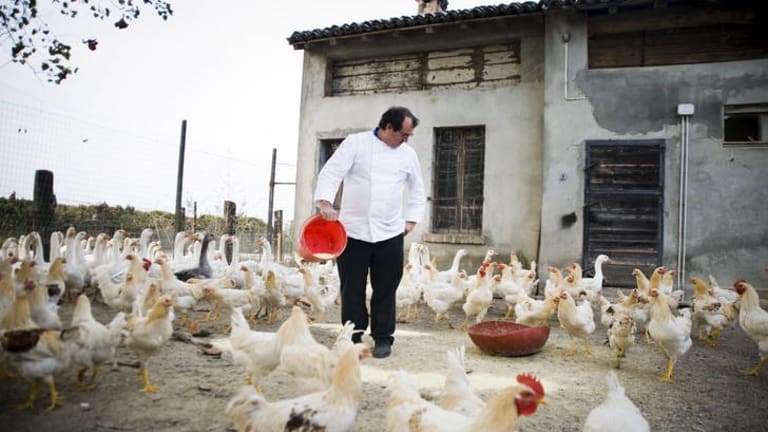 This philosophy is one the Melbourne Food & Wine Festival will explore next year as chefs from across Australia and the world come together to celebrate this year's theme: Earth.
There are some thought-provoking ideals. Hear Swedish chef Magnus Nilsson (who cooks and preserves seasonal produce at his 12-seat restaurant on an icy 8400-hectare farm three hours' flight north of Stockholm), who attacks ideas of future food shortages face-on with suggestions a brave new world may call for a compulsory licence for meat eaters. Or Australian Boon Wurrung elder Aunty Carolyn Briggs (who has fed Julia Gillard and Hillary Clinton based on the Aboriginal people's six seasons of locally grown produce) and her voice on the beginnings of food.
Canadian food philosopher and pioneer Michael Stadtlander fits comfortably into this landscape. The German-born chef, who has spent the past two decades championing a turn away from industrial farming to an Earth-first ethos, has been instrumental in raising awareness of issues of food health and sustainability in his adopted homeland.
''My parents were farmers - my father was a milkman - and our farm was put out of business, really, by the introduction of homogenised milk,'' Stadtlander says.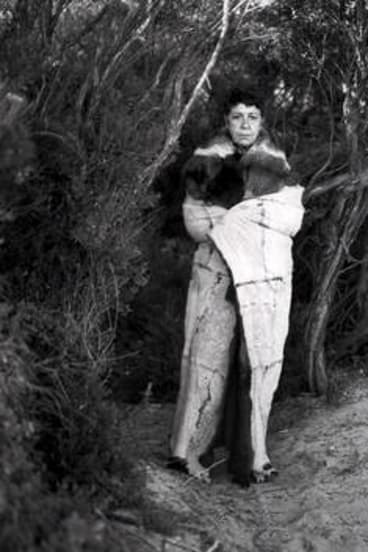 As an apprentice chef in Germany he never forgot the taste of the food grown and raised on that farm near Hamburg on the Baltic coast. ''I always had the flavours and what it tasted like - the real carrot, the real chicken and the real pork - in my mouth.''
An apprenticeship under Vincent Klink solidified the importance of Stadtlander's past, as the famed chef fought a battle of biodynamic awareness against the industrial push on 1970s food. ''For me, that stuck,'' Stadtlander says simply, ''and that became part of my religion afterwards.''
He is adamant the last is not a comment thrown away idly, as is evidenced by his commitment to leading the protest against a large quarry planned on prime farming land near Toronto. Like many of the chefs participating in the festival, attending to the preservation of the soil has become as much a part of his persona as the cuisine he cooks.
It is a message that has resonance with Ed Kenney, a Hawaiian chef from Honolulu whose food philosophy is deeply rooted in his ancestral heritage. Known as ''aloha aina'', it is a value explicit in its translated expression: the Hawaiian word for earth, aina literally means ''that which provides'', Kenney says. (Fittingly, the earth advocate will be introducing Melbourne to the ancient art of Hawaiian imu, a style of in-ground cooking comparable to the New Zealand hungi.)
The provenance of food taste is from the soil.
''What's unique about Hawaii is we have 1.3 million people living on the main island importing 92 per cent of our food needs. Just 200 years ago we had maybe 800,000 people but were 100 per cent self-sufficient,'' he says, a startling fact lent force by the knowledge the island would supposedly run out of food in less than one week should transport channels be somehow cut from mainland US .
''There is a locavore trend,'' he says, giving the last word a wry emphasis, ''that we are seeing now, but for us here in Hawaii it is more out of a need that we look to sustainability, less than being a response to that trend.''
At CERES, our tour of Wilkinson's dedicated eight garden beds is drawing to a close. He has checked on the delicate heirloom variety seedlings of zucchini, squash, corn and tomato sewn from seed that will be harvested and cooked under autumnal afternoon skies - weather and soil willing - as part of his Earth MasterClass.
''It can be depressing to think about [how we treat the earth],'' Wilkinson says. ''But I think what the Food & Wine Festival is trying to show is that there can be a new way forward. We need to begin thinking about the earth under our feet and what it has to offer in terms of taste. And our survival.''
Part of a special report on the Melbourne Food & Wine Festival, presented by Bank of Melbourne.
To see a video preview of the festival, click here
Most Viewed in Entertainment
Morning & Afternoon Newsletter
Delivered Mon–Fri.