Interplay review: outstanding skills shown in diversity
With Interplay Rafael Bonachela, artistic director of Sydney Dance Company, has curated a varied and thought-provoking triple bill in celebration of the company's 45th anniversary. It shows off the outstanding performance skills of Sydney Dance Company dancers, who seem to get better and better as each year passes, and it brings together three choreographers of very different contemporary bents.
2 in D Minor is Bonachela's own contribution to the program. It is danced to Bach's Partita No.2 in D Minor for solo violin played live on stage with great style by Veronique Serret. Its movements are interspersed with short passages of new music, 2inD Miniatures, by Nick Wales. It is surprising and quite beautiful to the ear to hear this juxtaposition of the old and the new.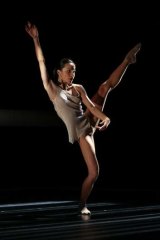 The dance work is made up of solos, duets, trios and sections for larger groups and the entire cast of 15 comes together only at the final curtain call. The complex movement that we have come to expect from Bonachela is all there. But there are also some deliciously playful moments, often brief but quite clear to see. I loved the unison passages, especially a trio of trios in which each group of three was replaced by another. Bonachela doesn't often have his dancers move in unison so to see the smoothly choreographed transitions between each trio, was to appreciate more and more these highly articulate dancers who move so precisely and cleanly.
2 in D Minor is visually minimal. Ben Cisterne's lighting plot marks out the perimeter of the stage with a line of white light, while a slanting, white rectangle hangs from above. The design encloses the dance in all its intricate beauty. Costumes by Bonachela, of simple black pants and jackets or vests or short, flimsy white outfits, continue the minimalist feel.
Jacopo Godani's Raw Models takes centre place in this triple bill. I have never been a fan of this work, which was first seen in Sydney in 2011. I dislike the aggressive tone of the choreography and the shuddering soundtrack by 48nord that at times makes the theatre reverberate. I dislike too the constant blackouts, which recall American choreographer William Forsythe's interest in bringing down and then raising the curtain in the middle of his works. And I find it hard to become involved in the idea of a ''prototype of micro-social structure'' that Godani proposes as his thematic material.
But the work is wonderfully danced. Once again it is mind-blowing to see such expertise from the dancers and I especially love to watch how they seem with each movement to leave a trail of dance behind them, as if they had painted that movement as well as danced it.
The final work on the program, L'Chaim! (To Life) is from choreographer Gideon Obarzanek and combines dance and speech to give us an insight into what lies behind the life of a dancer. Obarzanek himself takes on the role of the actor who, from a seat in the audience, asks aloud questions of the dancers, to which they respond with words and dance, about what they do and how they feel about their lives as dancers. He comes onstage himself at the end to become part of the dance. It is an appealing finish to the evening and gives a very different and delightfully human glimpse of Sydney Dance Company.
Interplay is yet another triumph for the vibrant and challenging artists who work with Sydney Dance Company to produce collaborations of the highest order.
INTERPLAY
2 in D Minor by Rafael Bonachela, Raw Models by Jacopo Godani, L'Chaim! by Gideon Obarzanek. Sydney Dance Company, Canberra Theatre. Ends Saturday.
Most Viewed in Entertainment