It's no monkey business
King Kong the musical gives fans plenty to go ape about, Ron Cerabona writes
You may have heard that a new stage-musical version of King Kong is premiering in Melbourne next year. The book is by Craig Lucas (Prelude to a Kiss, The Light in the Piazza) and the director is Daniel Kramer, who has international experience directing plays, musicals and operas.
But while a lot of attention is - understandably - being directed towards the giant ape who is at the heart of the story, it is also worth noting how many former Canberrans are involved in the multimillion dollar production that has been in development for five years.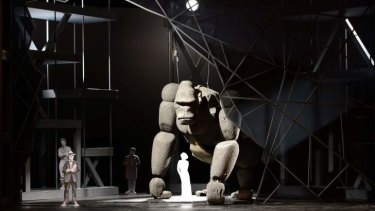 Producer Carmen Pavlovic, actors Queenie van de Zandt and Damien Bermingham, and musical director Daniel Edmonds are among the personnel who got their start in the nation's capital, as well as Carmen's brother Stephen - a music consultant on the production - Queenie's brother Jeff, who works for JCE Creative, which is doing a lot of the design work, and associate projection designer Nick Roux, who played in the band at Canberra Grammar School with Edmonds.
Carmen Pavlovic is producing the show for Global Creatures, the company behind Walking With Dinosaurs - The Arena Spectacular and How to Train Your Dragon Live Spectacular. She says: ''I'm very proud to be from Canberra. I was born in Canberra, my mother grew up in Canberra and her parents grew up in Canberra. My father was Croatian and worked on the Snowy River Scheme.''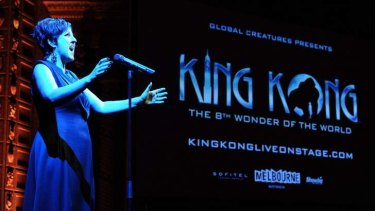 She grew up as one of six children in Chifley and as a teenager ran programs at the YMCA. ''I was always going to end up managing something,'' she says.
Pavlovic studied at the University of Melbourne and holds a bachelor of arts and a masters degree in business administration and went on to manage various theatres before moving to Sydney in 1998 to join the Really Useful Theatre Company as executive producer. Then in 2001 she moved to London to work for Clear Channel Entertainment, then moved to Stage Entertainment working on theatre programming and productions across Europe. In 2008 she returned to Australia to become chief executive officer of Global Creatures and oversaw its first two productions. And then came the idea of King Kong.
''I had a younger brother obsessed with gorillas; I'd see him in the playground swinging off the monkey bars. I really do remember [King Kong] as a part of my childhood.
''I very quickly became captivated with the storytelling possibilities of it,'' she says.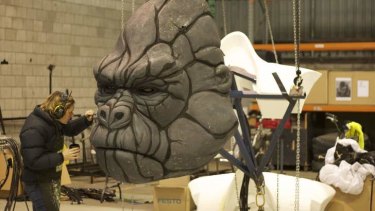 ''It's a very simple tale of Beauty and the Beast.''
While the story may be simple at its core, the production is not: indeed, before the script or score were written, a lot of preliminary work was devoted to making sure the special effects needed to bring Kong to life were achievable. He is designed by Sonny Tilders, who worked on the previous Global Creatures productions.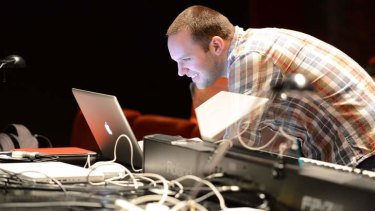 Making King Kong a musical enabled it to be more than spectacle and gave it an identity distinct from the well-known film versions and placing it in the more intimate confines of a theatre, not an arena, made sense from a storytelling point of view. But the scale and complexity of the production is such that it won't tour: Melbourne will be its only home in Australia.
Kong himself - part animatronic, part giant puppet - will be operated by a multitalented physical performance ensemble called the King's Men and the full cast of 49 will include actors, singers, dancers and circus performers.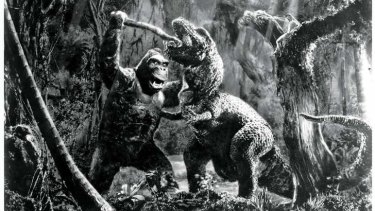 Esther Hannaford plays Ann Darrow, the young woman who gets more than she bargained for when she joins Hollywood director Carl Denham (played by Adam Lyon) on an expedition to the last uncharted place on Earth, Skull Island, in search of the huge prehistoric Kong. Along the way she falls in love with the ship's first mate, Jack Driscoll (Chris Ryan) - but their romance, and much else is besides, is threatened by the wrath of the mighty Kong.
The three lead characters were in the original film. A new character created for the musical is Cassandra, played by Queenie van de Zandt. Based on the mythological Greek character of the same name who could foretell the future but whose prophecies were never believed.
Van de Zandt says: ''She's a woman who on the streets of New York and sees what's going to happen, she sees the destruction that's going to befall New York.''
She has been involved with the show from the very beginning, since the first workshops, and says, ''I was allowed to contribute so much to the making of the character.''
Cassandra started off as a completely different character, a Salvation Army worker, but the music she was given to sing did not match that sort of figure - ''so twee'' - so she<!-- orginalstoryid:41776028 continue pg F16-->was changed to a street person. ''She's an outsider, like King Kong … people don't understand them, people fear them.''
Particularly exciting for van de Zandt is the opportunity to create a role in a new show without any preconceived notions of how it should be performed. ''I'm developing the role. Everyone else in the world is going to have to sing it like me. I'm not going to be compared to anyone.''
Born in Canberra, van de Zandt went to Daramalan College in the 1980s when it ''had a very very strong musical theatre strand led by Jim McMullen''. Bill Stephens saw her in a show there and invited her and her colleagues to perform at his School of Arts Cafe in Queanbeyan and she went on to work at Stephen Pike's theatre restaurant Tarzan's.
At 21, she moved to Sydney and her performing career has spanned theatre, cabaret, musical theatre, television and film. But, she says, King Kong is like nothing she's ever seen or performed in before. She says it is ''reinventing the form of musical theatre. I've never seen a musical like it.''
Daniel Edmonds echoes this, saying, ''It's not going to sound like any other thing people on stage have ever heard.''
Although King Kong is set in the 1930s and incorporates popular songs from the era such as Brother, Can You Spare A Dime? , Edmonds says the score includes ''everything from romantic ballads to pop and electronica and a lot of different types of urban music'' woven together in mash-ups, remixes and adaptations as well as original material by a team led by Marius de Vries, who worked on Baz Luhrmann's Moulin Rouge! Others involved in creating music and lyrics include Robert Del Naja, Guy Garvey, Sarah McLachlan, Justice and the Avalanches.
''In many ways it's like doing a film,'' Edmond says, ''I think because a lot of the time in musical theatre the music side of things is approached in a more stylistically conservative way.''
In this show, the composers and lyricists are not known for working in the theatre, he says, and their different styles of music can be woven into a unified whole.
Like van de Zandt, he's been with the show since the early workshops and been part of its development.
Edmonds, 31, says, ''I soaked up as much music as I possibly could'' from his schooldays, from classical to jazz and beyond, and began working professional in his teens. His professional experience includes working as musical director with performers such as Caroline O'Connor (in the West End in London) and as deputy musical director and assistant conductor on Australian productions of Chicago, Fame and Hairspray
Damien Bermingham, 36, is a member of the ensemble who understudies Carl Denham and plays several parts in the show. He was ''Canberra born and bred'' and studied drama with Anne Somes at Marist College before going on to many roles in the capital's musical theatre productions including Alfred P. Doolittle in My Fair Lady and Jacob and Pharaoh in Joseph and the Amazing Technicolor Dreamcoat, both of which won him Canberra Area Theatre Awards.
He moved up to Sydney with the Department of Defence and continued to act in amateur theatre and it was a 2004 production of The Witches of Eastwick that got him his professional break. An agent who saw the show talked to him afterwards and two weeks later he was touring in Fiddler on the Roof with Topol.
''It's been eight years now and it hasn't stopped,'' he says. His professional roles have included Amos in Chicago and working as the alternate for Bob in Priscilla, Queen of the Desert. He spent two years overseas performing on stage and working as a voiceover artist in Singapore and came back for King Kong.
Bermingham says, ''I've been playing old since I was 25'' and says he fits a special niche: the roles he is right for don't always have a lot of competition. ''I look like a brickie but I can sing like someone who doesn't look like a brickie.''
It's an impressive quotient from a relatively small city with a lot of musical theatre talent - all in the one show.
King of the media jungle
The giant gorilla King Kong has been the subject of numerous movies, television shows, books, comic books and appearances in popular culture (such as video games and theme-park rides) and has inspired many more. Kong was conceived by filmmaker Merian C. Cooper and first appeared in the 1933 RKO film of the same name, created through various means but mostly via stop-motion animation by Willis O'Brien.
A sequel, The Son of Kong appeared the same year. The Japanese studio Toho produced King Kong vs Godzilla(1962), pitting the two title creatures against each other, and King Kong Escapes (1967), in which Kong battles the robot Mechani-Kong. An American-Japanese animated television series, The King Kong Show,began in 1966 and 10 years later came Dino De Laurentiis's updated big-screen remake King Kong, starring Jeff Bridges and Jessica Lange. It was followed by King Kong Lives in 1986. A 1998 straight-to-video animated film,The Mighty Kong, featured songs by Richard and Robert Sherman (Mary Poppins). Kong: the Animated Seriespremiered in 2000 and in 2005 Peter Jackson directed King Kong, a remake of the original.
King Kong opens at Regent Theatre in Melbourne from June 15, 2013 (previews from May 28). Tickets $60-$129. Bookings: 1300 111 011 or ticketmaster.com.au and more information at kingkongliveonstage.com.
Most Viewed in Entertainment