James Batchelor's Island twist
A proud Canberran brings Island to the Courtyard Studio, with a 'pay as you feel' fee after the show, writes Michelle Potter.
Followers of a particular kitchen reality show seen regularly on today's television programs, may recall that at some dinners made from "the truck" and served outdoors to hungry diners, there was no set price for the meal. It's a "pay what you think it's worth" situation.
Well, Canberra-born performer, choreographer and installation artist James Batchelor is making a similar move with his latest work, Island. A donation is all that is required to see this show and it is a "pay as you feel" donation. But there is a strong sense of integrity in Batchelor's somewhat disarming reply to my question about why he is making this move.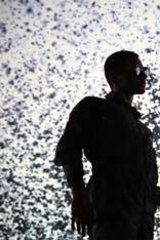 "Well, I'm being supported by artsACT to make this show," he says. "We don't need to charge an admission fee to cover costs. All the dancers and collaborators are being paid an award wage and it's a luxury that we aren't relying on box-office to break even.
''Last year, when I brought InWonderland to Canberra, it was free admission but I found that a lot of people wanted to give something back after they had seen the show. Some people in fact made donations. So this year I decided to formalise things and make it 'pay as you feel' after the show.''
Batchelor also noticed the audience he attracted to InWonderland was quite unusual. Many of the people who came he had never seen at a dance performance before. He found it satisfying to connect with people who were intrigued by what they had seen and who began questioning their perception of what constitutes dance. He hopes he will attract a similar, questioning audience with Island.
The show marks a new approach to dance for Batchelor. It is part of a series which began last year with a work called Ersatz. He has now begun to investigate a more conceptual way of thinking about performance and the relationship of audiences to the space in which they experience dance.
Batchelor acknowledges the influence of Prue Lang, who worked as a dancer with choreographer William Forsythe in Germany (and also for a time with Meryl Tankard in Adelaide), and of independent Melbourne-based choreographer Antony Hamilton for this new direction in his thinking.
From Lang he absorbed Forsythe's attitude towards movement research into what the body can do, the way it can be pushed to extremes or make movement choices that are not the obvious ones. From Hamilton he drew inspiration from an approach that Batchelor says combines a strongly articulated visual perspective, which sits alongside a choreographic perspective.
We can expect with Island to walk into the Courtyard Theatre at the Canberra Theatre Centre and see it as something other than a four-walled space.
"It will be much more challenging than that, I hope," Batchelor says. With a design by Melbourne architect Ella Leoncio, with a sound design by Morgan Hickinbotham, and made for three dancers, Amber McCartney, Rebecca Lee and Batchelor himself, Island will be a multi-sensory event in which we will not be sitting down on rows of seats.
"I enjoy working in the Courtyard Studio.The space offers a lot of creative possibilities," he says.
In addition, the Canberra Theatre Centre has supported his practice with sponsorship of the space and with assistance with marketing. He sees this as invaluable support for a young and emerging independent artist.
Batchelor began dancing at the age of five at the Dynamic Studios in Canberra, where he started taking jazz ballet classes. He joined the Canberra youth dance group Quantum Leap aged eight and then, when it became clear that he wanted to pursue a career in dance, he studied ballet for five years with Janine Ayres before enrolling at the Victorian College of the Arts.
Academically, Batchelor was educated at Palmerston Primary, Lyneham High and Dickson College and regards himself as a Canberra artist.
"I left Canberra to go to university in Melbourne, but I don't see that that makes me any less of a Canberran. I am in just my second year out from university and, as I establish my practice, I live a transient lifestyle. Recently I have worked all around Australia and in France, Thailand and the United Kingdom. But I am involved in a number of projects in Canberra this year and I definitely intend to employ my practice here in Canberra."
Batchelor is quietly spoken with a deeply reflective mind. He says he loved school and particularly enjoyed history, languages and doing research. He is trying at the moment to establish his artistic voice and, as he looks back on the past few years, he can see that there is a progression in his understanding of, and thinking about his practice.
"Island seems like a much more established version of what I have been trying to do over the past few years," he says. "I am making risky and bold decisions now with the choreography and with the design of the space, and I feel quite secure about those decisions."
We may not be sitting in seats for Island but we may be shaken up a little about what dance can be.
Island is on at the Courtyard Theatre, Canberra Theatre Centre on April 30, May 1, 2 and 3 at 8pm. May 2 at 2pm and May 3 at 6pm. Admission: "Pay as you feel" donation. Bookings: james@james-batchelor.com.au
Most Viewed in Entertainment