Life and death decisions all part of the job
Far away from screaming sirens, the blood and the raw trauma that ACT paramedics are called to every day, sit a group of office-bound ambulance officers who balance life and death using a mouse and keyboard.
The nerve centre of the ACT Ambulance Service sits in a discreet office, tucked away in the huge emergency services headquarters at Fairbairn.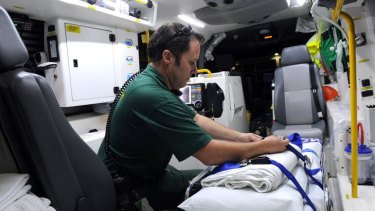 Here triple-0 calls are taken, assessed, and prioritised, before ambulances are sent hurtling through Canberra's streets in response.
The room has traditionally been off-limits to the media, but The Canberra Times was given full access to the triple-0 communications centre while spending a night standing witness to the work of the ACT Ambulance Service. The air in the room is understandably tense. Split-second decisions here can mean a life saved or lost, and the pressure on the team reflects the weight of those consequences.
A stream of triple-0 calls come through during the night.
The calls can be of varying severity, from cases of mild nausea, to the baby that has stopped breathing.
The latter is something the entire team appears to dread most.
Throughout each shift, there is a constant effort to juggle the ACT's ambulances between jobs that have been phoned in, getting crews to life-threatening cases, but ensuring others remain at strategic spots in the north and south of the city, all the while leaving adequate resources free for critical jobs. "It's like a chess game, because you've got to think three or four moves in front," ambulance dispatcher Marc Brown says.
"You don't know what's coming in, you've got to position your crews in the right places for anything. ?
"We always talk about leaving the last car for the baby not breathing, because that's the one that touches everyone."
Tonight, Kim McCauley is answering triple-0 calls. She had been working in the ambulance service since 2005, bringing with her a mixed bag of experience as a pharmacy assistant and a communications operator in the air force.
The importance of the role is not lost on her.
"You get that baby not breathing phone call. It might only be five minutes until an ambulance gets there, but you're the lifeline for that five minutes," she says.
"You're the one trying to keep them calm, telling them what to do."
The professionalism and concentration of the team is immediately obvious.
But trying to stay detached from the intense emotion, trauma, and desperation of those on the other end of the telephone can be impossible.
"We get a lot of calls for suicides, where a wife has come home to find her husband hanging somewhere," ? McCauley says.
"You try ? to remain a little removed from it?. But they do affect you.
"We all say to each other, if you have a really awful call then log out, go for a walk around the block, get a coffee, do what you need to do, because some of them are just terrible." Just like their colleagues out on the road, the triple-0 communications team come face-to-face with the territory's most shocking trauma every day.
But the team's work is kept mostly away from the public eye, meaning their efforts can be "understated" to a degree, according to ?McCauley.
The high stakes that go with the job can take time to get used to, according to Brown. "When I first started here, it was hard to leave it at the door. You used to think 'if I'd done things differently, would I have had better outcomes'," he says.
"It's hard to explain . . . but you realise that you've made the right decision at the split second, you've got two or three seconds to get a car onto this case, and you've made a decision and you just stand by it."
Each member of the team deals with the difficult calls in their own way.
"Having a good crew to work with is imperative," intensive care paramedic Marty Owen says.
"We get to chat and have a joke. Black humour is pretty big in the ambulance service. It has been in all the years I've been in it.?
"There's an acknowledgement that you need to talk about things. My wife is in health care as well, so I talk about issues with her as well."
? Owen is a highly experienced intensive care paramedic, and is working in a newly created role in the communications centre.
Working as a communications clinician, ?Owen brings vast knowledge and experience, gained from years on the road.
He oversees dispatch decisions, provides clinical support, triage advice, and can give callers medical advice until an ambulance crew arrives.
He makes sure life-threatening cases are not going unrecognised by the system, and that less serious calls aren't being treated with too high a priority.
The team often take calls from those so hysterical and distressed that attempting to decipher the nature of the problem is impossible.
Without being able to see the patient, that makes assigning a priority to the task difficult.
"You basically get an address out of them and you just have to tell the dispatcher, 'I don't know what's going on'," ? McCauley says.
"Whether they're just over-emotional or something really bad has happened, you just don't know."?
Most Viewed in Entertainment