Memories of atomic horror
Fifty years ago hundreds of indigenous people suddenly found themselves refugees in their own homeland after nuclear testing in remote South Australia displaced them from their homes. Diana Streak spoke to the creators of a new play which explores those heart-wrenching stories
Abeautifully shaped mushroom cloud rises ominously in the distance. Soldiers are later threatened with court martial after taking photographs of an Aboriginal family camping in a radioactive crater.
Maralinga.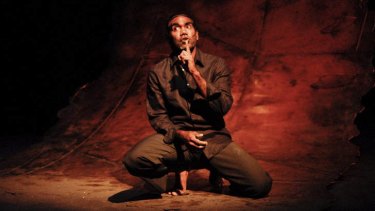 The name is synonymous with the British 1950s atomic weapons tests in the remote outback of South Australia. It is also at the heart of actor Trevor Jamieson's story of his family's confrontation with the strange new world of non-indigenous Australia as they were forced from the shelter of an isolated and timeless existence in the vast desert.
With questions whirling around in my head I wait with growing frustration for the phone to ring. The scheduled interviews for Ngapartji Ngapartji one with writer and director Scott Rankin and Jamieson are an hour and a half late.
But they are both instantly forgiven once Rankin confesses they had lost track of time because they were so engrossed in rehearsal for a new version of the show designed especially for a Canberra premiere.
Ngapartji Ngapartji one has been around for nearly a decade morphing through a variety of forms and sizes. The version coming to Canberra is a distillation of the story and includes Jamieson's experiences of telling it over the years, including a heart-wrenching decision whether to include references to his father after he died. It was originally a sweeping narrative work with a large cast that included a choir, elders teaching Pitjantjatjara language, storytelling, singing and dancing.
In the play Jamieson says ''Spinifex country at the heart of the Cold War. Families fleeing atomic clouds, the elders who are too sick are left on the side of the road for a truck that never comes. My family is hiding in caves, waiting for that sticky cloud to pass over, refugees …''
Because Aboriginal people don't talk about the dead, particularly back in the 1950s when they lived a much more traditional life, it made it easy for successive governments to pretend they were not killed or poisoned by the nuclear fallout.
Loosely translated Ngapartji Ngapartji means ''You give me something, I give you something''.
''It's all about reciprocity,'' Jamieson says. ''It's about the community; if you want to help somebody out it comes back to you in good faith and it doesn't matter if it's now or later on in the future, you help each other.''
Rankin and Jamieson have collaborated over many years and their Big hART production of Namatjira, the story of watercolour artist Albert Namatjira and his friend Rex Battarbee, was a sell-out in Canberra last year.
Speaking from a remote location in Tasmania where they are in rehearsal, Rankin says the production for Canberra was planned as a one-man show for Jamieson but has expanded to include two female Aboriginal singers and artists Milyika Carroll and Renita Stanley (whose work will be shown in an art exhibition running concurrently) who were both in the original mass choir, actor Lex Marinos as an Australian soldier and Yumi Umiumare, a practitioner of the Japanese avant garde performance art Butoh.
''When you create a piece for 10 years, like most shows, there are multiple cast changes, different seasons, different versions. This is really a decade of work by Trevor and me so we need to be authentic about the material, the experience and the way we look at it,'' he says.
''So the reason we got lost instead of ringing you up today is these things become quite intense as we go back over it. Trevor was a young man when we started this show and he is now very much a mature performer, so as we look into the material new things come to him, so it's very interesting work,'' he says.
''Lex and Yumi, who were in the original show, were both available now so we thought 'Ah, why don't we write some of that material back into it' and then Trevor's daughter, who is living in Canberra at the moment getting work experience as a singer, put her hand up to be in it, so it's expanding to a completely unique Canberra experience of the Ngapartji Ngapartji oeuvre,'' he says.
For Jamieson the work revisits painful yet healing memories of his extended family's experiences.
''It's about my family's displacement from around the Nullarbor, Maralinga where they did the atomic tests in the 1950s and it's about me going back to find my culture again,'' he says. ''It's very personal, my grandfather helped missionaries search for people displaced by the bombs, but later spent a long time in jail,'' he says.
''It's a smaller version of the one we did before, a bit more concentrated. There is the story of Maralinga but we are also reflecting the stories of other cultures that have been affected - like the Japanese,'' he says.
As Rankin says: ''When you look at the material and where the nuclear tests came from in terms of 20th century history it was a response to what happened at the close of WWII in Hiroshima and Nagasaki. There are are many resonances and mirror images of that experience in Trevor's family experiences, and the diaspora and being scattered in response to being bombed. We deal with what it meant for Trevor's family to encounter the Western world so quickly and in the context of this nuclear disaster for them.''
In March Rankin and Yumi Umiumare visited Japan on the anniversary of the catastrophic earthquake and tsunami that struck the Fukushima nuclear power plant in 2011. ''Trevor couldn't do it because he was touring Namatjira so Yumi and I took this story in a lecture-based outing as part of the anniversary of Fukushima. Some Japanese people are coming to the Canberra Theatre Centre to see it because they are very interested in the story with the potential of taking it back there. It's also an interesting tie-up given the twin city relationship between Canberra and Nara,'' he says.
The new version is designed to travel. ''It will be in a shape that we can tour internationally if and as we want to. There is a special reason for doing it in Japan, there is a comradeship there and I think that would fit very well with where the material is after 10 years of working on it.
''We'd take it out for special occasions so that's partly why we are doing it in Canberra … we have found a new voice for it.''
Ngapartji Ngapartji one at The Playhouse, Canberra Theatre Centre, July 25 to July 28.
Most Viewed in Entertainment