Movie review: A timely and vivacious adaptation of Chekhov's The Seagull
THE SEAGULL ★★★★
(M) 98 minutes
Chekhov's plays have frequently been in danger of being loved to death.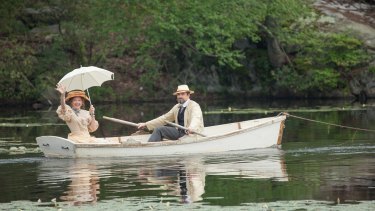 Updates and transplants have been allowed to do their worst simply because his style is so malleable, its wry understatedness perfectly suited to film and television.
But The Seagull, which began his great run as a playwright, has been relatively neglected by film-makers. The last notable screen adaptation was a sedate effort by Sidney Lumet in 1968 with Vanessa Redgrave, James Mason and Simone Signoret.
So Michael Mayer's version, with a skittish Annette Bening as the monstrously self-centred actress, Irina Arkadina, is timely as well as adroit. It's set where it was meant to be – in a lakeside dacha in the Russian countryside and the scenes around the dinner table are filmed by candle light, but hand-held cameras and a few well-judged anachronisms sprinkled into the conversation lend them a new vivacity. Bening and the rest of Mayer's well chosen cast deftly demonstrate the art of keeping everything in balance while leavening Chekhov's melancholy with giddy bursts of sardonic humour.
The screenplay, by American playwright Stephen Karam, does risk one structural alteration by having the story unfold in flashback. We get a glimpse of Irina winding up a performance in a Moscow play then going backstage to receive the news that her brother, Sorin (Brian Dennehy), is gravely ill in his house in the country.
And when she arrives, to find the family clustered at his bedside, the flashbacks begin, homing in on a summer two years earlier when the household's fortunes underwent a crucial change.
Irina's hot-headed son, Konstantin (Chesil Beach's Billy Howle), is putting on a play in the garden with Nina (Saoirse Ronan), the girl he loves, as his lead, and since he despises the commercial theatre which keeps his mother employed, it's a piece of angry polemic in favour of artistic radicalism. Irina keeps interrupting it with jeers and laughter and finally, he gives up and storms off to sulk.
Nina stays to talk to Boris Trigorin (Corey Stoll), Irina's lover, a writer who's enjoying acclaim for his novels and short stories, and it soon becomes ominously clear that these two are attracted to one another.
Chekhov himself described the play as having four acts, a landscape with a view of a lake, "much conversation about literature, little action and five tons of love" – a deceptively simple summation of the circular pattern of unfulfilled longings and unrequited passions which keeps the plot spinning.
Konstantin loves Nina who loves Boris, who is tempted by her youth, beauty and innocence while finding it hard to detach himself from Irina, whose vanity and strength of will are almost enough to secure her whatever she wants. Konstantin both resents and adores her, gravely wounded by her inability to love him back. This is the hub of the story but surrounding it are other sub-plots running along similar lines. Masha (Elisabeth Moss), the daughter of Sorin's estate manager, also loves Konstantin but he ignores her. And so it goes in a dance of discontent which can only end in tears while giving its actors every chance to offset tragedy with an ironic self-awareness.
Masha is, in her own way, as great a drama queen as Irina and Moss shades her bitterness with a masochistic delight in the hopelessness of her predicament. Bening, in contrast, gives Irina the energy of a woman afraid to stop and think about what she's doing lest her confidence ebb and her life crumble around her. And Stoll's Trigorin epitomises the ruthlessness of a writer who regards every relationship as research material.
The flashbacks begin, homing in on a summer two years earlier
The old house, with its years of history, honeyed summer light and glittering lake, shelters and constrains them all, composing a picture which is both idyllic and claustrophobic. At the centre of it all is Dennehy's Sorin – dignified, unassuming and destined to die here without re-visiting Moscow, the city he's been hankering after for decades.
Whatever their flaws, all of these characters are looked on with affection and sympathy – in true Chekhov style. In the end, even Irina gets her reflective moment – a hint that she may be capable of feeling for someone other than herself, after all.
Most Viewed in Entertainment