Double effect of a split personality
Adam Mada's name is a palindrome, and this reverse doubling effect is appropriate for Two Face, the character he plays in Batman Follies of 1929 at the Canberra Theatre on Saturday night.
The performer, who was born Adam Brindley in Canberra ''so many lifetimes ago'', despite the fact that is he oly 32. He will be exploiting his talents as a magician in his act, marking his first home-town performance in eight years.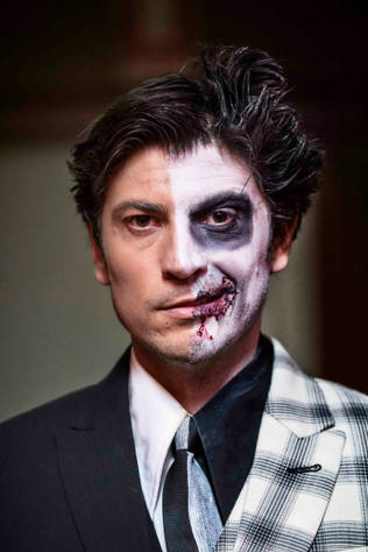 ''I produce a large golden coin from fire,'' Mada says, and he flips it to determine the course of the direction he takes during the performance. This will contain many illusions based on the duality of Two Face - ''dark side, light side'' - and will climax with a Russian-roulette routine involving a lazy susan and a concealed spike.
''There's a 13-piece big band, it's dramatic, it's vaudeville,'' Mada says.
''I'm playing up as Two Face, it's really pantomime.''
It's a bit of a departure for Mada: ''I mostly perform as myself, even if it's an exaggerated version of myself.''
He ''lived all over Canberra'' as a boy, in town and on small properties just outside, and went to school at Red Hill Primary, Telopea Park School and Narrabundah College. ''It was great, a lot of fun,'' he says.
He went on to study IT and multimedia at the University of Canberra and worked for a while in software development in Sydney, but says he was ''always doing magic on the side''.
He's been interested in the art of illusion ''for as long as I can remember'' and, self-taught, was performing tricks as a boy for family and friends and at parties and later at corporate events.
''I was always attracted to how they worked, the mystery and wonder,'' he says.
Performing helped him overcome his shyness and make him feel confident at social functions.
At 21, he decided he didn't want to work for anyone else and opted to pursue magic full-time.
''I studied in Las Vegas and Venezuela and at the College of Magic in South Africa,'' he says, all the time learning the secrets of the magician's art and thinking about how to develop his own illusions.
And he's enjoyed a successful career performing around Australia, overseas and on cruise ships. He starred in the 2010 TV series ,The Real Hustle, where he exposed scams, had a radio series on magic and was magic consultant on the feature film, Sleeping Beauty, the same year.
''I do everything,'' he says. ''A lot of sleight-of-hand stuff, large-stage illusions, levitation, mentalism, mind reading.'' But he makes no claims to any paranormal powers. ''All magic is created by hard work and science,'' he says.
''It's the intersection of art and science to create an effect. Magic and illusion are byproducts of the way the eyes perceive an event.''
He worked with the neuroscientist John Currie to device visual conjuring demonstrations that exposed the dangers of binge drinking to teens.
One of the things he's always liked about magic is its universality: ''It could speak to anybody in any language.''
Although he's always working on new tricks, he says many of the old ones developed by masters of the art, such as Jean Eugene Robert-Houdin, more than a century ago still work just fine.
And he thinks that the ancient art of magic will always have its appeal.
He says that, even in an age of high-tech special effects in movies, people like seeing the apparently impossible happen live, right before their eyes.
Batman Follies of 1929 is on at the Canberra Theatre at 8pm. Tickets $68.50. Bookings: 62752700 or canberratheatrecentre.com.au.