Star Trek's George Takei: Talks about his personal journey as a gay actor
There is something endearing about seeing a former helmsman of the Starship Enterprise walking down a suburban LA street gently bickering with his husband. And to listening in as he chats with his barber, an old high school friend, admonishing him cheekily for cutting too much off the top.
The documentary, To Be Takei, is full of such beautifully mundane moments featuring Star Trek's former Captain Sulu, George Takei, and his husband of six years, Brad Altman, walking around, driving around, sitting around, signing photos.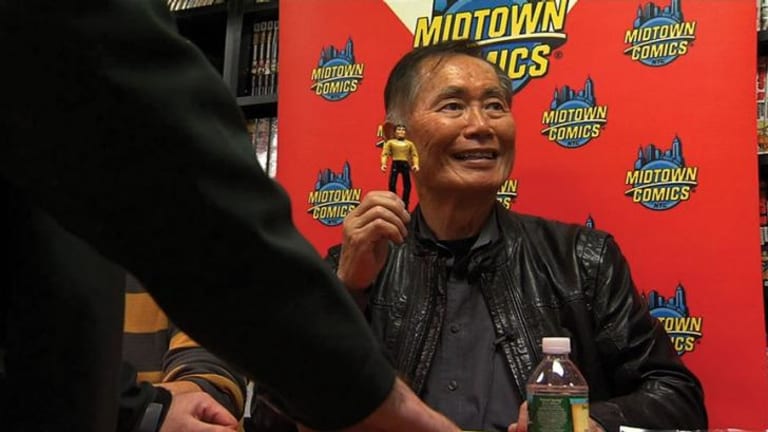 "We are just people," says Takei, who gave documentary filmmaker Jennifer Kroot "carte blanche" and final cut of the film, which premiered at Sundance this January. "Jennifer captured us in all our craziness, as well as our normality and in some ways our boringness. We may be same sex, but we wanted to disabuse people of whatever stereotypes they might have - we are diverse, some of us are even bankers."
And some of us are pop culture phenomenons cum gay rights activists blessed with the kind of canyon-deep voice that could out-God Morgan Freeman.
Takei is being modest when describing To Be Takei, which will feature at the Queer Screen Film Festival this September. Among the mundanities of married life, Kroot's film also shows the extraordinary: a California boy whose family was interned along with other Japanese-Americans during World War II who would go on to become a pioneer for Asian actors and, when he came out of the closet in 2005 in Frontiers magazine, for marriage equality.
Kroot provides snippets of Takei's film roles - though not of Australian film, Blood Oath, which he starred in with Bryan Brown and a young Russell Crowe he recalls as "eager, enthusiastic, a little bit of a ... sycophant" - and life on the convention circuit. But it's Takei's personal journey that centres the film, from his first experience with a boy (a nighttime liaison with a camp counsellor that was "delicious") to the intense "feeling of freedom" he felt upon coming out.
Sixty-something years was a long time to wait. "I started my career in the 1950s when it was unthinkable to be out and realistically think you're going to have a viable career," says Takei. "Films and film workers live or die by the box office, and for me to be out and insisting that I was going to be an actor was suicidal." He describes those who suggest that it might have been more pioneering to come out earlier - the kind of commentary that flowed in the wake of Ian Thorpe's recent coming out, which he followed - as "arrogant and all-knowing". "That's a very personal decision you have to make."
Closeted life, especially for a star, came at a cost, says Takei: "You are always on guard; every relationship you have, you are fearful". Gay bars offered a reprieve - "You think, at last, I can let my guard down" - but fear of raids and being publicly marched out to a police paddy wagon was "terrorising". "I'm an actor. People recognise you. Every time you went to a gay bar you looked for the exit signs and hung out near them; if there was any sign of the place being raided, you fled."
To Be Takei features interviews with former Star Trek cast members - among them William Shatner, who bluntly insists he barely knows Takei, and whom Takei dismisses as the Star Trek family's "crazy eccentric uncle" - as well as John Cho, who plays Sulu in the rebooted Star Trek films.
In the documentary, Cho describes Takei as an inspiration growing up: a successful Asian-American in Hollywood, who got there on the Bridge of the Enterprise and not in a karate uniform. For Takei, Cho is a sign of the legacy he leaves.
"There are dramatic differences [for Asian actors] from when I started out in the 1950s - John Cho can now play leads in television series. But when I look at the advances made by the African American community we still have a long way to go. There are African American actors who are considered bankable stars, whose names can get a project greenlit ... and those stories are told from the African American vantage point. We are yet to get the kind of star and and stories told from their vantage point."
His own project, a musical that draws from the experience of Japanese-Americans interned during World War II called Allegiance, is his own attempt to change that. The show tells the story of an American-born father and son who, when offered the chance to forswear an assumed allegiance to the emperor and join the military, take two very different courses.
After a successful run in San Diego, Takei is shopping around for a New York theatre - and he's betting on the documentary generating enough interest to get him over the line. Broadway, Takei hopes, will be his next frontier.
To Be Takei screens September 20 as part of the Queer Screen Film Festival.

Joel Meares is the Arts Editor of The Sydney Morning Herald. Joel joined the Herald in 2007 as a writer on the(sydney)magazine before leaving to study for his Masters at Columbia University in New York. He returned in 2014 and now oversees coverage of the arts.
Most Viewed in Entertainment
Morning & Afternoon Newsletter
Delivered Mon–Fri.