Strife begins at 40
Judd Apatow's characters are older but no wiser as they reach middle age, writes Sandra Hall.
Pete (Paul Rudd) and Debbie (Leslie Mann) are getting on a little better than they used to. When they made their first appearance in Judd Apatow's Knocked Up, they looked as if they would be divorcing long before they reached the significant age of 40.
But here they are, five years later, still bickering as vigorously as ever. They're also cherishing the same secret fantasy - each wonders what life would be like if the other suddenly died.
It's a determinedly candid and mordantly funny film in an intermittent kind of way. Pete and Debbie show signs of wanting to extract themselves from the shrink wrap that keeps most Apatow characters in perpetual mourning for their younger, hipper days, and despite everything they have retained the ability to make one another laugh - but it's a long haul and they do whine a lot.
The film runs for 2¼ hours, yet it leaves you with the expectation they'll still be obsessed with the same yearnings and dilemmas when the inevitable sequel comes around. She'll be lamenting her breasts' lost bounce, he'll be dwelling on the fact his erections aren't as upstanding as they used to be, and they'll both be wondering if they really like one another.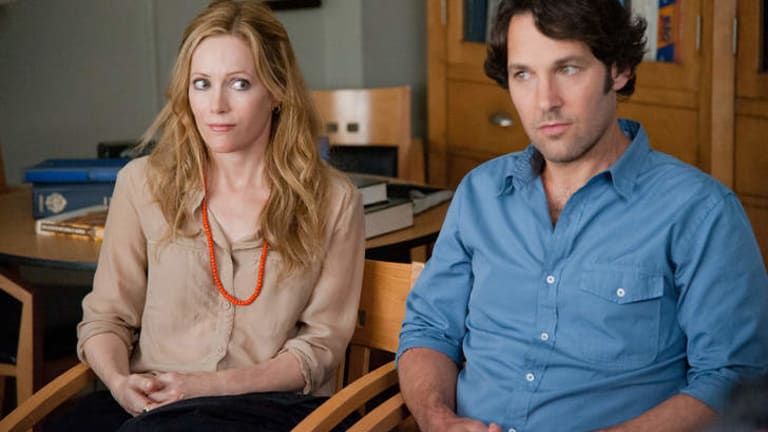 Apatow has a lot invested in the film. It's the first one he's directed since Funny People (2009), his bracing take on the corrosive effects of fame, and it's a family affair. Mann is Apatow's wife, and their children, Maude and Iris, have been cast as Pete and Debbie's warring daughters, 13-year-old Sadie, who alternates between sulks and tantrums, and eight-year-old Charlotte, the sanest member of the household. Her needs are simple. She just wants everybody else to settle down, be happy and let her have some peace and quiet.
Surprisingly enough, I found myself on Pete's side for much of the time. Apatow's boy-men are always a challenge. Even though they're nervy, self-centred and allergic to any whiff of maturity - or worse, mortality - you're supposed to be charmed by them, and it's seldom easy. What makes it possible is their capacity for mining humour out of their own frailties - something at which Rudd is especially good. His nerds and slackers have a sweet-natured guilelessness that never quite cancels out the possibility there's a genuine intelligence lurking in there somewhere.
He can also do more caustic roles without seeming slightly narcissistic and bitter, like Adam Sandler. Pete has his acerbic side. His boyish nonchalance is shadowed by the realisation his career as a rock music promoter is not going well. His tastes are not moving with the times and he's uneasily aware of an urgent need to do something about it.
Mann, on the other hand, gives Debbie a monotonous delivery and a nagging presence. She has a habit of pursuing Pete into the bathroom and throwing the door open on him as he sits on the lavatory because she's convinced he's using his bathroom breaks to get away from her. And, of course, she's right.
Sadie is a more feral version of her - so much so you're never sure if Debbie's look of open-mouthed wonder means she's appalled by her daughter's behavioural excesses or if she's regarding them with rapt admiration.
Happily, other members of the supporting cast are more engaging. Albert Brooks displays a certain delinquent appeal as Pete's father Larry, who is even more immature than Pete - expecting his son to subsidise him and his second family with a regular allowance.
John Lithgow is at his most drolly supercilious as Debbie's selfish father and Megan Fox plays one of the sales assistants in the family dress shop, although her real role is to make Debbie, Pete and their contemporaries feel even more aged than they do already.
Jason Segel and Charlyne Yi reprise the parts they had in Knocked Up. And two of the Bridesmaids cast, Chris O'Dowd and Melissa McCarthy, have been introduced to add more colour - a deep shade of blue in McCarthy's case. It's a cameo role. She has just one scene in which she delivers an extended rant so inventively improvised and tediously foul-mouthed you fear it has discovered the secret of eternal life.
Fortunately, Apatow's own gags are more amusing. His script incorporates a few home truths about the doubts and fears that are an inevitable part of a long-distance marriage. But there's a lot of juvenilia. While he's a superior practitioner of the bodily function joke, the whole film is undermined by the kind of adolescent prurience that has been setting the tone of Hollywood rom-coms since frat-house humour started exerting its influence on them back in the 1990s.
In Apatow's case, hitting middle age is not yet the same as growing up.
Twitter: @SandraHFilm.
THIS IS 40
Directed by Judd Apatow
Rated MA, 134 minutes
Most Viewed in Entertainment
Morning & Afternoon Newsletter
Delivered Mon–Fri.