The Fault in Our Stars: Interview with bestselling YA author John Green on the move from page to screen
A YouTube star found literary fame with his tale of young love in the cancer ward. Now the story is set to find a new audience in cinemas.
John Green says he is a novelist with a day job making YouTube videos. That seems a modest position description, particularly right now: he has been named one of Time's 100 most influential people, and has written an international bestseller that has just been made into a Hollywood movie.
The Fault in Our Stars, which came out in 2012, is Green's fourth novel for young adults (he has co-written a fifth). It has been a phenomenal success from its first publication. Green made the mistake of vowing he would sign all pre-ordered copies, and ended up autographing the entire first print run of 150,000.
The story's central characters are Hazel Grace Lancaster and Augustus Waters, two sharp, witty and fiercely intelligent teenagers in love. They both have cancer, and their dark, funny and devastating story provides obvious pitfalls for a Hollywood adaptation. Yet the path from book to film was fast and harmonious, and the movie has been made with a kind of imaginative fidelity that is likely to find favour with the novel's most demanding devotees.
Green, 36, says he wondered if it were possible to make a Hollywood film ''in which the leading woman has tubes in her nose for almost the entire movie, but she's not treated as a precious little thing, she's not treated as a mere tragedy."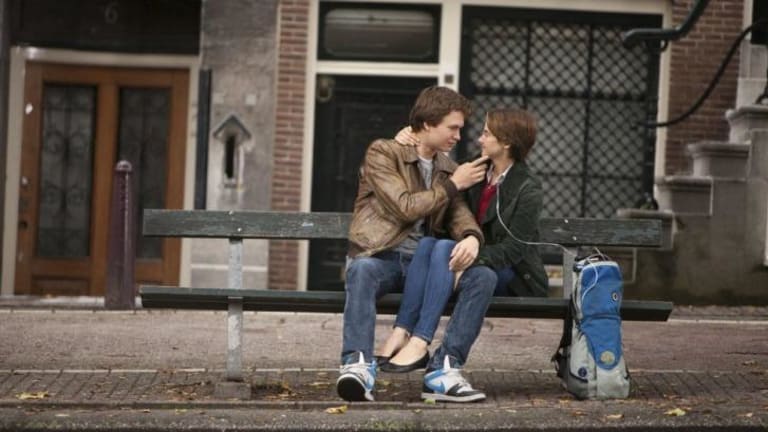 "She has a full, rich, complicated life," he says. "And I really worried that nobody would be able to do that. But in the end I was convinced by the passion of the producers and the studio; they seemed totally committed to all the stuff that mattered most to me.''
At the same time, he knows films and books are different beasts. "I really don't feel an ownership over my books once I've finished with them. Once they're out, I really don't think they belong to me. I think books belong to their readers. And so I hope I wasn't too precious about it, or too protective about it."
He went to the shoot, intending to watch for a few days, then stayed for most of it. "The director and producers thought it would be helpful to have me, [so] that the actors could bounce ideas off me and talk to me about characters."
He had a ball. He describes how moving and fascinating it was for him to watch Shailene Woodley, who plays Hazel, cry on cue, over and over, for several hours, then ask him if he'd like to go for lunch. "I said, I don't want to get lunch, I'm very upset. I've also been crying all day. How can you want to get lunch? How can you want to go on?"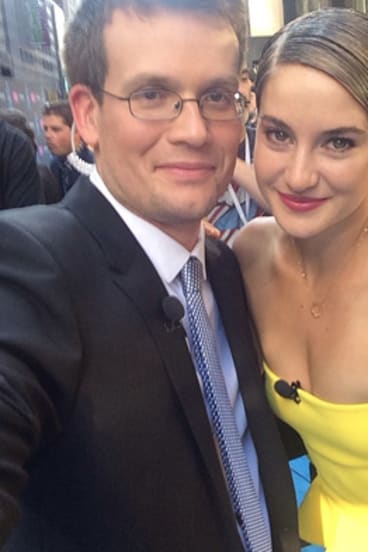 The Fault in Our Stars was published in 2012, but its origins go back to 2000, when Green was 22, and working as a chaplain in a children's hospital. He had majored in literature and religious studies, and was planning to attend Chicago Divinity School. Working at the hospital was part of the process of preparation for Episcopalian ministry.
The hospital experience affected him in many ways. It helped him to decide that ministry was not for him. It challenged him to think about the best and most constructive ways to care for people, and developed his notion of empathy. He suspects it helped him to be an author, given that empathy is a crucial to the job – ''along with a weird mix of egotism and insecurity".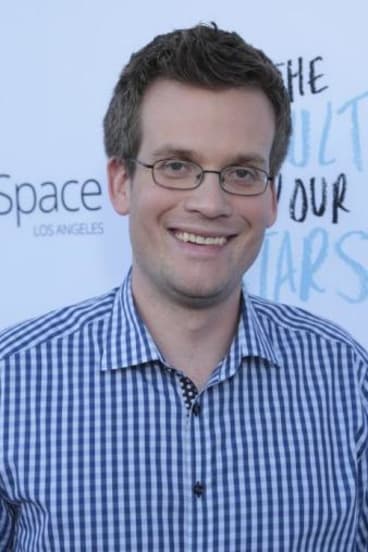 He stayed in Chicago, and got a job as a publishing assistant and production manager with Booklist, a book review magazine published by the American Library Association. He wrote hundreds of book reviews, and a novel of his own, Looking For Alaska (2005), which drew on his own experience at a boarding school in Alabama.
Green has a contagious enthusiasm; it is evident in his writing, his conversation and his YouTube videos. He is comfortable with the idea of fandom – he understands it from both sides. It is almost as if he has taken to heart that observation from The Catcher in the Rye, in which Holden Caulfield talks about reading a book and then wishing that "the author that wrote it was a terrific friend of yours and you could call him up on the phone whenever you felt like it". You can't really ring up John Green, but you can certainly gain a strong sense of what he feels and cares about. He makes himself very available. And he takes the idea of community and contact seriously.
He is a prolific user of social media and has 2.36 million Twitter followers. You can find him on Tumblr (fishingboatproceeds.tumblr.com). His website, johngreenbooks.com, gives a lot of background information about his work, and provides detailed answers to questions. But his focus is not on numbers – one of the most important communities for him is a relatively small group: a self-defined bunch who call themselves ''nerdfighters". They were the most ardent and involved supporters of his first video blog. One nerdfighter, a teenager called Esther, who suffered from thyroid cancer and died at the age of 15, was an influence on The Fault in Our Stars; the book is dedicated to her.
Green's self-described "day job", making videos, has been a key part of his life since 2007. He and his younger brother, Hank – who lives in Missoula, Montana – decided to spend a year communicating through daily videos, made available to the public on a YouTube channel. They are conversations that often have an edge, and they cover everything from news of the day, to running gags, to personal obsessions. They still post video blogs every Tuesday and Friday. Another of their web projects – there are several – is a weekly educational series, Crash Course, which began on YouTube two years ago. The episodes are around 10 minutes long: John deals with the humanities, Hank goes for the sciences: they do anything from "The Clinton Years" to "Hydrocarbon derivatives".
Green is also involved in producing a web series with PBS called The Art Assignment. It is the brainchild of his wife, Sarah – formerly curator of contemporary art at the Indianapolis Museum of Art – and she is the host and curator.
Sharing what you feel most strongly about is an important element of The Fault in Our Stars. One of the things Hazel is most devoted to – a passion she passes on to Augustus – is a (fictional) novel called An Imperial Affliction. It is written in the first person about a young woman with cancer. Hazel loves the book but is also frustrated by its ending – she is desperate to know what has happened to the characters in the book, and eager to make contact with its reclusive author.
When Green was a couple of years older than Hazel, he had a book that occupied a similar place in his life: David Foster Wallace's vast, brilliant and labyrinthine novel Infinite Jest. "It was very important to me and certainly shaped a lot of my thinking around An Imperial Affliction," Green says. "The way that Hazel talks about it is very much the way I talked about Infinite Jest."
We talk about endings, and their place in his view of the world. "One of the things about being a person is that everything we know about being a person is contingent upon ending," he says. "Everything we know about the universe is contingent upon ending. One of the definitions of life is that it dies. One of the definitions of matter is that it decays. And yet we are able to fathom boundlessness.
"We have this idea of endlessness, in the form of infinity, and we actually know quite a lot about it. mathematically; but I think that even if you don't know set theory you are still able to grasp this extraordinary abstract idea of endlessness. And how – within a life and world that is built around endings, built around temporariness that is built around finiteness – we are still able to grasp and consider and kind of hold infinity: that is completely fascinating to me."
Books have a part to play in this as far as he is concerned. "Both reading and writing for me help to escape the prison of self. I know that my body is the only body I'll ever have, my consciousness is the only consciousness I'll ever have, I know I'll only ever see out of my eyes, but somehow reading and writing both allow me to escape that prison for a while, allow me to imagine with – I think – meaningful complexity what it would be like to be someone else. To live inside of Hazel for a while. Or Holden Caulfield when I'm reading Catcher in the Rye. And in that process, if you don't have to be yourself, then that lets us glimpse infinity a little bit, endlessness a little bit."
In the final stages of the juggernaut that is the Fault in Our Stars media tour, some parts of his life will become a little less hectic. It is not clear, however, what comes next in his fiction.
''I'm trying to write, but it's difficult. I'm still in the shadow of The Fault in Our Stars. I'm having a tough time letting it go. I'd like to entirely blame the process of publicity, but I think in truth it's more my own inability to let go of a story that was pretty personal to me."
The Fault in Our Stars opens on June 5.

Philippa Hawker has been writing on film and the arts for The Age since 1997. She is a former editor of the now defunct Australian film journal Cinema Papers.
Most Viewed in Entertainment
Morning & Afternoon Newsletter
Delivered Mon–Fri.