Alexander Balus, Handel Canberra Choral Society
A beautifully crafted oratorio is brought to life in fine style, writes Jennifer Gall.
Alexander Balus.
By G.F. Handel. Canberra Choral Society.
The Playhouse, Canberra Theatre Centre, September 20, 2014.
While the plot of Alexander Balus is a tragic tale of love, treachery and destruction, the Canberra Choral Society's production was achieved by a most harmonious union of well-cast, talented soloists, sublime instrumentalists, a venue suited to the nature of the work and an impressively disciplined chorus - all under the baton of an enlightened conductor. The austere elegance of the stage design, costumes and lighting drew the audience into the music, disdaining distracting special effects.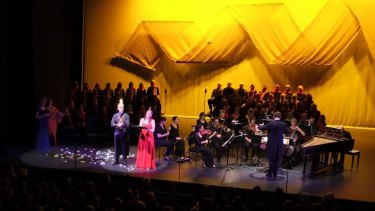 Alexander Balus is a late oratorio, written in 1747, and produced at Covent Garden Theatre, on March 23, 1748. Handel was 63, with 11 years to live. There are many instances of exceptional craftsmanship in the delicate intricacies of the ensemble writing that provide a musical lattice-work through which the soloists weave their arias with great effect.
The oratorio challenges the traditional guise of the hero as a deep-voiced muscle-bound warrior, defining Alexander (played by Toby Cole) against the bass voice of the evil Ptolomy. Alexander Balus has no lack of courage, but his chief attributes of faithful love and loyalty are also his undoing. The vocal dexterity required to sing this difficult role reflects Alexander's mental and physical agility and Cole was at his dazzling best in the aria Fury, with red sparkling eyes. In this aria he was transformed before the audience from love-struck romantic into a deadly commander, navigating devilish runs, diabolical leaps and terrifyingly complicated ornamentation with tremendous energy.
Christopher Richardson as Ptolemy was a powerful presence, matching his majestic vocal performance with very convincing, animated dramatic skills. His voice contrasted well with that of tenor Christopher Saunders, who took the role of Alexander's friend Jonathan, providing consistently strong solos, such as the soothing air To God who made the radiant sun.
Supported by Christina Wilson's outstanding singing in the role of Aspasia, Jacqueline Porter's captivating voice and exceptional focus equipped her to shine as Cleopatra. Most gruelling is the final act in which Cleopatra must perform three arias depicting stages of grief in response to the deaths of her husband, her father and the destruction of two armies. Porter' s skilfully controlled dynamics in the unaccompanied opening of O Sword, and thou, all-daring hand ensured a spine-tingling performance, drawing the audience into her singing. Her final sombre offering, O take me from this hateful light, induced a reverent silence in the auditorium.
Equal praise must be given to each member of the CCS Ensemble under the baton of Brett Weymark. It was thrilling to hear in such detail the complexities of Handel's instruments of the period. Erin Helyard's immaculate rhythmic sense and tight ornamentation was a joy to hear.
Once again, Tobias Cole and the Canberra Choral Society have brought to life the music of Handel with dedication and enthusiasm, proving that great music is always as pertinent as the day it was written.
Most Viewed in Entertainment