FRENCH singer Carmen Maria Vega has a voice so strong and distinctive that it's hard to believe she could ever have doubted herself, or thought of expressing herself any other way. Yet her first love was drama: the thought of singing intimidated her, making her feel exposed. ''When you sing, it's your soul, it's you,'' she says. ''On stage, acting, you can hide yourself.''
With encouragement from ''some beautiful teachers'', Vega found a way. ''They said I must believe in myself. We need to meet people like that on our road,'' she says. And she has built a musical career, touring and recording, thoroughly committed to the pleasures and possibilities of performing live.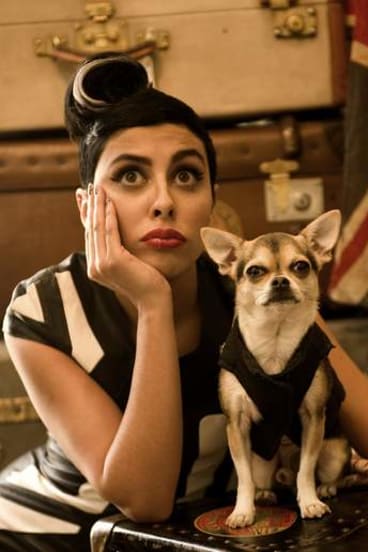 Vega and her band - which is also called Carmen Maria Vega - will be in Australia in January for a So Frenchy So Chic in the Park concert event, showcasing new music from France. In Melbourne, she will perform at Werribee Park, in a bill that also includes Revolver, Nadeah and Melanie Pain.
Taking her first steps in music, she recalls, ''I didn't know what I wanted to sing, or even whether it should be in French or English. So the first song I sang in public was Pink Floyd's The Great Gig in the Sky'', a song that has no words, only vocalising.
Her confidence was growing, but she was still searching for a musical identity. ''I tried to write, but I am no good at it.'' Then she met guitarist and songwriter Max Lavegie, whose lyrics and approach were a perfect match for her style. They formed a duo, then gradually added more members, including Australian bass player Oliver Smith.
Her range and versatility are evident on her new album, Du Chaos Naissent Les Etoiles, her second. She's been described as Piaf with a punk attitude; there's an obvious connection, in her voice and her songs, to the tradition of the chanson populaire, but there's the sound of jazz, rock, cabaret and gypsy swing. There is a black humour evident in some songs, a satirical twist in others.
Lavegie's songs, she says, are written for her, yet she's not a passive recipient. She's part of the creative process in a range of ways. ''And when he gives the songs to me, it's part of my job to interpret them and make them mine.''
One of her most popular numbers, On S'En Fout, seems at first to be a straightforward anthem of rebellious indifference. But by the end, the attitude has turned back on itself - the song leads us to question how far disenchantment or indifference can go.
Another song, Country, takes a somewhat cynical view of the music business. It's about a singer being told that ''rock'n'roll is over, so start doing country music'', and then being instructed to ''drop the French lyrics, it's time to start singing in English''. It is not a direct fit with her own experience, she notes, but more about the music industry in general, particularly the way instant stardom emerges from reality TV shows that purport to discover the next big thing in music.
All her lyrics are in French. She has mixed feelings about what it means for French artists to sing in English, she says. It's the language of so many jazz standards that she knows and loves. It can allow a performer to address topics that might come across as controversial when they are sung about in French. For many French people, she adds, it's a romantic language. When she performs in Australia, she says, she'll speak in English between songs - although she feels a bit self-conscious about her French accent.
Vega was born in Guatemala, but her parents moved to France when she was nine months old. She grew up in Lyon and studied drama there before taking the plunge into music. Her self-titled first album was released in 2009: in 2010, the album was nominated for the Prix Constantin, a French award modelled on Britain's Mercury Prize.
Performing live has turned out to be something Vega embraces. ''You can meet the public. And it's a real liberty.'' Recording, you can perfect, but live, ''you can do what you want, say what you want''.
When she's thinking about songs and performances, she often has a cinematic link in mind, a visual or emotional reference point - sometimes this can be explicit, sometimes more oblique. For the first number on the album, La Marquise, she thinks of Kubrick's Eyes Wide Shut. Quentin Tarantino's Pulp Fiction is another important and acknowledged influence.
And for the lighting on her latest show, Vega consulted the designer about the films of horror director Dario Argento - she loves his use of blue and red.
In the future, however, she'd like to return to acting: she has already had a small role in a feature, Le Jour de la Grenouille, directed by Beatrice Pollet, and there are three projects coming up next year. Yet it won't be easy. ''In France, it's hard for people to think that if you are a singer, you can be an actress.'' She is eager to prove you can be both.
■ So Frenchy So Chic in the Park is on January 20.
Most Viewed in Entertainment
Morning & Afternoon Newsletter
Delivered Mon–Fri.