Ball Park Music review: A band for the all-ages
Ball Park Music
Enmore Theatre, March 9
★★★½
There should be more all-ages gigs. The buzz at this one was incredible, never mind that much of the crowd would have still been in infants' school when Ball Park Music formed in 2008.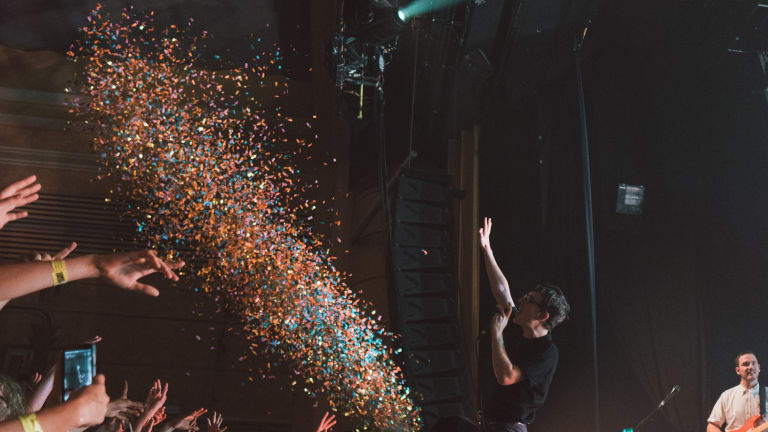 Eight entries on the Triple J Hottest 100 later, this Brisbane five-piece has become that rare thing on the Australian music scene: an indie-pop band with longevity.
Certainly, there is a careerist aspect to what Ball Park Music do. They met as university music students and know more than most about deconstructing and reproducing the indie-hit formula.
Luckily such calculations rarely stopped this material packing an emotional punch live, especially with a heaving mass of stage-diving, singalong-ing kids to help it.
The band are blessed with a great communicator in frontman Sam Cromack, his warm tenor involving us in lyrics that are jaded cynicism one moment ("stop selling me shit that I don't need," he sang in Cost of Lifestyle, announced accidentally-on-purpose as "Corporate Lifestyle") and joi de vivre the next ("our bits smash together like fresh fruit in the sun," sang everybody, as 2011's Literally Baby proved its durability).
The hook machine that is the rest of the band sealed the deal, with Jennifer Boyce's creative bass lines, Daniel Hanson's machine-gun drum rolls and Paul Furness' keyboard riffs ensuring the throng barely stopped.
Yet two of the least musician-ly moments were this gig's biggest highlights. Cromack's solo strum through It's Nice to Be Alive underlined its status as a classic piece of songwriting, while this year's Hands off My Body pointed towards a potential new direction for the band.
Easily the most straightforward song Cromack has written, this headbanger smelt more like the Sex Pistols than something cooked up for playlists: "I didn't like my ears so I chopped 'em off/I didn't like my nose so I chopped it off/ … I didn't like my tongue so I aaaaaaaaargh!" Cromack screamed, and the Instagram generation went wild.
As the encore closed with showers of ticker tape and a woozy reprise of Literally Baby, Cromack told us this had been Ball Park Music's 400th show. A band that counts that many is surely intent on doing 400 more.
Most Viewed in Entertainment
Morning & Afternoon Newsletter
Delivered Mon–Fri.