The Yellow River Project
Coro. Larry Sitsky Recital Room, Sunday, September 21
Coro is a relatively new Canberra vocal ensemble, dedicated to presenting unusual and infrequently performed choral music for audiences in the nation's capital.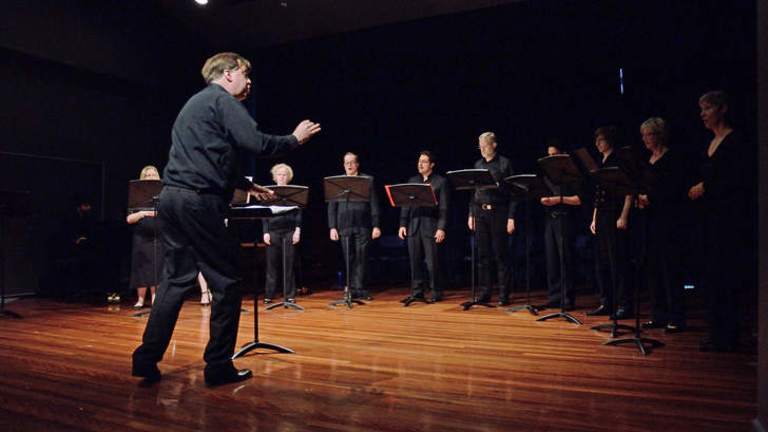 Sunday's concert was a result of Coro founding member, Paul Eldon, having joined the International Festival Chorus while living in Beijing.
This multicultural choir was founded and conducted in Beijing by Nicholas Smith - the guest conductor for this performance by Coro. Impressed by the synergies between Australian and Chinese music during the past 100 years, the idea of a program that blended thematically related musical works from both cultures developed under the title of The Yellow River Project.
Conductor Nicholas Smith has lived in the People's Republic of China since 1991 and he is an expert in the field of Chinese choral music and its function in Chinese society.
Throughout the concert he provided informative introductions about the significance of each of the Chinese songs, tracing the influences on compositional styles of composer's interactions with Western culture. Beginning with the rousing songs Qi Zheng Piao Piao and Man Jiang Hong, it was evident that the members of Coro had taken to heart the lessons learnt during the week of rehearsals with Smith.
The ensemble sang the difficult Chinese texts with confidence and expression, revelling in the energetic accompaniment played with splendid virtuosity by Adam Cook.
Chinese items alternated with compositions by Lindley Evans, Dulcie Holland, Margaret Sutherland, Marie Cowan, Calvin Bowman and Coro's own David Mackay.
Lyrics expressing love for the landscape, livestock and even vegetables contrasted with poetic songs exploring spiritual and ideological topics.
My favourite of the Chinese songs was Mue Ge (Shepherd Song), in which the living sheep on the green fields are likened to pearls moving across cashmere. The vocal arrangement with wordless sustained notes and call-and-response structure created a spine-tingling evocation of vast distances in the rural landscape.
Luo Shui Tian (Rainy Day), a Guangdong folk song arranged by Smith was another beautifully phrased performance.
Two compositions by Mackay brought a special Canberra focus to the conclusion of the concert. The falling fifth in the simple, beautiful piano accompaniment to Aedh Wishes for the Cloths of Heaven is typical of the composer's ability to colour the vocal line in perfect accord with the mood and rhythm of the lyrics.
Loveliest of all was the new work, Weathering, composed for Paul Edlin and Daniel Sanderson to perform.
The beauty and economy of the accompaniment supported the vocal duet perfectly, transporting us into yet another world of sound somewhere beyond both China and Australia.