Folk festival scores top US roots Mann
Guitar virtuoso Woody Mann will perform his own work on his first visit to Australia, but also pay homage to the guitar greats.
When a highly skilled musician dedicates a career to promoting the work of the greats who went before him, the lines between entertainer, historian and tutor can become blurred.
Music store shelves around the globe are overflowing with DVD tutorials promising to teach guitar in the styles of long-gone blues artists. And any number of online lessons can be downloaded at the press of a button.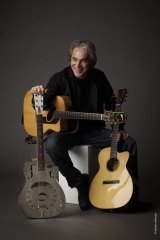 But there are lessons and then there are lessons.
That's because there are the real teachers and then there are the wannabes.
What puts American guitar virtuoso Woody Mann so far ahead of the rest is that his lessons are grounded not just in a deep understanding of early blues music, but also in his own superior musicality.
A true pioneer in the craft, Mann transcribed the complete works of Delta blues legend Robert Johnson. Across more than four decades he has produced books and videos, teaching not only songs belonging to that mysterious bluesman who sold his soul to the devil in exchange for improved musicianship (Johnson was murdered aged 27 - some deal), but also in the styles of Big Bill Broonzy, Lonnie Johnson, Blind Blake and many more.
It's ragtime, it's fingerpicking, it's slide and it's contagious blues riffs. Mann has mastered them all and has expertly passed his knowledge on to eager guitarists the world over. He also presents live clinics, workshops and master classes.
Yet what can be forgotten amid all this generosity of knowledge-sharing is that Mann is himself a world-class entertainer and a stunningly mesmerising performer.
Classically trained and as masterful in jazz guitar as he is in the blues, Mann is somewhat of an enigma.
And he is making his first trip Down Under to appear exclusively at the National Folk Festival in Canberra during the Easter long weekend in April.
From his home in New York City, where it was snowing at the time, Mann said he was keen to get to Australia and feel the warmth not just of the climate, but also of the people.
He confessed to also feeling a little embarrassed that it has taken him so long to get here.
"Yes, this is my very first visit to Australia," he laughed.
"We never quite made it happen before now. I am fully aware that in Australia there is a great appreciation of the kind of music that I play and of old traditional blues songs.
"I think the National Folk Festival will be the perfect place for me to share it for the first time down there."
The festival will also present a prime opportunity for Mann to launch his latest work - a full-length documentary feature about the life, times and music of the Reverend Gary Davis.
Titled Harlem Street Singer, the film explores the story of the blind blues and gospel singer who taught so many of today's professional musicians to play the guitar how God intended it to be played.
"The movie will premiere in Australia, at the festival," Mann said. "This is a story I have always wanted to tell. The Reverend Gary Davis is a musical icon now - we know Gary Davis. He was this old blind guy.
"But really there isn't a lot known about him. We are now very proud of him, but his full story hasn't been told.''
Mann, like so many others who were captivated by the American blues revival in the 1960s, sought out Davis and sat at his feet to be tutored.
He wanted to play the blues just like the old blind guy who spent a life performing on street corners and in juke joints.
By the time Mann met Davis, the blind singer was in the very twilight of his life and had "officially" stopped playing the blues ("the devil's music"), choosing to instead concentrate solely on preaching and playing spirituals on his guitar.
But when Mrs Davis wasn't in earshot, the cheeky reverend still let loose with some raunchy blues and showed his pupils how to play them.
"With me, it was really by accident. I was looking for a guitar teacher and I had heard his name," Mann said.
"Some guys were saying he was really good. So I just looked him up in the phone book and his wife answered and said 'come on over'. I went over and heard him play a little. When I heard his ragtime stuff it just blew my mind.
''I said to myself 'I gotta learn that' and in that sense it was a real lucky accident."
The feature film is outstanding and something of which Mann is rightly proud. But it wasn't a simple project,
"The DVD was six years in the making," he said. "There is new footage we had to go through and bring all together. Making a movie is not easy. It's my first full-length film."
Which brings us back to the question of where the musician stops and the tutor-historian takes over.
For Mann, it's a simple question and not in the least a conflicting position.
"I think one stems from the other," he said.
"My roots stem from country blues, then my studies got me into classical and jazz, I played in groups.
"But even now when I write songs I see the roots in Blind Lemon Jefferson. I definitely see the genesis in the old blues players.
"You want to add your two cents' worth to these old tunes. Why play exactly like Gary Davis? That's what he taught me.
"Robert Johnson didn't play everything the same way twice."
Mann's original songs are also refreshing, he being an avid writer of original music.
Yet when it all comes down to it, he loves to improvise and let a tune take him into uncharted territory.
Singing behind the guitar while his fingers are traversing the fret board in what might seem another direction is a challenge he particularly enjoys.
His prowess has not gone unnoticed. Reviews of Mann's concerts gush over his ability to captivate his audience.
Guitar Player magazine: "With impeccable tone, gutsy phrasing, beautiful harmonies, and cool dynamics, Mann is in a class by himself. Phenomenal."
Sing Out! magazine: "His wizardry on the fret board is matched by his ability to convey deep feelings with his songs - creating moods that incite, delight, or simply soothe. Attempts to categorise his music simply miss the point. This is brilliant playing that demands to be heard."
Musician magazine: "Every now and then, you hear a guitarist whose sound is completely his own and whose music flirts with several styles, never resting for very long with just one.''
The Boston Globe: "Having studied, literally, at the feet of the Rev. Gary Davis and other blues greats, Woody has taken the music and evolved it into his own highly personal, energised approach while practicing his teacher's gift for telling powerful stories in the song form."
For Mann, it is simply all about the joy of playing the guitar, sharing great music and not even attempting to fit it into any one box.
"I think I've played more of a variety of music," he said.
"I studied classical, studied jazz and then went across genres. Record companies couldn't pigeonhole me.
"I'm modern, roots, blues, jazzy. I think of everything I play as coming out of the roots, blues and jazz traditions.
"To me, carrying on the tradition is really trying to be original. You can play your own music and still be connected to Charlie Patton.
"It's really hard for me to categorise myself. I do my own version of a Blind Blake song.
"The trick is trying to keep it rootsy. I pull together all these different aspects.
"That's my journey."
♦ Woody Mann will perform concerts and conduct guitar workshops at the National Folk Festival, Canberra. Easter long weekend - 17-21 April.
Chris Johnson is a political correspondent. Most recently Chris was the Canberra bureau chief, and national political correspondent for The Sunday Age and The Sun-Herald.
Most Viewed in Entertainment