Gay marriage adds modern twist to Grammys 2014
Macklemore & Ryan Lewis were big winners but 34 gay and straight couples celebrating their Same Love song stole the show.
Daft Punk, Macklemore & Ryan Lewis and Lorde were the big winners in the daggiest but the most important music awards on the planet, The Grammys.
Beyonce and Jay Z opened procedings but beyond a single win for Mr Carter (best rap/sung collaboration), it was a subdued night for the entertainment industry's number one power couple. Beyonce may have affected the most telling change on the music industry in 2013 with her ambush iTunes-only album launch, but it takes the Grammys a while to catch up.
Jay Z might have privately seethed at being trounced by pop hip hop duo Macklemore and Ryan Lewis (which grabbed four Grammys) but there was no doubting the humour, energy and heart of their releases in 2013.
The biggest moment of the 56th Grammys ceremony belonged to the 34 gay and straight couples who wed on stage during Macklemore & Ryan Lewis' performance of their zeitgeist-capturing same sex marriage anthem Same Love. A bejewelled Madonna, who remains relevant only as a touring giant, was awkwardly shoe-horned into the performance when she really added nothing.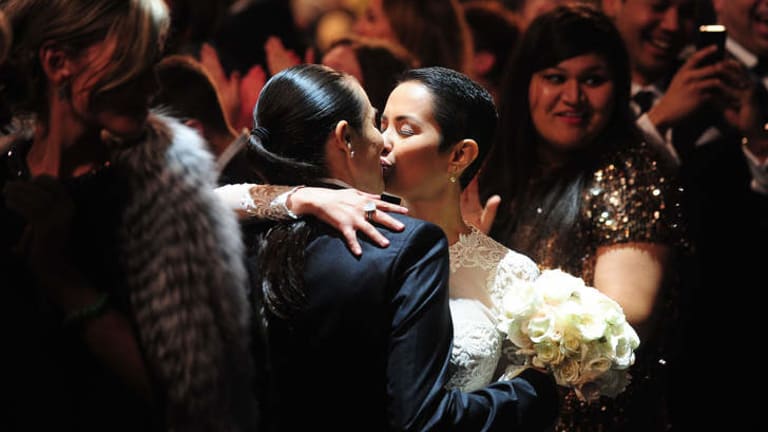 In the absence of Australian successes - the three local acts nominated (Tame Impala, Hiatus Kaiyote and The Greencards) were unsuccessful in their respective minor categories - our allegiances switched to the serious and outspoken teen Kiwi singer-songwriter with Goth look and the streetwise lyrics, Lorde.
She was nominated four times and won in one major category (song of the year) and one minor (pop solo performance), both for her mega-hit Royals. Had she been nominated for best new artist she probably would have won that too.
Royals, a savvy commentary on materialism, topped the US singles chart for a staggering nine weeks last year. Repeating that and managing her own journey into adulthood in the blazing media spotlight will be a huge challenge for her, but strong songwriting across her Pure Heroine and Love Club EP should hold her in good stead.
The biggest winner though was resurgent French electronic duo Daft Punk, which in large part due to the talent around them (especially Niles Rodgers, Pharrell Williams and Giorgio Moroder) scooped the coveted record and album of the year double, plus pop/duo performance, electronica album of the year and an engineering award.
The repeated trips to the stage by Daft Punk (Thomas Bangalter and Guy-Manuel de Homem-Christo, stoically in robot character) to silently collect another award provided the night's accidental comedy. Their futuristic garb belies the fact they mine the past - not that they could explain themselves.
Daft Punk don't take music forward, but in harnessing the brilliance of stars past, they made many new fans of old sounds.
No-one looks to the Grammys as an indicator of what's hot any more, but when it comes to acknowledgement on a grand scale, nothing in music comes close.
RECORD OF THE YEAR
Get Lucky, Daft Punk feat. Pharrell Williams and Nile Rodgers
ALBUM OF THE YEAR
Random Access Memories, Daft Punk
SONG OF THE YEAR
Royals, Lorde
BEST NEW ARTIST
Macklemore & Ryan Lewis
BEST POP SOLO PERFORMANCE
Royals, Lorde
BEST POP DUO/GROUP PERFORMANCE
Get Lucky, feat. Pharrell Williams and Nile Rodgers
BEST POP VOCAL ALBUM
Unorthodox Jukebox, Bruno Mars
BEST DANCE RECORDING
Clarity, Zedd feat. Foxes
BEST DANCE/ELECTRONICA ALBUM
Random Access Memories, Daft Punk
BEST ROCK PERFORMANCE
Radioactive, Imagine Dragons
BEST METAL PERFORMANCE
God is Dead? Black Sabbath
BEST ROCK SONG
Cut Me Some Slack, Dave Grohl, Paul McCartney, Krist Novoselic & Pat Smear.
BEST ROCK ALBUM
Celebration Day, Led Zeppelin
BEST ALTERNATIVE MUSIC ALBUM
Modern Vampires of the City, Vampire Weekend
BEST URBAN CONTEMPORARY ALBUM
Unapologetic, Rihanna
BEST R&B ALBUM
Girl On Fire, Alicia Keys
BEST RAP PERFORMANCE
Thrift Shop, Macklemore & Ryan Lewis
BEST RAP/SUNG COLLABORATION
Holy Grail, Jay Z
BEST RAP SONG
Thrift Shop, Macklemore & Ryan Lewis
BEST RAP ALBUM
The Heist, Macklemore & Ryan Lewis
BEST COUNTRY SONG
Merry Go 'Round, Kacey Musgraves
BEST COUNTRY ALBUM
Same Trailer Different Park, Kacey Musgraves
Most Viewed in Entertainment
Morning & Afternoon Newsletter
Delivered Mon–Fri.