Kipori Baby Wolf Woods New Orleans Blues Band howl into National Folk Festival
Festival goers at this year's National Folk Festival have been unexpectedly blown away by an American blues band whose music is so contagious no one can get enough of it.
Folk festivals are by nature mostly acoustic events, but the Kipori Baby Wolf Woods New Orleans Blues Band are every bit electric - and turned all the way up to 11.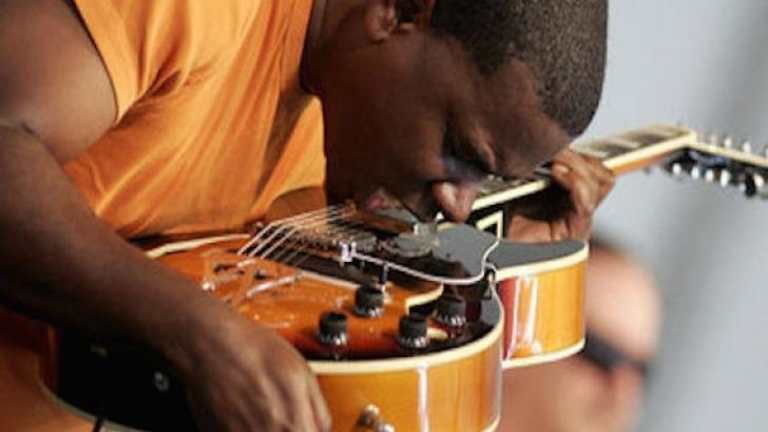 "They call me a baby wolf and I've come a howling in your town," said front man Kipori to an appreciative crowd during the band's Good Friday set at the festival.
Lightning fast guitar licks and the classiest of blues harp, bass and drums from this four piece outfit had the audience cheering for more.
Because of time constraints and schedules, encores are not the norm at the National. But no one was letting these guys off the stage without insisting they come back for one more number. Standing ovation all round.
Kipori is the grandson of legendary blues bass player Luscious Lloyd Lambert. Granddaddy would be proud.
Kipori is an over-the-top crowd pleaser - even passing out fake pearl necklaces to the adoring crowd, playing lead guitar with his teeth Jimi Hendrix style, and venturing into the audience while playing.
But above all, he and his band mates are exquisite musicians who are getting people up off their seats and dancing in the aisles over this Easter festival in the nation's capital. The band have more sets on Saturday and Sunday at the National.
Chris Johnson is a political correspondent. Most recently Chris was the Canberra bureau chief, and national political correspondent for The Sunday Age and The Sun-Herald.
Most Viewed in Entertainment