Leave your mark on the National Folk Festival
Amateur singers, musicians, dancers and wannabes have more opportunity than ever before to leave their mark on the National Folk Festival.
This year, the National has added another blackboard stage to the festival village, allowing pretty much anyone to shine.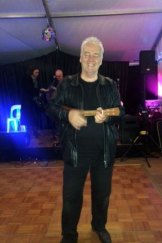 The new venue, called The Pod, is hosted, facilitated and enthusiastically managed by well known local sound engineer Tim Keeble (who also takes to the stage himself singing beautiful ballads).
"It's a nice size for an intimate performance," Keeble said.
"We've had a lot of people get up on stage and present some very good music.
"There will be chances for musicians to do that all throughout the festival.
"And it has a small dance floor too, so we welcome dancers."
The Bohemia Bar remains the festival's main blackboard stage, where selection is by ballot. Already some excellent talent has been on display at the Bohemia, a standout being the Guitar Cases - one of Canberra's most hard working bands.
The venue also hosts a So You Think You Can Sing challenge, where audience members get up in front of a full band to give a nominated song a blast with their vocal chords.
The Stock Camp, the Tantric Turtle and the PsyBus Space are the other walk-up venues running blackboard gigs throughout the whole festival.
Chris Johnson is a political correspondent. Most recently Chris was the Canberra bureau chief, and national political correspondent for The Sunday Age and The Sun-Herald.
Most Viewed in Entertainment