It seems nothing will stop Frenzal Rhomb from putting out records. Children, geography and even a hungry tapeworm have slowed down the Australian punk-rock gurus in recent years, but after five years between their seventh and eighth albums, guitarist Lindsay ''the Doctor'' McDougall says the band won't call it quits any time soon.
''We've just got a life and oldness now,'' says McDougall, who also hosts Triple J's drivetime show. ''We're emailing riffs to each other now and seeing what we can do with it.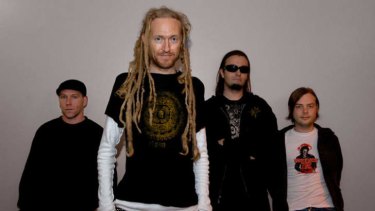 ''Tom's putting his backing vocals down using his laptop in Adelaide and then emailing them back to Jason, and then I'm coming in and doing vocals or putting down riffs in the studio, or Gordy, who's based in Sydney, just does what he can.
''It's very sporadic and we just do stuff when we can.''
Their eighth album, Smoko at the Pet Food Factory, announced Frenzal Rhomb's return, debuting at No.14 on the ARIA album charts. The album is a return to their best, with short and sweet punk rock played loud and hard. It also marked 20 years in the industry, longevity rarely seen in Australian music these days.
McDougall joined the band in 1996 and admits he is surprised that more bands don't stay together longer. A good relationship with fellow band members Jason Whalley (vocals), Tom Crease (bass) and Gordy Forman (drums) and a relaxed attitude towards success is crucial, he says.
''I think if you just don't care so much about going to the top of the charts and stuff and remain resolutely uncool at every stage of your career, then there's no real golden years to look back.
''I mean, we certainly made a fair bit of money at the end of the '90s when we signed with a major label, but if there's no golden years, there's no brown years,'' he says.
''Why would we break up? Why would we stop doing this? As long as we can and it doesn't become a chore, then why would you stop?''
McDougall may think his band is ''resolutely uncool'', but it appears Frenzal have lost none of their fans since the huge success of their 1999 album, A Man's Not a Camel.
The album spawned the catchy punk-rock anthem, You are Not My Friend, as well as We're Going Out Tonight and Never Had So Much Fun, and announced the band on the Australian music scene.
And so the band returns to Canberra for another tour, this time at Zierholz@UC. It marks the one-year anniversary of Frenzal's most recent tour being cancelled, when lead singer Whalley discovered a pig tapeworm egg in his brain.
While scared at the time, McDougall can now see the funny side, and says the band has penned a new song about the ordeal.
''We've written a fair few songs [for a new album], including one about the pigworm, which I believe will be only slightly shorter and make slightly less sense than Bird Attack.''
So will this new song be played in Canberra? Or perhaps a Frenzal Rhomb version of McDougall's Triple J Christmas fundraiser Christmas Number 1?
''Oh God no. I don't mix those two, imagine Gordy. Gordy already gets pissed off when I suggest maybe we should get 360 to sing on our album.
''You will find out about surprises when we do, based on the way our set list gets structured these days.''
FRENZAL RHOMB
With: I Exist
When: February 15
Where: Zierholz@UC
Tickets: $28.60 at oztix.com.au
Most Viewed in Entertainment