Make it funky
Not one to argue, Maceo Parker lets his sax do the talking.
Maceo Parker loves westerns. Watching John Wayne or Clint Eastwood spray bullets around his laptop is his favourite escape from the bump and grind of leading one of the world's funkiest bands.
Not that Parker, 69, doesn't still love what he does. Even after five decades on the road, the arch saxophonist laughs at the idea that just occasionally he heads for the stage wishing he were somewhere else.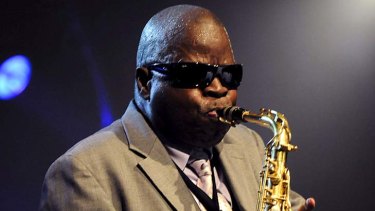 ''I'm really at ease in being me,'' he says, ''and going all around the world playing music. But I do get a lift once we start. I'm humming stuff in the dressing room and smiling, looking at myself and making sure I don't have nose hair! But once I get really close to the stage and the guys are doing the intro thing, I do get a pick-me-up.''
Parker's saxophone has been the meteor racing across the sky above the music of James Brown, George Clinton, Bootsy Collins, Prince and his own bands, but he could easily have followed his teenage music buddies into college instead. ''They'd get a teaching job somewhere,'' he says, ''and have a high school band doing half-time shows at football games and Christmas parades. I thought: 'OK, is that the top of it? … I'd rather be a performer and perhaps have my own group.'''
The North Carolina native is a rather more congenial bandleader than was Brown, who was renowned for routinely fining his musicians for misdemeanours ranging from on-stage mistakes to unpunctuality.
''I like to give the guys a little bit of freedom,'' Parker says, ''but at the same time, I do like us to stay on the same page. But I like for them to have fun, and that makes it easy. There are guys that have been with me for years and years, so I do something right.''
While he insists he was ''well behaved'' himself, Parker was still on the receiving end of Brown's fines. ''I'll give you one example,'' he says. ''He told me to always come to his dressing room before we start the show. That was one of my jobs. And this particular place we're in had two entrances to his dressing room.
''And it was almost natural for us as band members to first get there, get the instruments, and then go on stage and start to jam. And then I remembered: 'Oh, that's right, I got to go by his dressing room.' And as I was going in one door, he was going out the other door to the stage. When he gets to the stage, he says: 'Where's Maceo?' Someone says: 'He went to your dressing room' and he says: 'No he didn't, 'cos I just left there.' When I get to the dressing room, I said: 'Where's Mr Brown?' 'He went to the stage.' 'No, he's not there, 'cos I've just left there.' And I got fined for that, but it was OK. I'd rather take the fine than go through the arguments.''
These days, any aggravation is strictly for the cowboys on his laptop. Given that he is yet to watch the brilliant Deadwood, he should be on the road for a while yet.
MACEO PARKER
Tonight, 9.30pm and midnight, Saturday, 7.30pm and midnight, The Basement.
TICKETS moshtix.com.au or from venue; from $79.75.
TRAVEL Catch a bus or train to Circular Quay.
LIVE A feast of funk.
BEST TRACK Coin Toss from Roots and Grooves.
Most Viewed in Entertainment