Mia survives moment of truth
She was penniless, broken-hearted and alone in a foreign land, but Mia Dyson refused to give up on her dream.
When she arrived in the US in 2009, the husky-piped blues and roots songstress was determined to make a name for herself musically.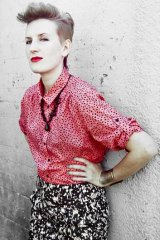 But things didn't go entirely to plan.
She broke up with her partner of nine years, parted ways with her manager and, unable to afford her band, she decided to go solo musically.
''It was a very tumultuous time all round because I left the security and comfort of home and a fairly established scene over here to go over there,'' she says.
''I left with a manager, a partner and also a band member and then all of those relationships dissolved.''
When former Eurythmics star Dave Stewart took her under his wing in Los Angeles, Dyson thought it could be the start of something big.
But the rocker's attempt to rebrand her as a bi-gender musician called Boy just didn't feel right.
''Dave is sort of an eccentric genius character, but we didn't have the same ideas and weren't really on the same page so it wasn't ever going to work, I think,'' she says.
''It seemed like a possible big break but it just didn't eventuate. But it was an experience I wouldn't take back, it was really interesting.''
Dyson refused to give up. She was determined to stay in the US and do what she had initially intended to do: produce a record.
Her long-awaited release The Moment is the culmination of three years spent relentlessly touring, exploring and making music in the US.
''I was definitely tempted to just come home when all of that happened but the dream was still strong and I stayed on and made a record and got to do a lot of touring and I'm really glad that I did,'' she says.
''I met some wonderful musicians and people and I'm really proud of this record.''
Dyson has been fascinated by all things American - the literature, the movies, the songs and the landscape - since she was quite young.
Despite the turbulence she experienced in the US, she said her time there was a dream come true.
''There's so much I'm still yet to explore and I will be going back,'' she says.
''I thought maybe I'd see enough and be happy to come home … but the scale over there is so much wider than here, the sheer population and the land mass, what there is to explore and how much touring you can do.
''You sort of run out of touring in a short time in Australia, you can't go back and back and back to the same places too often but, in the states, you can just keep going and never hit the same destination for a long time.''
Dyson kicked off her Australian tour in Cairns on August 24, but not without some fears.
''It's going to be interesting to see if people still remember me, I don't know what's going to happen yet,'' she says.
''I'm hoping the fans of the previous record are going to be interested in hearing the new stuff.
''I got the chance to play a lot of the new songs in America before I came here … I'm really excited about how people have been responding to the record, so hopefully that will translate live as well.''
Mia Dyson
WHEN: Sunday, September 16
WHERE: The Abbey
TICKETS: At the door
■ Naomi Fallon is a staff writer, a music lover and a keen baker
Most Viewed in Entertainment