Music review: Larry Sitsky 80th birthday Canberra Youth Orchestra concert
Canberra Youth Orchestra and Guests present Sitsky: In Celebration of Larry's 80th Birthday
Conducted by Rowan Harvey Martin
Llewellyn Hall Friday, October 31,
There could not have been a more appropriate evening for the Canberra Youth Orchestra's celebration of Larry Sitsky's 80th birthday than All Hallows' Eve. Demons, the occult and premonitions of the apocalypse all found their voice in the repertoire of Friday night's concert, as well as moments of sublime reverie. This was Sitsky as we know and love him – proclaiming his musical ideas in bold, intellectually stimulating and physically spectacular compositions. And how typical of Sitsky the teacher and mentor that the opening works of the concert were written by students – emerging women composers Chloë J. Hobbs and Fiona Fraser.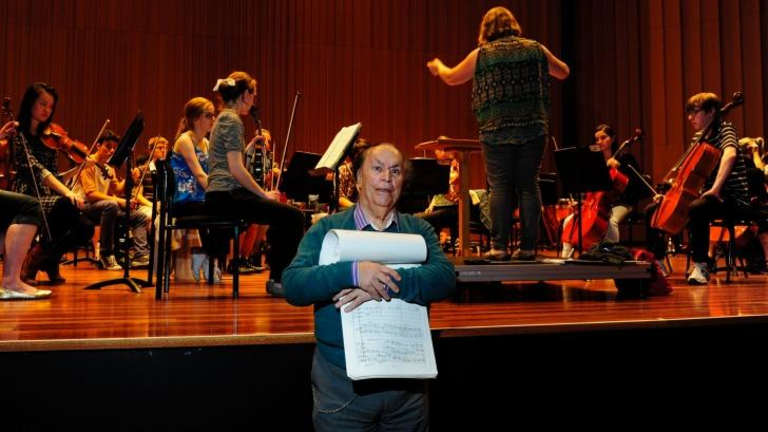 Seven variously textured arrangements described Binsfeld's Demons in the work composed by Hobbs. Instrument-body percussion interrupting instrumental passages helped create a sense of mischievous beings inhabiting the fabric of the composition.
Mabbul, by Fiona Fraser clearly demonstrated a powerful confidence in handling complex orchestration founded on a structure of building, dying and regenerating patterns. An exquisite solo by oboist Gen Kinoshita illuminated the work. In this and the following items, conductor Rowan Harvey Martin drew the utmost from the orchestra.
Young guitarist Ciaran Edwards-McKeown gave an impeccable performance as soloist for the Antarctica Suite by Nigel Westlake.
Michael Keiran Harvey gave an interpretation of Dimensions of Night that no other pianist could ever match.
Sitsky's passion for encouraging young musicians was matched by the enthusiasm and technical discipline with which the CYO and friends approached the evening's performance. Often classified as inaccessible, Sitsky's music was interpreted with extraordinary maturity by the ensemble. The 35-minute Concerto for Orchestra is a supreme challenge for seasoned professionals, and the CYO maintained communication with the audience and led listeners through the mystic maze of Bach entwined with Busoni and Sitsky.
Sitsky's 80th birthday concert confirmed that musical Canberrans have much to give thanks for in the celebration of the composer's irrepressible, bold and original music performed by the impressive Canberra Youth Orchestra and friends.
Most Viewed in Entertainment