One Direction: live review
After all the hype, this was the night we finally got to hear the hottest pop act in the world (for this five minutes at least) actually sing.
After all the hype, this was the night we finally got to hear the hottest pop act in the world (for this five minutes at least) actually sing. Or it would have been had the screaming not been so deafening that you couldn't hear much at all.
Teen hysteria being what it is, the cacophony began long before One Direction took the stage. From mid-afternoon, thousands of girls had lined up behind the barriers erected around Hisense Arena. By the time the show started, 100 or so remained, ticketless but stubbornly praying for a small miracle that never came.
Inside the arena, support acts Johnny Ruffo and Justice Crew - like One Direction, graduates of the Simon Cowell talent school (via The X Factor and Australia's Got Talent respectively) - drew their share of noise. But it was nothing compared to the shrieks that greeted Harry Styles (shaggy dark hair, 18), Liam Payne (shaggy dark hair, 18), Louis Tomlinson (shaggy dark hair, 20), Niall Horan (shaggy blonde hair, 18), and Zayn Malik (coiffed dark hair, 19) when they emerged just before 9pm (quite late for a school night, it must be said). For those unable to afford the $40 tour T-shirts the tinnitus will have to be souvenir enough.
A video prelude of beaches and bathing boxes set a summery tone, and as the screams reached a new high the boys bounded on stage in chinos and polo shirts like so many eager American preppies. They started with Na Na Na, as good an embodiment of modern teen pop as you'll find — the song is all hook, no fish.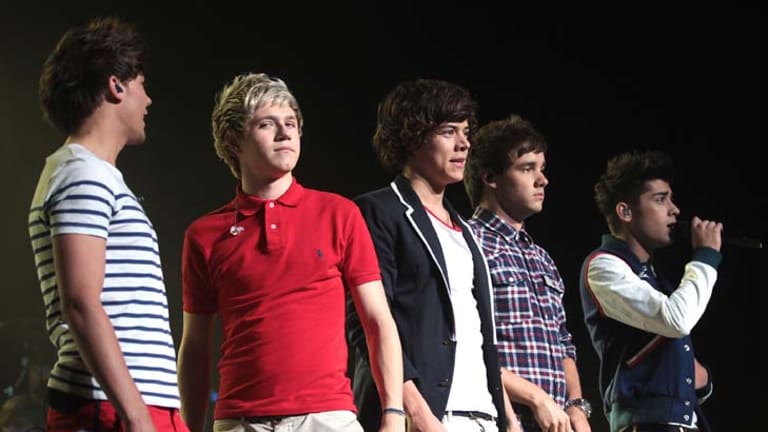 They followed with a mix of fillers from Up All Night, their only album to date, fleshed out by some choice covers (Black Eyed Peas' I Gotta Feeling, Natalie Imbruglia's Torn, Kings of Leon's Use Somebody). It was a cut above karaoke — there was a live backing band, after all — but still a reminder of the talent show crucible in which the band was so recently formed.
After half an hour they ran off stage for a costume change, resurfacing just in time for autumn and first term at college (or so the video suggested). They did winter too. It was like a Tommy Hilfiger catalogue come to life.
They slowed things down for some interactive banter with the audience using tweets flashed up on a big screen; it was equal parts cute and blatant time filler.
When they finally sang the super-catchy single One Thing the response was so delirious that Payne ceded his first verse to the crowd. The equally infectious What Makes You Beautiful sparked even more ear-piercing squeals of ecstasy. Then, after 90 minutes of hormone-spiking delirium, they were gone.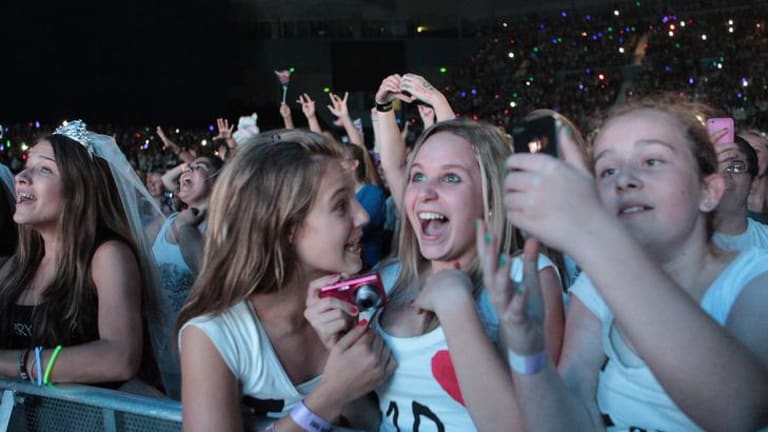 Perhaps only a teenager could imagine that One Direction are something other than a sweet-faced confection concocted by a cynical music industry.
But surely only someone who has utterly forgotten how it feels to be a teenager could say "I just don't get it".
Karl Quinn is on Twitter: @karlkwin

Karl has been a journalist at Fairfax Media since 1999, in a variety of writing and editing roles. Karl writes about popular culture with a particular focus on film and television.
Most Viewed in Entertainment
Morning & Afternoon Newsletter
Delivered Mon–Fri.