Strawberry Fields review: From brutal techno to handbag house, festival provides feast of electronic music
MUSIC
STRAWBERRY FIELDS ★★★
Tocumwal, November 20-22
They say that you can judge a festival by the state of its toilets. OK, so maybe we just made that up, but at least Strawberry Fields had some sensational music to make up for it.
And what a variety there was too. Many electronic festivals are reasonably single-minded. Strawberry Fields had everything from techno to funk going on all at once.
Within this were loose themes. Friday had big hits – Tensnake​'s Coma Cat, Apache's Jump On It, Booka Shade overlaying Night Falls with a cover of Tom Petty's I Won't Back Down, and a Saloon stage partying to italo, funk and disco.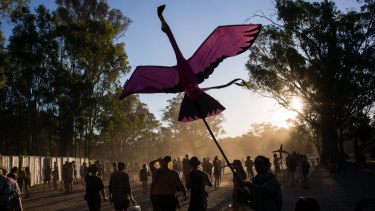 Saturday's program was an amuse-bouche for the main course: dark, punishing techno. Peter Van Hoesen​ was hypnotic and brutal – Green Velvet's Flash was a rare moment of respite, and it's not exactly easy listening. It was a brilliant set of music, even if you felt like you needed a holiday afterwards.
If Saturday's journey had been an inexorable descent to techno mayhem, Sunday was the day for house. Tornado Wallace kicked off with a sublime, beatless piano, ushering in a day of glorious, sunny tunes.
Soul Clap added the requisite boompty boomp before Bicep went full handbag house with one of the moments of the weekend: Ultra Nate​'s 1997 anthem Free. This set up a perfectly picked arrangement of older sounds, with Bicep flexing between early 2000s Latin tech and late 2000s summer house. Spot on and lots of fun.
Apparat​ was the big draw and closed the main stage. Eschewing his more brooding, glitchy productions, he played to the crowd and the sunset, slaying the dancefloor with party vibes and pitched up house.
The other stages became after parties for the stayers. A rapturous melee at the Saloon stage featuring Underworld's Two Months Off was another one of the festival's memorable moments.
There were plenty of moments that were memorable for the wrong reasons. The toilets were a disgrace. The buses were late. The alcohol licence was revoked. There weren't enough bins. But for all the organisational hiccups there were two areas that Strawberry Fields really nailed: the programming and the design of the festival.
The variety of music was exceptional, with four well-spaced, well-designed stages and assorted sideshows offering different environments and different sounds. While Peter Van Hoesen was pummelling the main stage, for example, recuperation was easily found at the Tea Lounge stage in the form of tea ceremonies, quality banter and sultry late night soul.
The stages and installations were created by local and international crews, with lots of pretty visuals and nooks to discover around the large site. Swimmers could relax on beds made from netting swaying above the Murray. At a small pyramid stage, performance artists held court. A mirrored room was as trippy as you might expect.
The size of the venue - and generous use of Funktion One sound - also meant there was minimal sound bleed. Strawberry Fields had many delights for the ears - and best of all it sounded like most parties don't.
Most Viewed in Entertainment