Age of Aquarius shines brightly
Hair. Book and lyrics by Gerome Ragni and James Rado. Music by Galt MacDermot. Directed by Stephen Pike. Musical Direction by Geoffrey Grey. Choreography by Jordan Kelly.
A Queanbeyan City Council Production. The Q Theatre. Queanbeyan Performing Arts Centre. Until October 6.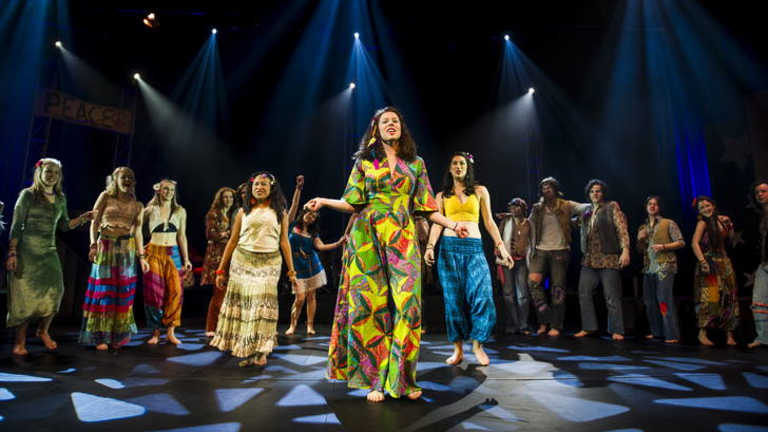 Reviewer: Peter Wilkins
An explosion happened at The Q Theatre at the opening night of Hair. It rocked the stage with exciting talent. It bombarded the theatre with the spirit of love, of peace and of freedom. It reverberated with the explosive energy of protest and liberation. It tore apart the dreams and aspirations of the Aquarius generation that gave us flower power, free love, and hope for a better world. Director Stephen Pike's dynamic production of the iconic, tribal love-rock musical brilliantly captures the ambience of the era. He is assisted by an electrically charged, youthful cast, Christine Pawlicki's authentic costumes of the period and musical director Geoffrey Grey and his musicians' spirited playing of Galt MacDermot's eclectic music. Jordan Kelly's choreography recalls the free-spirited, possessed rhythm and sway of the long-haired voyagers to a new world on the liberating wings of sex, drugs and rock'n'roll. As members of the audience join the tribe to dance on the stage to Let the Sun Shine In, Hair remains an elegy for lost dreams. It is the time of social revolution. It is the time of confrontation and controversy. It is also the time of the Vietnam War.
Tribal leader Claude (Pete Ricardo) is drafted and must decide whether to fight or conscientiously object. Free-spirited friend, Berger (Tim Stiles) urges resistance. Political activist, Sheila (Rebecca Harman) and Jeannie (Maigan Fowler), in love with Claude, join Claude's friends in their attempt to dissuade him in a draft-card burning ritual. Father (Zach Dowse) and Mother (a comical pantomime performance by Ben Kindon) urge their son to do his patriotic duty. At the end of act one, Claude is left in a quandary (Where Do I Go). At the beginning of act two, Berger gives Claude a hallucinogen, sending him into a spiralling sequence of absurd and horrific hallucinations, debunking American icons, exposing racism and injustice and revealing the horror of war.
Pike's direction is acutely perceptive, eliciting goosebump performances in the power of the company songs and solo numbers, while deftly leading our emotions through satirical comedy, joyful liberation and sombre reflection, laying them at times as bare as the nudity that closes the first act. What a Piece of Work is Man sing Hud (Will Huang), Willow (Kindon) and Claude towards the end of act two. Hamlet's lament echoes through the ages.
The Queanbeyan City Council's revival of Gerome Ragni and James Rado's conscience musical of the '60s, rocks with powerful resonance in our time. Hair at The Q is dynamite. Don't miss it.
Most Viewed in Entertainment