Singers, young actors lovely mix
The Polyphonic Bard
The Street Theatre. November 30 to December 2.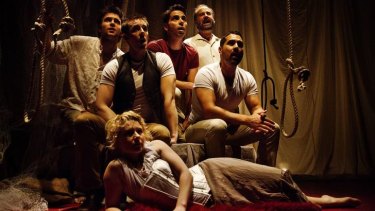 Reviewer: Janet Wilson
Abold concept was cleverly realised when the experienced singers of The Pocket Score Company joined with young drama students from the Canberra Academy of Dramatic Art for a tongue-in-cheek look at aspects of love.
The Polyphonic Bard, directed by Tamzin Nugent, mingled Renaissance vocal music by Purcell, Palestrina, Monteverdi and other composers of this era with sections of plays and sonnets by Shakespeare, culminating in the performance of the great spiritual work, Spem in Alium, by Thomas Tallis.
In the intimate surrounds of The Street's Studio 2, Gillian Schwab's simple set of draped curtains and hanging ropes had the atmosphere of a mediaeval hall. At times, images projected onto the back curtains added a further dimension. The glimpse of David Yardley playing the mediaeval lap harp behind a half-drawn drape as the show began set the scene perfectly.
The performance intermingled music with scenes that illustrated love in many forms: playful, despairing, cynical, combative and seductive.
There was excellent balance between the five singing voices and a nice variation in mood as the ensemble moved from the sweetness of Palestrina's Vestiva I Colli, a wistful expression of love in springtime, to the outrageous Je Ne Menge Point de Porc, complete with porky grunts, and on to the spiritual O Nata Lux by Tallis. David Yardley's rollicking rendition of Bryng us Home Good Ale was a temptation to clap and toe-tap along and there were well-controlled changes of rhythm and mood in Thomas Morley's Farewell Disdainful.
The six young actors from the Canberra Academy of Dramatic Art - Tristan Sean Flynn, James Hughes, Brendan Kelly, James Luke, Ryan Pemberton and Crystal Rose - were well placed in their roles. At times there was a lack of ease of movement and I felt that while, with current Australian renditions of Shakespeare, we are not aiming to emulate the ringing tones and assured enunciation so beloved of English audiences, it is necessary to speak slowly and clearly enough to be heard.
Crystal Rose was a shadowy French-lisping Princess Katherine in Henry V, Act V in total contrast to her spitfire Kate to James Hughes's Petruchio in Act II of The Taming of the Shrew. Those two managed confronting sexual manoeuvres that outdid anything in 50 Shades of Grey and all with Rose showing hardly a glimpse of flesh. No wonder she needed to gently arrange a red coverlet on the stage floor on which she lay while the ensemble sang Rest Sweet Nymphs.
The final piece, Spem in Alium, was sensitively performed, the five men singing the second part of the eight-part work to the pre-recorded other seven parts until all voices came together at the 40th bar.
Most Viewed in Entertainment