On the road ... with Jessica Mauboy
24 year old Jessica Mauboy has a very special place in the heart of Australian Music. Idol contestant and since successful artist, Mauboy has turned her hand to almost anything 'show business' has to offer. From modelling, singing and acting, the girl from Northern Territory is shining under the bright lights. It is no mean feat for an Australian artist to get together with some of the American music heavy weights, but Jessica has had collaborations with artist such as 'the then' Snoop Dogg, the current Flo Rida, Stan Walker and Ludacris to name a few.
The very kind hearted and ever smiling Mauboy is midway through her Australian tour and graced Canberra with her tunes and show last weekend. We took some time to catch up with Jessica, to find out more about her latest album Beautiful, her tour and what the future holds.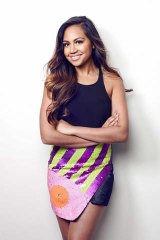 Who was your biggest Australian music influence?
"Definitely John Farnham. When I first heard him sing, I fell I love with the way he sang and his lyrics! He sings with so much heart a passion and you really get that from him every time his sings.
Recently we've seen more and more of you in the media, including some amazing videos of you singing when you were younger. With that in mind, what was your main motivation to make the audition tape for Australian Idol?
Ever since I can remember, I was always singing – I would sing non-stop at home and wherever I could. With Idol, I just thought that I would give it a go. I really never expected that it would put me through the journey that I've been on, to where I am today!
Many people try to make it in the world of music, but as you know, it can be very difficult. What part did Australian Idol play in your career? What advice do you have for those trying to break into the Australian music scene?
I had a small taste of the music scene prior to idol (winning Road to Tamworth when I was 14) but Idol was what really kick started my career. I always tell anyone looking to get into the industry to believe in themselves, work hard and never give up.
You have done some collaborations with some really big names on the music scene, if you could choose your next collaboration, who would it be with?
Wow – there are so many incredible musicians that Id love to work with – Miguel, Frank Ocean, Alicia Keys and of course I would LOVE to work with Mariah Carey!
You have just started the 2014 leg of your tour, what is the biggest highlight for you when performing?
Seeing all the faces of the people in the audience and the reaction that my music has on them is just the most incredible gift. I can get quite emotional on stage when I see how my music affects some people.
We know that you find a lot of happiness in performing for your fans, how are they responding to the latest album and subsequent tour?
I do the songs from my current album 'Beautiful' at the end of the show and it goes crazy! I am still amazed that everyone knows the words to all the new songs!
What is the one thing you miss from home when touring?
My family and friends. This industry can be tough on your relationships, as you are constantly on the move, so I try and make sure I get home at every opportunity I get.
You did a pop-up show in the Belconnen mall for your Canberra fans, not many artists visiting the Capital do this!
It was a great opportunity that was set up by my friends at Telstra – they thought it would be a great way for us to say 'Thanks' to my fans for their incredible support.
Do you enjoy performing in Canberra?
I love going to Canberra – the fans there are some of the loudest.
Tell us more about the story behind the album, what inspired you? Do you have a favourite track?
I have found this album to be my little diary it's defiantly my go to album that if I'm feeling sad or happy it reminds me to get better and work harder. This album tells my ups and downs and my relationships with friends, family and my boyfriend. 'Never be the same' is my favourite track because it tells of a moment I had about doing something that is regretful but at the same time trying to race and fix it before it too late!
You have had so many successes, modelling, acting and singing, what does the future hold? Is there anything that you want to turn your hand to after the tour, perhaps setting your sights on the UK and US?
I will always call Australia home but yes, working overseas is a dream that I have been hanging onto for a while now – I'm still working on it but know I will get there!
Most Viewed in Entertainment