Looking back at last year's inaugural Handa Opera on Sydney Harbour, La Traviata, Opera Australia's artistic director Lyndon Terracini has regrets. Just a few, he says, and he can laugh about them now.
''We were trying to save a bit of money and so we didn't waterproof the stage,'' Terracini says. ''Then it bucketed down, of course, and we had a flood in the orchestra pit and the dressing rooms. We certainly won't be doing it like that again.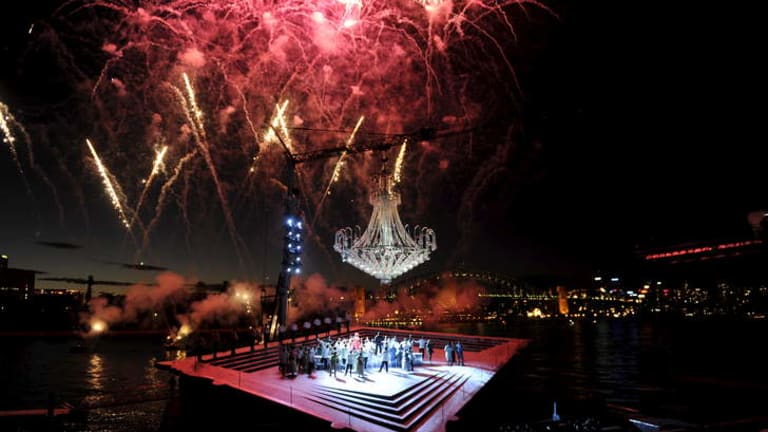 ''We were trying to build an opera set and a mini city at the same time. I remember we were working right up until 10 minutes before the gates opened. This time, with Carmen, we're aiming to have all the construction finished before we even allow singers and musicians to enter the site.''
These kinds of headaches are inevitable in the creation of a large outdoor event, Terracini says, but the experience was overwhelmingly positive, both for the people involved and for Opera Australia as an organisation.
''Before La Traviata, there were people saying it will never work, it's going to be a disaster,'' Terracini says. ''But among the people on the frontline making this thing happen, there was the feeling that this was really something special and that we were going to nail it. You could feel it when you came onto the site at 5am. That's something you can't buy.''
La Traviata went on to prove the naysayers wrong. Drawing an audience of more than 41,000, the mammoth production was awarded the 2012 Australian Event of the Year and its artistry was recognised with four Helpmann awards - best special event, best female performer in an opera (Emma Matthews), best scenic design (Brian Thomson) and best sound design (Tony David Cray).
The legacy of La Traviata's success, Terracini says, is a company with a renewed sense of confidence. ''It was great for morale to be able to go out and say to everyone, 'Look, we did it. We're a take-no-prisoners company now, we're can-do.'''
Terracini believes this year's Handa Opera on Sydney Harbour, Bizet's Carmen, starring Israeli mezzo-soprano Rinat Shaham, will further cement the event's reputation as world-class.
''The Spanish designs look fantastic,'' Terracini says. ''The scale of the event will be the same - if not bigger this time - but it will be like entering a new world.''
The entire site will have a Spanish theme across the six outlets, he says. The signature restaurant, Platinum Lounge, will serve a three-course Spanish banquet with hand-picked wines to match. The Northern Terrace will offer tapas-style share plates and a dedicated paella food station. There will be an empanadas bar at the Southern Terrace, as well as the Northern Cantina.
Terracini is giving little away about what we can expect from the production itself, however.
''I can't say much at this stage,'' he says, smiling. ''But last year we only had one trick, the chandelier. This time we have a few that will take you all by surprise, and of course, we'll have fireworks again. Sydney loves crackers.''
We're a take-no-prisoners company now, we're can-do.
And with five weather apps on his phone, Terracini is also upbeat about the forecast. ''It's all about El Nino now and drought. The farmers will hate me saying this, but I feel good about it.''
Carmen by numbers
❏ Performers: 154 (99 per cent from NSW)
❏ Creative team: 12 (all from NSW)
❏ Staff and crew: 490 (98 per cent from NSW)
❏ Volunteers: 50 (all from NSW)
❏ Performances: 18 (plus two rain-date options)
❏ Rehearsals: 27 days (including seven on site)
❏ Venue area: 16,850 sq m
❏ Seating capacity: 3000
❏ Stage dimensions: 32m x 24m
❏ Toilets: 70
❏ Dressing rooms: 17
❏ Hours to build venue: 11,000
❏ Hours to make scenery: 5760
❏ Number of costumes: 284
❏ Number of pairs of shoes: 122
❏ Number of wigs: 66
❏ Hours to make costumes: 10,175
Source: Opera Australia
Most Viewed in Entertainment
Morning & Afternoon Newsletter
Delivered Mon–Fri.