Paint the town: Canberra's urban art community comes to the surface
There's a thriving urban art community just under the surface in Canberra's CBD, with indoor and outdoor murals, graffiti, paste-ups and eclectic exhibitions on show to excite and inspire audiences from all walks of life. We rounded up just some of the artists who are helping to bring the city to life, one work at a time.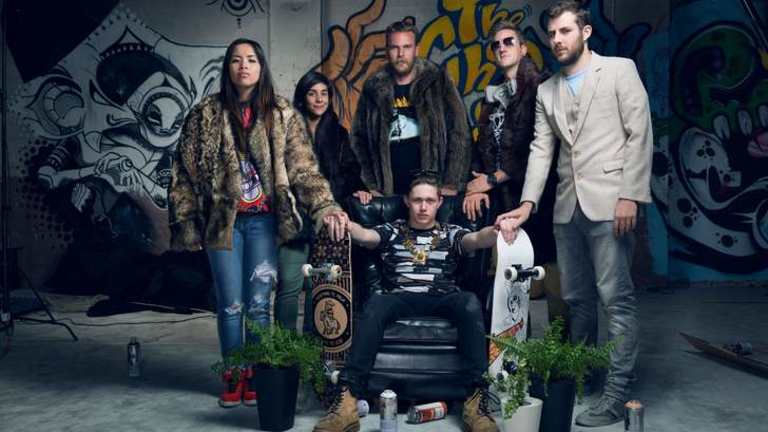 The Chop Shop
A local collective has joined forces to sweep colour back into Canberra's culture. The group may be small, but boy do they have some big plans.
The Chop Shop was created by young guns Sancho Murphy and Pat Rose, who rallied the help of supporters including Partrick Dillon of Sly Fox Coffee and artists Houl, Smalls and Mr Manok. Together they opened a temporary gallery, bar, skateboarding and live music venue in an abandoned mechanic's workshop on Lonsdale Street that is set to be torn down in January to make way for a high-rise development.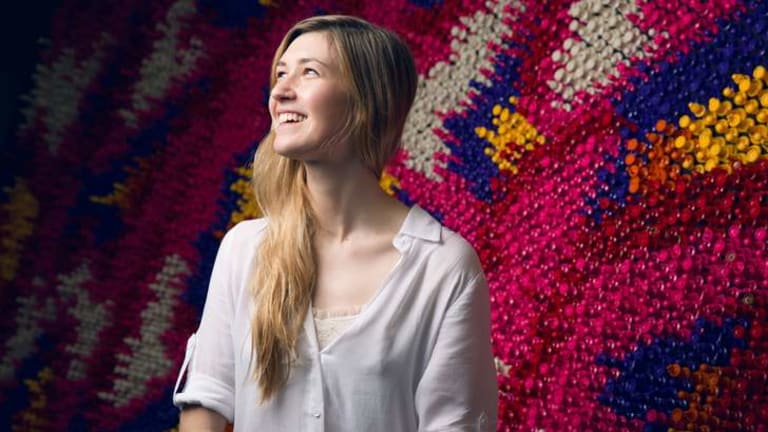 Common passions and sheer determination to blast some street culture into the city naturally brought the individuals together.
"I had a graffiti art shop within Lonsdale Street Traders for a period of time, just selling spray paint and art supplies," Murphy says.
"I'd often get a lot of artists coming in such as Houl, just asking if I knew of any events or exhibition possibilities coming up, but I found that there wasn't really anything specifically catering towards street art, graph, tattoo art or custom bike culture so I thought it would be a cool thing to have this space that focused on that."
Dillon contributes the food and coffee element at the events while the artists inject their creativity on the walls, and Murphy and Rose run the space.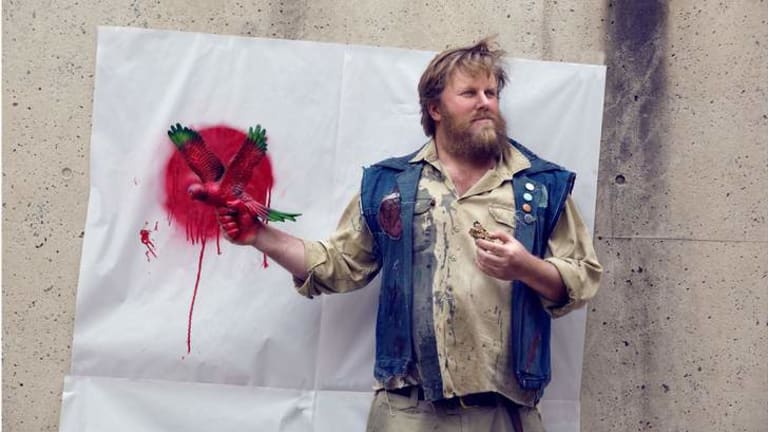 "I watched the Kickstarter video, was in awe of how amazing it was and thought, 'Wow this looks like people are actually doing stuff in Canberra,' " Dillon says.
The Kickstarter campaign raised more than $17,380, breaking the original goal of $10,000 with a week to spare.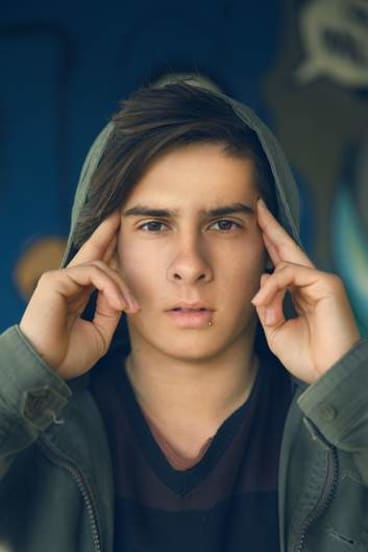 Rose says the art scene in Canberra is going through a really interesting period because there are a lot of people trying to do lots of different and interesting works.
"The Chop Shop provides an opportunity to do something at a large scale, and it gives people the chance to see a part of Canberra they usually wouldn't. The whole subculture has been dwarfed up until now," he says.
"There have always been these pockets of action but they didn't have that network and platform where they could meet each other and create," Murphy adds.
"I think as the population grows there is more interest in the non-mainstream culture to actually push it enough to succeed," Smalls says.
"It's definitely a network thing. The Chop Shop has made it easier for artists to come out and say 'This is what I can do'. We're putting our hands up and people are finally taking notice," Houl says.
The Chop Shop presents the best artists every Friday night and events every Saturday, with a line-up of street artists, film artists, musicians, free-style tattoists and fashion designers.
"We are encouraging the artists to interact with the space – paint on it directly, paste ups, more street-level art and experimental music acts," Murphy says.
"It will be forever refreshed as each artist comes into the venue."
"We showcase the up-and-comers as well as the bigger boys like Safia," Rose says.
"Everyone who cares about Canberra is on board. It's like Canberra needs us so let's do it."
The group plans to document this process to let the rest of Canberra know of all the creativity to have passed through the building before it was knocked down, but Houl has no doubt what they've started will live on.
"This isn't just something that's going to finish and the culture will be dead," he says.
"Even if we were to split up it would grow three times. It's not going to be something that finishes. It's a beginning more than an end.
"It's physically temporary but the thing we've learnt, the people we've met – that's a forever thing."
Rose explains a venture like The Chop Shop is normally an impossible notion to bring to life in Canberra.
"To move into a commercial premises is astronomically expensive and getting through state government here is really difficult," he says.
"I am hoping that we can somehow use this as a case study to affect change. It's too hard to do this, so if we want Canberra to have culture let's change the legislation – that's the ultimate."
"A flagship," Houl adds.
"A percentage of commercial premises are vacant in Canberra and something has got to change. We are trying to push through this bubble to get something to explode."
#cantstopthechop
George Rose
Canberra artist George Rose has always been a fan of taking risks. Bubbly, energetic and dedicated to making the world a prettier place, she chose art over science as a career path in year 10 and has never looked back. She now enjoys the crazy, fast-paced life of a professional artist.
Rose has not stopped working since she graduated from the University of Canberra in 2009 with a degree in graphic design, moving quickly from commissioned murals in cafes and bars around town to her first solo show at the Nishi Gallery.
Her works cover such a wide range of styles and mediums that she says her signature look can be hard to describe.
"Eclectic is probably the best way of putting it because I don't stick to one medium," she says.
"Murals are the thing I'm known for most, so painting, but I also do ceramics, light-based installations and interactive work, drawing and illustrations, both digital and by hand."
Choosing a medium for a new work often depends on wherever her imagination takes her, but currently Rose is rekindling her love affair with ceramics, which she plans to show again in the near future. Rose also says she will always have a special place in her heart for signwriting – her text-based work can be seen around the city, from Bailey's Arcade to NewActon.
"A lot of my stuff in my shows is based on linguistics and type. I like playing with words and how we perceive words, and how we interact with them based upon how they're presented visually," she says.
"I'm really interested in swear words and the etymology of swear words, because I just find it fascinating. Language is really interesting to use within art because you can display it in one way, in that you look at certain colours and they'll evoke certain emotions or feelings, or you'll present things in a certain way. You get reactions like 'Oh, that looks fun! What does it say? C***.'.
"People have this really hard time looking at juxtaposing words like that but it's still a bit of fun. I think that we should poke more fun at ourselves really."
Inspiration for Rose comes from a lot of places, but she says that a good conversation is what really gets her creative juices flowing.
"Idea-generating gets me really excited," she says.
"I like concepts that are really well-rounded and play into each other. When I make something every little thing will be thought about and planned and there'll be a reason for everything. Not only does it have to function as an aesthetic object or as a work, it's also got to have some sort of meaning behind the structure.
"I think that makes more sense for people looking at a work – it's easier to connect with something that has that kind of basis. There's a lot of beautiful works out there that don't have that kind of thought process behind them, which is fine and great, and there needs to be work like that.
"But for the stuff that I do, the stuff that makes me more excited, I like having something that is not only beautiful and functional, but it also has a lot of thought and care behind the structure of how it's put together and why it's put together.
"A lot of that comes from conversations with people and having feedback, bouncing around ideas and talking about concepts. That kind of thing gets me really excited and inspired."
Byrd
Working under the tag name Byrd, this Canberra artist is famed for utilising elements of urban street-influenced graffiti, producing murals and commissioned works of astounding originality.
Although his works have recently exhibited in galleries across the city, including the Nishi Gallery, Canberra Museum and Gallery and the National Gallery of Australia, and adorned the walls of commercial spaces like the NewActon South Building and Craft ACT's shopfront, Byrd developed his passion like many other fellow artists – from street graffiti.
"It's the idea of art being incidental to your life, not something to go and receive, which drew me to graffiti initially," he says.
"It keeps you in the now, being open and observant, because tomorrow it could be gone."
It's not hard to stumble upon remnants of Byrd's masterpieces outside cafe walls, the lanes of Civic spreading to Braddon and Dickson, bus interchanges, skate parks, car parks, and various private spaces and underpasses.
Byrd has been stamping his art around Canberra for more than a decade, and many of the murals commissioned by the ACT government or private business owners have been sprayed from his aerosol can.
"My commissioned works vary greatly from non-figurative, non-letter based patterns, one-metre high and 10-metres long to oversized insects on a wall four-metres high and 40-metres long," he says.
"I draw and paint at all scales."
But these pieces are not your typical graffiti. Grasshoppers nestled in a jungle scene on a wall in Civic, bald tattooed cats on a toilet block in Dickson and parrots and galahs on an old bus are now among the collected works of Byrd.
Having a mind full of buzzing imagination, you would think it would be a difficult task for an artist like Byrd to hone one single idea when beginning a new project, but the art veteran assures he takes a cool and methodical approach.
"I look at how the wall sits in the broader space, and prepare my composition to advantage this," he explains.
"I go to my sketchbooks to find images that resonate in the space. This reflection time lets me adjust the images to the proposed techniques – be that stencilled, free painted, brush work, hard or soft filled, climbing or ladder work and so on."
While many creatives flock to the bigger cities to succeed, Byrd has stuck around in the nation's capital long enough to have seen its arts and culture scene evolve.
"More people feel able to get involved at all levels," he says.
"The sticker scene here was small in 2000, and those were mostly handmade by artists. Now everyone is getting stickers printed, from start-ups and bands to graphic designers.
"With a few notable exceptions like Abyss and Houl, it's the artists who are still keeping it handmade."
Solomon Grainger
Not many 16-year-olds can claim to be established street artists showing their works on walls around the city. But for Year 10 student Solomon Grainger, coming home from school and spending hours creating large and small scale artworks is just a regular part of life.
"Art is my most basic instinct," he says.
"If there is nothing else to do, I'll draw something."
Grainger says that art has always been encouraged in his family, and, with a mother who is also an acclaimed local artist, he felt there was nothing stopping him from going all out and pursuing his dream at a young age.
"I think art is great because it doesn't discriminate between ages," he says.
"I don't feel like there's any time to waste so I'm just going for it while I'm really young."
Grainger's works include pen and paint pieces on paper and canvas, as well as paste-ups and the occasional skateboard design, and were hugely popular at this year's Art Not Apart festival.
Grainger explains that at the moment he is exploring different styles and mediums, inspired by his own memories and experiences as well as the music he's listening to.
"I've been stressed in the past about finding that definite 'style' that you notice is recurring in most artists' work," he says.
"I've stopped stressing now, and I'm really just focusing on doing it and trying different things, But I'm still young and right now I feel like everything I do is leading me to my definitive style."
Grainger's first large-scale work has been a huge success and made artists across the city sit up and take notice – his mural adorns the outside walls of newly opened Hopscotch, catching the eye of everyone who walks down Lonsdale Street.
Creating such an enormous work was a challenge for the young artist, but he took it all in his stride and approached it like he does all his pieces.
"Naturally the process starts in my head, but nothing actually comes together there. Usually I just visualise a certain feeling that I want to convey, or even just a tiny snippet of something cool," he says.
"It comes together when I start to sketch it out, small drawings at first, then the full piece, and some detail sketches to go by. Then when it's time to paint the wall I sketch out the basic shape then block in the colours, details come next and then sign it, date it and it's finished. Then I notice tiny details that I want to change but I never can, which is frustrating but funny."
Another commissioned piece is in the works for Grainger in the coming months, so keep watching the walls of Canberra for what is sure to be another masterpiece.
Most Viewed in Entertainment