Sorry Tania Zaetta, you're fired
Tania Zaetta's mantra is to use her life experiences to become ''a better person, not a bitter person''.
It's something she may have to put into practice once again after she last night became the third person fired on The Celebrity Apprentice Australian on WIN-TV.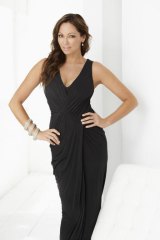 ''I would not play dirty,'' she said after her boardroom firing.
''(But) I was very wrong because it's about a lot of game playing and bitching and backstabbing and conniving and to be honest - I don't want to be a part of that.''
Apart from relief to be leaving the games, Zaetta, 42, was proud of her achievements which included raising more than $70,000 for charity.
''I can hold my head high and walk out of here knowing I've done what I came here to do. My job is done,'' she said.
Zaetta was dumped in favour of ''Aussie TV royalty'' Patti Newton.
Despite declaring that perhaps she should be sacked because she wasn't up to the challenge, Newton survived to see another day, later conceding she felt she had been ''mean'' to Zaetta.
Zaetta was certainly subject to what could almost be described as bullying from the moment the cameras rolled on the reality TV show.
Chief among her antagonists was former model turned model judge Charlotte Dawson, who has skewered her at every opportunity.
Zaetta was accused of hiding behind a veneer but suggested it was Dawson who was the real player in the field.
''We've know each other for 20 years and sit down together and have a coffee together but she's great at creating that drama and conflict, that's her forte,'' Zaetta said.
''She can be a very mean, cold person - I still love her. We have a love-hate relationship - she would be the first to admit that too.From day one [on the show] she was like, 'Tania, I think you and I should just pull each other's hair out and have catfights and call each other names because that will make great TV'.
"I just rolled my eyes and went, 'Charlotte that is so far from me, you know that, I will not even take the bait'. No matter what she says, I'm just rolling my eyes.''
Zaetta, the former sidekick to Mike Whitney on the 1990s action show Who Dares Wins and sometime actress in Bollywood films, says she wanted to enter the bearpit that is Celebrity Apprentice to ''showcase other talents outside those people know you from TV shows''.
''Your business side and, I guess, the kind of person you need to be to sustain a long, long career in a pretty cut-throat industry,'' she said.
And she's learned to turn the other cheek.
''I'm a very karmic person and I've learnt from working in India that you treat people the way you want to be treated back,'' she said.
''So I wasn't doing too much or the bitchiness and nastiness. I'm a bit more of a put your head down, knuckle down to it and prove yourself with hard work and smart work.''
Most Viewed in Entertainment