Charles Dickens' novel A Tale of Two Cities is set in 18th-century Paris and London and focuses on the treatment of the French peasantry by the aristocracy while finding parallels in London society.
The adaptation for the stage by Terence Rattigan and John Gielgud, as used in the current production at the Queanbeyan Performing Arts Centre, distils the story into 2½ hours of performance and largely remains true to the Dickens story.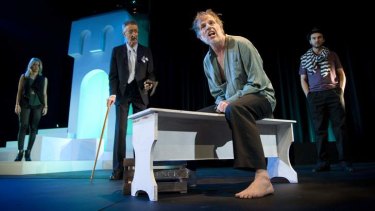 The production for the Queanbeyan City Council by director Adam Spreadbury-Maher emphasises the love triangle between a dissipated London barrister, Sydney Carton (Calen Robinson); a former French aristocrat, Charles Darnay (Daniel Greiss), who has left Paris for London in protest against his family's treatment of the lower classes; and Lucie Manette (Laura Dawson) who is also French but living in London.
The production sets up a conscious juxtaposition between characters who overplay their roles and characters who underplay them. Sometimes, the overplay becomes farcical, the production almost melodramatic.
Another London barrister, Edward Stryver (Hannah Ley), for example, has a scene where he tries to convince Lucie Manette to marry him. He is overdressed, carries an enormous bunch of glitzy flowers, poses extravagantly and is never lost for words.
Carton, the hero, or antihero, by contrast speaks quietly, moves slowly and his behaviour is never visibly outrageous, even though he drinks constantly. The use of these contrasting modes of behaviour signals in a thought-provoking way the opposing values of the upper classes, whether French or English, and those who oppose such behaviour.
The story speeds along nicely and retains a dramatic power, largely due to a strong script. But often cast members were let down by vocal technique-words often trailed off and became close to inaudible at the end of sentences.
Often too they were let down by a lack of physicality to their acting.
This was often obvious in those characters who underplayed their roles. Unfortunately, it too often left them with little substance to their characters.
Madame Defarge (Hannah Ley) was a striking exception, both as she mimed her first few scenes and then when she became a rabble rouser towards the end.
The actors deserve accolades for playing more than one character throughout the night and again Hannah Ley stood out as both Madame Defarge and Edward Stryver. Some 30 characters made appearances and were played by 10 cast members.
The show has a background of pop music, contemporary costuming and a stripped-back, built set, used ingeniously.
I'm not sure if the occasional use of microphones on long leads from the backstage area was meant to reference the pop era in which Spreadbury-Maher has set the show, but I found them an annoying diversion as I waited for someone to trip over the mess they made on the stage floor - no one did, I might add.
Spreadbury-Maher gives an unusual take on a story that cannot really escape its inherent 18th-century setting whatever era might be chosen to take its place.
A TALE OF TWO CITIES
Adapted by Terence Rattigan and John Gielgud from the novel by Charles Dickens. Directed by Adam Spreadbury-Maher. Produced by Queanbeyan City Council. The Queanbeyan Performing Arts Centre, February 5 to 15. Bookings: theq.net.au
Most Viewed in Entertainment