Stepping back to the big leagues
After walking away from a $50 million payday, Dave Chappelle is coming back to the stage, Jason Zinoman writes
Around midnight Thursday in San Francisco's Mission District, Dave Chappelle was standing onstage in a converted church called the Chapel when a member of the packed audience yelled, ''Why make a comeback?''
Looking fit in a casual black shirt, Chappelle, a 39-year-old father of three, repeated the question, took a drag from his clove cigarette and leaned into a punch line with emphatic exasperation: ''Private school is expensive!'' Then he flashed a sneaky grin, clunked his microphone on his belly and scampered upstage the way he used to in the opening moments of his old series, Chappelle's Show.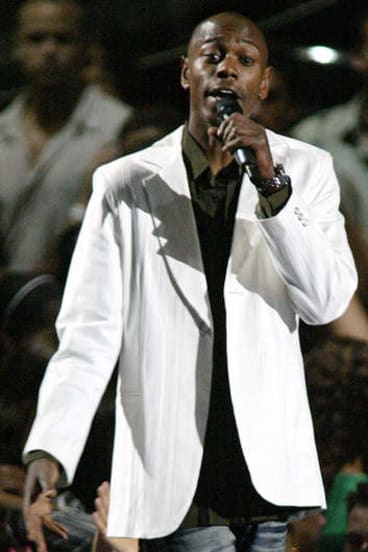 Later in his compelling set, which ran nearly two hours, he returned to the subject. ''I don't need to come back,'' he said, pausing. ''But why not?'' After mocking a drunk woman who requested that he perform old characters, he struck a wearier tone. ''This is a hard context to be funny in,'' he said. ''What's the point?''
To the general public, Dave Chappelle seems like the J.D. Salinger of comedy. Since he quit his Comedy Central show after two brilliant seasons, walking away in 2005 from a reported $50 million contract, his mystique has grown as his public profile has shrunk. He rarely gives interviews or makes television appearances. It's been many years since he released a movie or taped a comedy special. Persistent rumours of a high-profile return, perhaps on a comedy supertour with Chris Rock, have grown louder.
Seeing Chappelle here revealed him as struggling with some of the issues that led him to leave the spotlight. It's also an exhilarating reminder of what we've been missing: the laid-back delivery pivoting into explosive bursts of energy; the sideways insight and deadpan gravitas; how every joke seems as if he came up with it on the spot. If there are comics with more onstage charisma than Dave Chappelle, I haven't seen them.
Perched on a stool, he talked to his listeners as if they were old friends, so at ease that they frequently talked back. This became a dialogue that often turned raucous, but even when the room spun out of control, Chappelle looked calm, even pleased with the comedic possibilities.
''It's like flying coach in here,'' Chappelle said, in one of many knowing jokes that skewers his success. He even poked fun at his own Hamlet-like thought process. ''I was talking to Mos Def,'' he said in an aside, ''and I knew he wasn't listening because I was talking about my comeback.'' A reason Chappelle has not lost a step is that he's nowhere near as reclusive as he seems. He just performs only on his terms: in small rooms, on short notice. He was to play two more shows Monday night in San Francisco. He recently did a week of drop-ins at the Laugh Factory in Los Angeles. In February he showed up at the Comedy Cellar in New York, performing with Rock. As reported by the website Comic's Comic, Rock said he needed time to prepare his set, whereas ''Dave's like: Let's just do it Wednesday. Unannounced.''
Tracking down Chappelle has become a comedy nerd pastime that requires close attention. I heard about the shows here on Twitter the day before, bought one of the last tickets online and jumped on a plane. The show was clearly not intended as a polished set.
As he slowly returns to the world of comedy, it becomes more clear how Chappelle's subject matter has changed while in exile. At his performance at the Chapel, controlling the context of comedy, an increasingly complex subject in the age of social media, became a theme of the night. He explained he would do gay jokes in San Francisco because the audience would get the intent, but not in Mississippi. He also spent a perceptive minute or so analysing and applauding how Quentin Tarantino handled the issue of black characters selling out their race in Django Unchained.
None of this is to say that the show was sober. It was consistently funny. Remarking on the feat of building the Great Wall of China, he marvelled, tongue in cheek, ''I didn't know they had Mexicans.'' He demonstrated a craftsman's skill in his setups, but it's in his rambling yarns that Chappelle distinguished himself.
Like Bill Cosby, another stand-up who likes to sit down, Chappelle has an eccentric delivery so distinctive and a persona so appealing that he doesn't need to tell jokes to get a laugh. But instead of abusing this gift, he exploits it.
The highlight of the evening was a story about visiting New York during the Occupy Wall Street protests. ''I had my own protests,'' he said. ''It was called 'Occupy Luxury Suite.' ''
Then, after confessing that he was feeling down, he said he saw a homeless man outside his hotel digging through garbage. He lingered on this image, describing it in vivid detail, explaining that this man was attacking his job with such intensity that it was as if he were searching for ''the next big thing.'' The homeless man saw Chappelle, and their eyes met, a connection. It was then, Chappelle said, that he realised that he was the next big thing. The instant after this sentimental moment, he shifted into a panic, yelled wildly at the homeless man, ''You stink!'' and fled.
It's tempting to read this tale as a metaphor for his career (with show business as the searching homeless man), but what matters more is that it was a funny story, beautifully told, with self-parody, suspense and the casual poetry of a born storyteller. Let's hope its real meaning is this: Dave Chappelle is just getting started.
AP
Most Viewed in Entertainment
Morning & Afternoon Newsletter
Delivered Mon–Fri.