Styled on sustainability
Sarah Wilson's message of healthy eating and low waste has found a global audience, writes Emma Macdonald.
When Sarah Wilson turned 40 in January, she wore an eye-catching strapless dress with bronze brocade and lace winding around the bustier.
Little did guests know, as they ooohed and ahhhed the ensemble, that it originated at the Canberra recycling dump Revolve.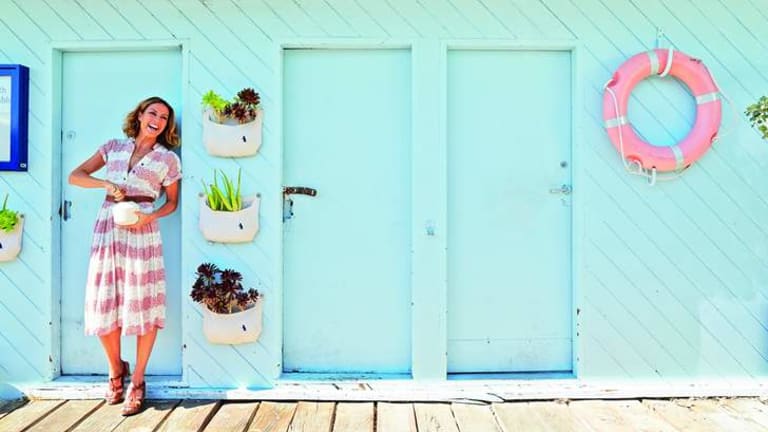 As she prepares for the release of her second book in Australia, I Quit Sugar for Life, as well as an assault on the United States market with her ''I Quit Sugar'' brand, Wilson is living what she preaches.
Sustainability, frugality, recycling, reusing, repurposing. Despite her high profile and background in the superficial vacuum of television and magazines, Wilson would prefer to delve into her ''dress-up box" for a crazy piece of taffeta she bought 22 years ago for a couple of dollars, than invest time and money on a party frock.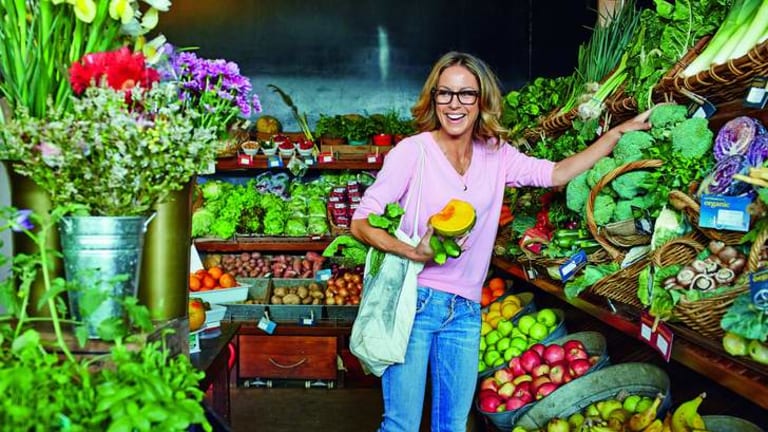 It's a stark departure from the time-honoured practice of most A-listers who can spend months, and untold fortunes, procuring the perfect outfit for a big event.
Wilson's subsistence farm upbringing in Wamboin has clearly forged her character. Goats were used for milk and meat, food was often - by necessity - home-grown and sustainable.
Clothes were usually handed down and around between six siblings, which helps explain Wilson's predilection for pre-loved and well-worn items.
Her trademark green shorts - the pair she wears for running and hiking and which make an appearance in both of her books - are now in their eighth year. She simply detests buying clothes, just as she hates buying almost all "stuff" in general or seeing any food go to waste.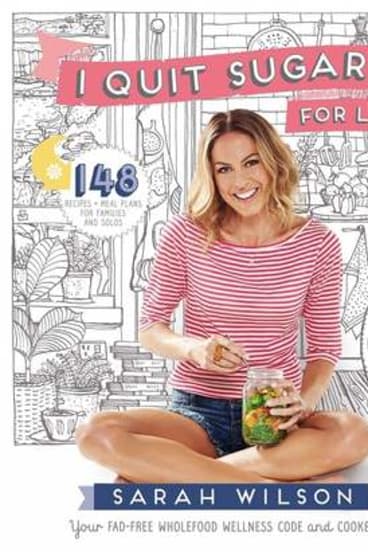 Wilson now celebrates the style of economical, locally-sourced and seasonal cooking she fondly recalls emanating from her mother's kitchen.
She is broadening the ''I Quit Sugar'' brand to preach a more sustainable way of life. Sure, she still wants people to switch off the sweet stuff, but she wants the message to promote eating and living which is sustainable, mindful and more gentle on the planet.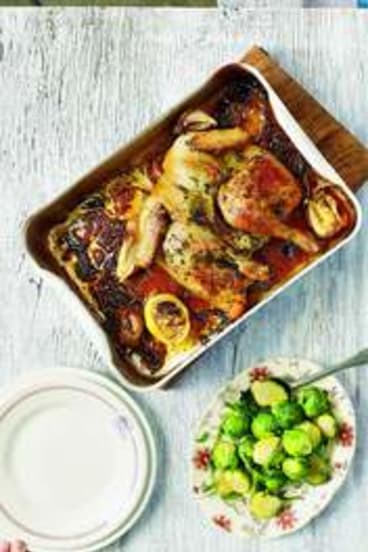 That's where the new book takes off - proving more of a focus on long-term eating once sugar issues have been tackled and moving into the realm of food consciousness, environmentally-sound methods of sourcing ingredients and sustainable, if not downright frugal, kitchen practices (hence the double-paged spread "One Chook, Fourteen Meals").
Party guests at her 40th were guinea pigs to a dinner which followed this ethos.
"I took it as an opportunity to showcase all the principles in my book … My friends and family got an indoctrination into my way of thinking," says Wilson.
To that end she researched the provenance of all of the food and wine served that night.
She had watched the pig snuffling free-range at the Hawkesbury region Melanda Park farm before its slaughter. Her friend, restaurateur Martin Boetz, grew the vegies she needed at his Hawkesbury farm. Natural wine company Harkham was chosen for its biodynamic pinot noirs and chardonnays.
Meanwhile, she more or less scavenged ingredients which would otherwise be destined for the bin.
A tuna carcass, already stripped of its steaks, provided bones for a stock and the last remnants of its gelatinous flesh was scraped from the bone for a tartare.
Chicken skin, generally eschewed by the public because it is fatty, was roasted down and crumbled into a salt in which to dip the crudité´s - the fat-laden and often discarded buttermilk also used in the recipe.
Herbs scattered across each plate were foraged from around Sydney's suburbs, parks and green spaces.
In an age of abundance and excess, Wilson delighted in showing her guests kitchen techniques more commonly used in Depression-era subsistence living.
And of course the desserts were sugar-free. The raw chocolate torte, coco-nutty cheesecake, and berry cheesecake were cooked for the night by her 11 staff.
Yes, Wilson's anti-sugar empire has taken off to the extent that she now employs 11 Australian and two overseas staff to keep up with the demand for books, to manage her online presence and ''I Quit Sugar'' programs, and to support her global expansion.
The last 12 months have been a whirlwind for the former Lyneham High student who became a household name following her mother-hen hosting role in the first Australian MasterChef.
Wilson was also the editor of Cosmopolitan magazine from 2005 to 2008.
She never set out with a plan to create a multi-million dollar anti-sugar and lifestyle movement. It just sort of happened.
"I have just been riding it out and, at all times, responding to what the community wanted. That might sound really Pollyanna-ish but I haven't had a whiteboard plan saying, right, in six months' time I'm going to do this or I am going to do that.
''It started as me writing a column, which turned into a few blog posts, then someone asked me to write an eBook, and then a publisher wanted to do a book, and then it went to the UK and now it is going to the US and I have people online saying, 'We want menu plans, we want experts to help us through it,' and the only way I could do that was to employ more people, and now … here we are."
Last year I Quit Sugar reached No. 1 in Australia in the non-fiction category and No. 4 overall.
It has sold more than 200,000 copies - across electronic and print platforms.
Just one month after its January release in the UK this year, Wilson was at No. 1 in the non-fiction category.
It is estimated more than 350,000 people, eager to try her sugar-free way of life, have done an eight-week program.
Meanwhile, she has continued her blog, which looks at broader issues of health and wellbeing, and provides a very personal insight into a woman who is disarmingly open about everything - from her lack of a life partner to her subconscious aversion to settling down in one spot, as evidenced by her failure to buy a sofa until she turned 40.
Between Wilson's eponymous blog and the ''I Quit Sugar'' blog, she is drawing more than 2.3 million page views a month.
A staggering 833,000 people visit one of her social media sites daily.
"I feel the second book is the result of people trusting my message. I feel this is almost my licence to share my life theory and my dietary theory for wellness. It is about sustainable wellness and takes the ''I Quit Sugar'' message to the next level," she says.
"So it's about sustainable cooking, slow cooking, using secondary cuts of meat, knowing what to buy organic and what is fine to buy mainstream so you're not wasting money, and how to exercise."
Wilson supports the exercise theory expounded by Michael Mosley - famous for his "Fast Diet" or 5:2 diet proposing slashing calorie intake for two days each week. His exercise advice is to do a few bursts of high-intensity exercise just three days a week.
"I don't think full-on exercise is sustainable," says Wilson. "I think walking for half an hour every day is fantastic."
She is trying to provide a "sensible, gentle and fad-free'' guide to life, happiness and health.
Of course not everyone agrees her philosophy is entirely fad-free and Wilson has her share of detractors.
She advocates complete abstinence from refined sugar and very limited fructose on the basis that the human body has no "off switch" in its appetite for sweet stuff and digesting sugar is difficult for human beings who evolved on a diet almost entirely devoid of it. It is a philosophy which runs parallel to the other diet movement du jour - paleo eating - although Wilson eats dairy and some carbs.
Wilson doesn't necessarily want people to return to the dark ages in their diet, just a couple of generations - back to their great grandparents' era when sugar consumption was one kilogram per person per year on average, not the 60 kilograms it is currently.
She agrees her approach may have been less controversial had she packaged it as "I Quit Processed Food" but does not resile from her deep conviction that sugar is at the root of all modern health evils and greatly exacerbates her own auto-immune disease Hashimoto's.
Her approach does not always sit well with the nutrition establishment - which has always preached moderation in sweet things and a regular fruit intake - much less the sugar industry, which is increasingly being blamed for everything from skyrocketing obesity levels to the plague of cancer.
Still, the growing anti-sugar movement is undeniably having its moment and Wilson believes sugar will one day be understood to constitute as big a danger to humans as tobacco.
Whatever your take on the science (or the food politics), Wilson's latest book is disarmingly charming in its use of simple and quite easily accessible ingredients which combine to make food which is rustic and real. There is little doubt the recipes provide healthy fuel and just looking at the Green Glowin' Skin Smoothie gets the cheeks flushing.
Granted, not everyone will be up for the whey production involved in fermenting one's own vegetables, but the Two Pages Full Of Greens provides a stack of new approaches to making vegies quick and easy.
And who could pass by the mid-week one-pot meals without feeling slightly hopeful about getting through to a Wednesday without resorting to the local takeaway. In any event, the Deconstructed Hamburger on page 88 looks supremely better than the stodgy fare most households consume.
There is a lot to take from this book - which is as relevant to people wanting fast, economical and healthy meals as those eschewing fructose.
At her 40th, it was noted during the speeches that Wilson has never asked her friends nor family members to give up sugar themselves.
"In fact, most of my friends have not quit sugar! I would never ask that of anyone. All I have done is been open with my own experiences and provided a sort of map for those people out there who want to give it a go."
Eating economically
Crispy roast chook with sweet potato casserole
Serves 4-6
This roast chook recipe is one of my favourite mish-mash meals, for it combines most of my eating principles in one tasty package: sustainability, economy and flow. It also combines the best of a number of flavour and cooking techniques. Cutting the whole chook in half shortens the cooking time. Plonking things directly on top of the onion adds flavour and stuffing butter under the skin ensures extra crispy skin. Save your bones … you'll see why.
1 onion, thinly sliced (keep the cut ends)
1 whole head garlic, cut into quarters
1 whole chicken, at room temperature
1 tbsp butter
few sprigs of thyme or oregano
2 lemons, halved
sea salt and freshly
ground black pepper
½ cup chicken stock, vermouth or dry white wine
Sweet Potato Casserole:
coconut oil, butter or ghee, for greasing
3 cups sweet potato puree (see notes)
¼ cup almond milk
1 tbsp rice malt syrup
1 tsp vanilla powder
pinch of sea salt
½ cup chopped pecans
1 tsp ground cinnamon
½ tsp ground ginger
½ tsp ground allspice
Preheat the oven to 200C. Toss the onion (except the ends) and garlic in a roasting pan. Using kitchen scissors, cut the chicken in half down either side of the backbone (the chunkier, bonier spine, not the smoother breast bone) and snap or cut the wings at the end joint and remove. Also cut off any chunky bits of fat.
Put the spine, wingettes and excess fat in a big stockpot with the onion end cuts and set aside to make some luscious stock. If you don't have time to make stock immediately, just put the lot in a bag in the freezer, adding vegies, meat and herbs to the bag until you're ready to boil it all up.
Pat the chicken dry, inside and out, with a paper towel. With the chicken breast-side up, using your fingers and working from the chicken's ''bottom'' end, pull up the skin from the flesh and slide your fingers all the way up. Poke half the butter and some of the herbs up under the skin.
Squeeze the lemon halves over the chicken and rub the juice on both sides, retaining the lemon halves, then rub down with salt and pepper and the remaining herbs. Splay the chook and place in the roasting pan with the underside of the chicken on top of the onion and garlic, then place the lemon halves underneath and dot little chunks of the remaining butter over the top. Roast in the oven for 45 minutes, basting the chicken with the juices from the pan at 15 and 30 minutes.
To make the sweet potato casserole, lightly grease a small pie or baking dish using the oil, butter or ghee. Combine the sweet potato, almond milk, syrup, vanilla powder and salt, then pour into the baking dish. Toss the remaining ingredients in a small bowl, then sprinkle evenly over the top of the sweet potato mixture. Place in the oven when the chicken has about 25 minutes to go.
The chook will be ready when you poke a drumstick with a skewer and the juices run clear, not pink. When ready, remove the chook to an ovenproof serving dish, along with the garlic and lemon, then cover and leave in the still warm oven (you can turn the oven off). Place the roasting pan over medium heat and deglaze with the stock, vermouth or wine: bring to the boil, scraping the onions and fatty bits off the the pan. Add more liquid if you like, then reduce heat.
You can strain the sauce, but I prefer not to. Cut the chicken into pieces and serve with the garlic, lemon and sauce, along with the sweet potato casserole and greens.
Notes
Sweet potato puree:
4 sweet potatoes, peeled
2 tbsp olive oil
pinch of salt
Preheat oven to 175C. Put the sweet potatoes on a baking tray, then rub with the olive oil and salt. Bake on the middle oven rack until tender - about one hour. If you're short on time, cut into wedges and bake for 30 minutes. Puree with a stick blender or mash well by hand. Once cool, store in one cup batches in the freezer in zip-lock bags.
Solo cookers + foursome families: One large chook will make six portions. Once you've finished dinner, pull any remaining meat from the carcass and place in ½ cup portions in zip-lock bags in the fridge or freezer. You can use these to make Roast Chicken Gratin or My Anti-Anxiety Soup.
Sustainability tip: Any leftover sweet potato casserole can be reheated for breakfast, or as a dessert with yoghurt.
Roast dinner gratin
Serves 1
1 portion shredded chicken (use leftovers from crispy roast chook)
½ cup frozen peas
½ cup finely wedged pumpkin
¼ onion, sliced
½ cup cauliflower
⅓ cup grated cheese (cheddar, tasty or parmesan)
steamed greens, to serve
Preheat the oven to 180C. Spread the shredded chicken over the bottom of a lightly greased ramekin or ovenproof bowl. Cook the peas and lightly steam the pumpkin, onion and cauliflower (if using a double steamer, place the peas on the bottom a few minutes ahead of the other vegetables). Layer the cooked vegetables over the chicken. Sprinkle the cheese over the lot. Bake for about 15 minutes or until the cheese has melted and browned. Serve with steamed greens.
My anti-anxiety chicken soup
Serves 1
Chicken soup is good for the soul: it fixes colds, it's the meal brought to the infirm and it's an incredible relaxant. How so? The collagen released when you cook chicken bones (in particular) for hours feeds, repairs and calms the mucous lining of the small intestine. Our gut is our second brain and integral to our entire nervous system. Calm the gut, you calm your brain and body.
1 cup broth, made using chicken bones
½ zucchini, cut into 1cm dice
1 yellow squash, cut into 1cm dice
¼ cup diced swede
¼ cup shredded chicken (use leftovers from crispy roast chook)
handful of chopped herbs (parsley is particularly good for a dose of minerals)
freshly ground black pepper
Bring the broth to the boil, then reduce to a simmer and add the vegies. Cook for one minute, stir through the chicken and herbs and serve with black pepper to taste.
Note: Swedes, also called rutabagas, are a super-cheap and grounding root vegetable available in most supermarkets during winter. If you can't find one, use turnip or sweet potato.
Mango Weis-ish bars
Serves 4-6
Re-own these nostalgic summer favourites.
400ml can coconut cream
1 tbsp rice malt syrup
⅓ cup desicated coconut
1 frozen mango (pre-diced and frozen mango)
sprinkle of chopped macadamia nuts
Blend the coconut cream, syrup and coconut in a blender, or use a stick blender, and pour into ice-cream moulds until they're one-third full. Add a sprinkle of the macadamia nuts. Freeze for one hour. Add the mango to what is left of the coconut mixture and blend. Top up the moulds with the mango mixture, insert the sticks and freeze for at least four hours.
■ I Quit Sugar for Life, by Sarah Wilson (Macmillan, $34.99.)
■ sarahwilson.com.au
■ iquitsugar.com
Most Viewed in Entertainment
Morning & Afternoon Newsletter
Delivered Mon–Fri.