The Melbourne haunts that time hasn't touched
While cranes and scaffolding signal the relentless reshaping of Melbourne's skyline and streetscape there are still some points on the Melways that have for decades resisted the march of modernity. These shops, service stations and cinemas are time capsules, harking back to bygone eras before colour television, shopping malls and the digital economy.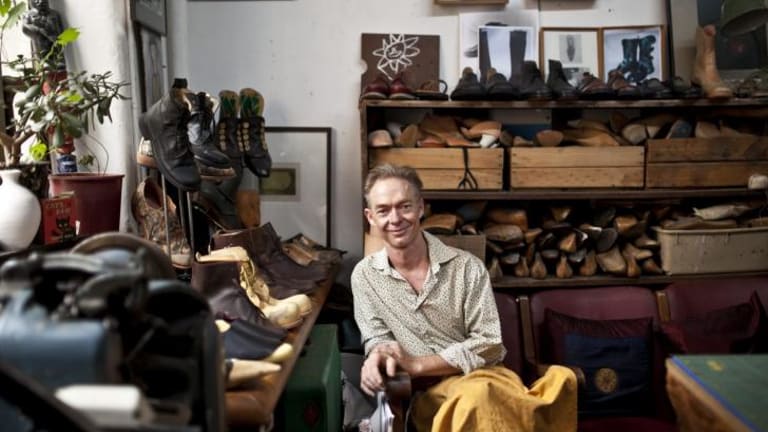 Some are heritage-protected. Others, often eateries or watering holes, are suburban institutions still enjoying a brisk trade. Then there are the quiet, unobtrusive ones, their chipped-brick, paint-peeled facades faded like a TaB Cola sign; creating no fanfare and, equally, asking for none.
They are reminders of simpler, warmer, times, all of them – but also, as Melbourne by Foot tour group owner Dave Carswell enthuses, illustrations of how far we've come.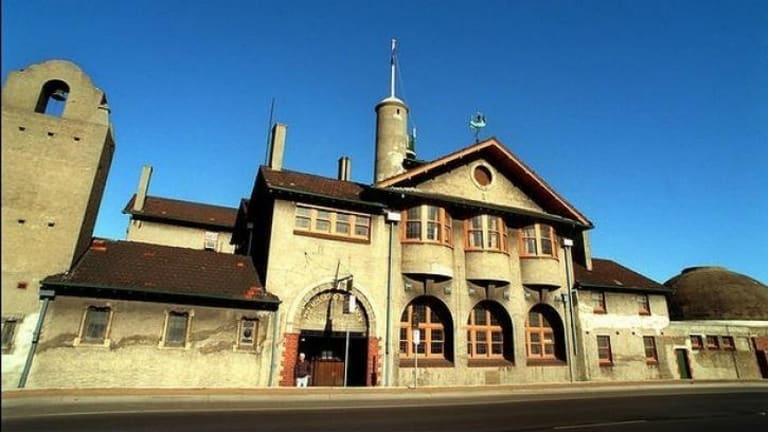 "From a very basic perspective, many of these places are only bricks and mortar, but they represent so much more," he says. "They detail our history; they show where we have been and what we have achieved as a city. And tourists enjoy the diversity in architecture and the contrast between new and old."
Carswell name-drops Young and Jacksons pub, Flinders Street Station, City Hatters and Pellegrini's espresso bar as some of the city's dinosaurs, but, as M discovers, broader Melbourne is scattered with many lesser known examples of time standing still.

RUSSELL HOUSE (AKA THE OLD CORNER SHOP)
Corner King and Latrobe streets, CBD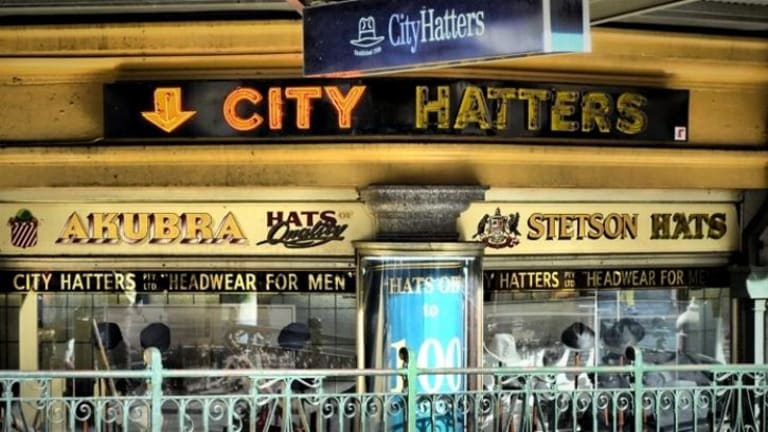 Built 1851; established 1899
The first thing that grabbed me was the smell of vegetable soup; so redolent of my nan's. That, and the unhurried nature of the elderly proprietor, George Dixon. He and his wife Lola, who has lived in the cottage her whole life, were theatre actors of some renown.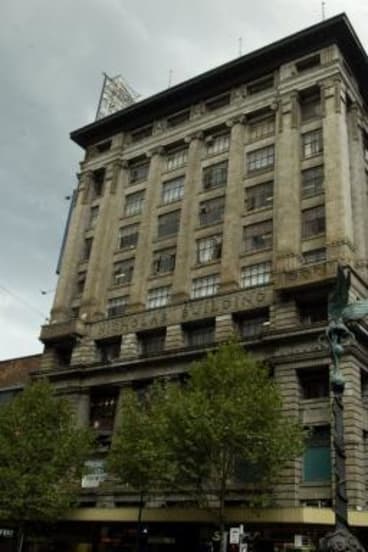 Killing time is rarely as much a pleasure as in this quaint, pre-Gold Rush-era tearoom so, as George, speaking in a clipped English accent, takes 10 minutes to wind up a phone call, I take in the interior – in such contrast with the controlled chaos outside: white, linen-topped tables; candles; old piano; shelves stuffed with brick-width books, jars and tins.
Eventually I'm led through to a cluttered living room straight out of a rural Irish village, which precedes a tiny kitchen with an archaic but indispensable wood-fired oven (a bedroom and bathroom are upstairs). George says although modern tastes have evolved – "We're in the Asian world now" – groups still drop in for their wholesome fare, which is sourced from the Queen Victoria Market, where they spend $200 on supplies each Thursday.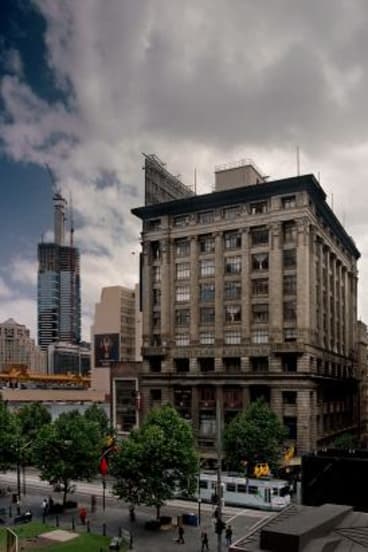 "Earlier this afternoon I had six students drop in for soup. We've our regulars, but it's these sorts that keep us turning over".

MISSION TO SEAFARERS
717 Flinders Street, Docklands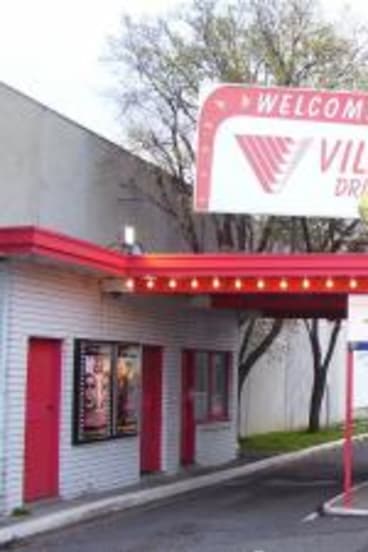 1917
"It's a delightful building with so much charm – but it's almost wilfully been neglected." So laments Mission to Seafarers CEO Andrea Fleming. The heritage-listed, dun-coloured building is an intriguing example of Arts and Craft architecture, but Fleming wants a spruce-up before its centenary year of 2017. "We aim to restore it as a living, working museum to help bring cohesiveness to Docklands: a developing suburb whose important maritime identity has yet to really be revealed."
This seafarers' home-away-from-home, which narrowly staved off demolition in the 1980s, now acts a spiritual and cultural hub housing all manner of mysterious nooks and crannies. The acoustic-friendly Norla Dome is a popular spot for exhibition and performance; the Spanish Mission-style chapel a warmly welcoming stained-glass relic in which a service is still held every Sunday. Outside, rays can be lapped up in the monastery courtyard, which opens into a peaceful garden (whose grass, donated from the MCG after last year's AFL Grand Final, is by far the newest feature).
Then there's the Flying Angel Club, replete with shiny nauticalia, arched windows, grand piano and maritime-themed walls. A small bar, dotted with global currency and assorted trinkets, does a steady trade. It's all very real and unpretentious; there's a sense of history here that cannot be forced.

NICHOLAS BUILDING
21-47 Swanston Street, CBD
1926
It's easier to people-watch in Swanston Street than to raise your eye levels to take in imposing, Greek Revival-styled Nicholas Building, so it's no surprise the 80-year-old palazzo has gradually lost its appeal. But step inside and you might just learn something; the place has myriad stories to tell.
The classic lifts remain (though its attendants finished up two years ago), as does the subway tiling and '50s-era mail chute. Traipsing the faintly musty floors, sensing the quiet determination behind the string of closed doors, brings to mind a school hallway. Creatives and makers graft daily beyond these doors; battling for relevance and against rent rises.
One is Brendan Dwyer, a bespoke shoemaker who has been on a month-to-month tenancy for 20 years. "The place is eclectic rather than a collective," he says. "It's gone from all kinds of makers to jewellers, designers and graphic designers; it's constantly changing."
Dwyer crafts durable footwear (turnaround time is generally two to three months but it can take up a year) for a diverse client base including fashionistas, theatre performers and students. "The success to my business is I keep it interesting. If I wanted to make money I'd just make men's business shoes."
Asked for his opinion of retail shops, he sniffs: "Consumers are getting exactly what they're paying for."

T. CAVALLARO & SONS
98 Hopkins Street, Footscray
1945
My backpacking years included a stint in Italy, but my knowledge of traditional Italian delicacies is, at best, limited; a fact confirmed when confronted with the variety of sweet morsels on offer at this tiny, ever-popular Footscray pasticceria, snugly situated among Hopkins Street's cluster of Chinese and Vietnamese markets, butchers and dripping-duck-in-the-window restaurants.
Help is at hand, however, in the form of a warm-smiling and aproned woman behind the counter. "Cannoli is our specialty," she says. The crunchy, sugary shells are fried in-house daily, and can be filled with your choice of ricotta, custard or chocolate. Or just get one of each. Other venerable offerings include rum baba, almond bread, crostoli, piparelli, and hand-crafted nougat.
My latte scalded a little (hey, this place serves them hot!) but served as a reminder not to rush; to indulge.
And you could do worse than pick up a little takeaway treat; each is presented in an immaculate little box that looks almost as good as the treat itself. Almost.

DANNY'S BURGERS
360 St Georges Road, Fitzroy North
1945
Here's a burger joint that does exactly what it says on the tin. The interior pays unforceful homage to the traditional American diner, with cherry-red barstool seating, '50s-era menu and iconic adverts, but, really, it's all about the delicious, home-style burgers: neatly constructed (an open burger is not a burger!) and with options sure to baffle the indecisive – single, double or triple patties with salad and sauce; no-frills optional extras at cost.
There's no high-end bourbon or wagyu here but Danny's has a loyal legion of youthful followers. One, whose garb (precariously perched grey beanie, full beard, tweed jacket, dark skinny jeans) is almost too entrenched in the hipster stereotype to be believed, says to a friend: "I'm in here once a week, at least." He holds up his burger like a trophy. "Tasty and fresh. And cheap."
He might sound like a living advert but he's right: for a double cheeseburger, huge mound of chips and large milkshake I got change back from $20. Order that at your latest made-to-look-vintage joint and see what you hand over.
Jim Wong Restaurant
259-261 Barkly Street, Footscray
1963
Like Whitten Oval just down the road (from whose AFL club it gains regular patronage), Jim Wong's Chinese restaurant has been a Footscray icon since opening in Barkly Street half a century ago. Its two clean and spacious rooms scream 1970s – think hot pink and cream walls and colourful paper dragons.
Then there's the menu; all the old favourites, including beef with black bean sauce, sweet and sour pork and lemon chicken, are here.
For Jim, it's about sticking to what he knows. "It's good food, old-fashioned – and no MSG," he says. And although his style of Chinese-Cantonese cooking is traditionally quite mild he's made some concessions in line with modern tastes: "People like it a bit spicier now".
Jim's seats up to 140 people, and on especially hectic nights – especially around Chinese New Year – full capacity is threatened. But as with the much-lauded Flower Drum, run by Wong's "friend and countryman" Gilbert Lau, customers are treated the same way – regardless of the difference in price. "Whether you are our customer or theirs, you'll feel like a king when you come out," Wong says.

COBURG DRIVE-IN
155 Newlands Road, Coburg
1965
The plight of the dying breed that is the drive-in is best demonstrated with numbers. At one time or another there have been 60 across Victoria; now there are three. Nationally, there are 20, down from a peak of more than 300.
Established in 1965, heritage-listed Coburg's is the youngest of the remaining Victorian trio (the others are the Dromana Drive-In, whose original 1961 screen is still in use today, and the 1956-born Lunar Dandenong), but it boasts the widest screen at 33 metres across. While second and third screens have been added over time, every effort has been made to preserve the drive-in's original look, through vintage signage that lines the Dodge Phoenix-topped ticket box entrance and the retro diner (booths, jukebox, pinball, laminated seats and tables, chequer-board floors).
While there has beensome modernisation – such as the option to SMS food orders from your car – you could be transported back to the 1960s and not skip a beat … except you'd be treated to Hitchcock's Marnie or episodes of McHale's Navy rather than Dawn of the Planet of the Apes.

ARTHUR KONIARAS HAIRDRESSER & TOBACCONIST
191 Gertrude Street, Fitzroy
Early 1970s
Arthur Koniaras has plenty to say. On multiculturalism. On choices made by the youth of today. On sex – and impressing the opposing gender. It's the latter the ageing Greek-born barber and tobacconist is most passionate about. "To get a good woman," he says, chiding my beard, "you need a clean look – and a good haircut!"
The grey-hair-slicked, ruddy-nosed ("too much rosé!") Koniaras – who has specialised in old-school cuts and close shaves since first opening on Gertrude Street four decades ago – is like the conservative-voting uncle you see once a year, who you hit with loaded questions for the entertainment value of the responses. His values are as entrenched in the '60s as the appearance of his shop. The candy cane-striped pole. Four smock-draped barber chairs. Widescreen mirror. Zippo lighters and hair cream from all over the globe. Nudie pictures and curled-up newspaper clippings on the walls.
While the place has a certain prestige, Koniaras himself isn't for the easily offended – and probably not for women in general – but rough-hewn blokes will find the $25 tag great value not just for the follicle trim, but for the no-punches-pulled history lesson.

HARRY'S FISH AND CHIPS
104 Middleborough Road, Blackburn South
Early 1960s
With authentic 1970s decor – down to the cracked faded-brown lino and large decorative wooden spoon and fork – and traditional fish and chips, Harry's brings to mind a scene from the summer of '79, with Ross Wilson on the radio and World Series Cricket on the TV.

JERRY'S MILK BAR
345 Barkly Street, Elwood
1964
Traditional milk bars are almost consigned to Melbourne's past, but some have morphed into smart, old-meets-new cafes. One is the kid-friendly Jerry's, whose 2011 makeover seamlessly blended the existing brickwork and signage and antique Peters ice-cream cones with remodelled booths, vinyl seats and mirrored walls. Could stake a claim to the Bayside's best spiders.

ANNA DRESSMAKER
171 Rankins Road, Kensington
1972
Frayed white linen cloth is draped across the front window, where a brown sign and 3-prefixed phone number hangs by a hook. The front door would better serve a bonfire. Inside there's an old sewing machine and an ironing board. While tree-lined Kensington gentrifies, seamstress Anna keeps on keeping on.

M & R CAR SERVICES
127 Moreland Road, Coburg
1970s
Prior to dropping by this humble servo, I read a forum querying whether "service" stations still exist. "There are no service stations anymore; just supermarkets and shops that sell fuel," one blogger stated. M & R Car Services is one of a dying breed in Melbourne: they'll fill your car; wash your windscreen; check your oil and water. "No one else around here does it," the smiling attendant says over the hum of an ancient bowser. "Business is good."


Most Viewed in Entertainment
Morning & Afternoon Newsletter
Delivered Mon–Fri.