Hipbone Sticking Out: Big Hart
July 3-6 The Playhouse, Canberra Theatre Centre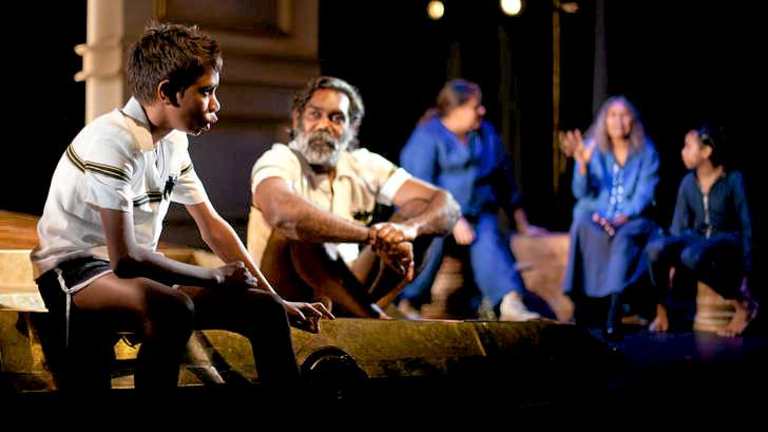 Bookings 6275 2700
Hipbone Sticking Out is a challenging piece of theatre with a confronting message at its heart. The work is set in Roebourne on the Burrup Peninsula in the Pilbara region of Western Australia, and the narrative builds around the death in a police cell of John Pat, an indigenous teenager whose death was a factor in the setting up of a Royal Commission into Aboriginal deaths in custody.
The focus is squarely on the consequences of European settlement, and the encroachment of European culture into that of the indigenous population. There is no effort to cover up or to massage the message. It is presented slap bang before us. There are many moments when one smarts with embarrassment at how history has unfolded. Much of the story is seen through the eyes of a Greco-Roman god figure, who transcends time, with a young and an older Pat looking back at their fate and that of their family.
At one stage Pat talks about life flashing before one's eyes at the point of death and Hipbone is a flash through centuries of history beginning in the 1600s with the arrival of Dutch explorers in Western Australia. It goes on to consider personal and societal tragedies associated with pearl fishing and mining in the region. Theatrically, Hipbone is complex in its use of stage effects, which include video footage, other projections and echoing sound to suggest the passage of time, along with a multi-level set. It uses irony, comedy and a touch of sarcasm at times. It slips back and forth between time zones and is not devoid of sexual allusion.
Hipbone is in two distinct parts. The first often uses exaggerated behaviour and dress to manage the issues raised; the second becomes simpler, focuses more on the present time, and is more didactic. The second part is perhaps more moving than the first, which is often loud and brassy. It often became difficult to hear the words of the script over other sounds, which included drumming and banging sounds. Often the voices of the actors had to reach the level of a screech to be heard. But despite this, and despite its fragmented approach, the whole moved along swiftly and smoothly.
Much was achieved with costuming and lighting to suggest, make allusions and comment. Hipbone sticking out is a rough translation of the indigenous name for the Burrup Peninsula. The area has thousands of examples of rock art dating back 30,000 years and references are made to this ''art gallery''. However, as one of the actors said in the final moments, there is no ending, and, despite its heritage value, the peninsula has yet to be named as a world heritage site. It is not secure from mining. Indeed, there is no ending.
Most Viewed in Entertainment