Union seeks 'major change' to how actors are paid
A long-running legal battle set to be heard in the Federal Court on Thursday could trigger a radical shakeup in the way performers are paid by small-to-medium sized arts companies.
The Media Entertainment and Arts Alliance has lodged an appeal on behalf of three actors after their attempt to convince a court they were employed under "sham" contracts was last year dismissed.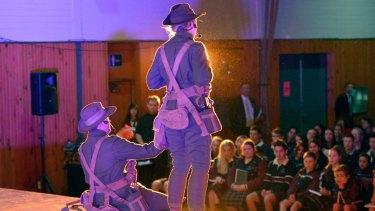 The performers worked for Melbourne-based production company Cultural Infusion between July 2014 and June 2015. The trio participated in a series of shows called ANZAC Centenary Roadshow: Victoria's Journey of Remembrance.
The production, which toured schools and RSL clubs, was funded by the Victorian government. Then-premier Denis Napthine even attended the opening performance at Patterson River Secondary College.
The Federal Circuit Court last year found the three employees, who had signed a 12-month contract with Cultural Infusion, were independent contractors and not casual employees as they had argued. Judge Anthony Kelly, who oversaw all three cases, found the applicants were contractors because they issued invoices, had the opportunity to workshop their lines and worked elsewhere.
But a MEAA spokesman argued the roadshow actors were for "all intents and purposes" casual employees.
"These people were employed for 12 months of regular work [with] between three to four shows a week, 20 hours a week," he said. "They were in the complete direction or control of the company."
The spokesman said the case could trigger major changes to the way small-to-medium performing arts companies hire actors and musicians. The union hopes a ruling in their favour will eventually result in a shift away from contracting to casual employment, which means workers are entitled to superannuation, workers' compensation, paid leave and overtime.
"In the creative industries, there are lots of people who work as freelancers," the union spokesman said. "While they may work as freelancers, they may spend years attached to a particular production such as a long-running musical or a film."
The union claimed in a statement on Wednesday that the three employees in question were dismissed after they "further questioned their employment status" after eventually receiving superannuation.
However, Cultural Infusion founder Peter Mousaferiadis said the actors were only ever on a 12-month contract and that he makes a point of paying actors above award-rates.
"This has been going on for four years now," Mr Mousaferiadis said. "The Fair Work Ombudsman made no determination as to whether the actors were employees or independent contractors and made the point that such a distinction needed to be made by a court.
"MEAA took this point to the Federal Circuit Court where the judge made a finding in favour of Cultural Infusion [in 2018] that the actors were independent contractors. MEAA is appealing this to the Federal Court as is their right.
"The matter is before the court and we are unable to comment further."
Thursday's appeal will be heard before Justice Michael Wheelahan at the Federal Court in Melbourne.
Broede Carmody is an entertainment reporter at The Age and The Sydney Morning Herald
Most Viewed in Entertainment