Who's your daddy?
Adults only satire Little Orphan trAshley is all in good fun.
It seems one person's idea of funny is another's personal insult, professional slight or infringement of copyright. Which is why Trevor Ashley's new show, Little Orphan trAshley, generated plenty of comment long before it made it to the stage.
Little Orphan trAshley was, for a while at least, trAnnie, and that alone was enough to raise the ire of the transgender community. More than 1000 people signed a Change.org petition calling for the show's cancellation. Rumour has it - and Ashley won't confirm either way - the copyright holders of Annie: the Musical weren't amused either.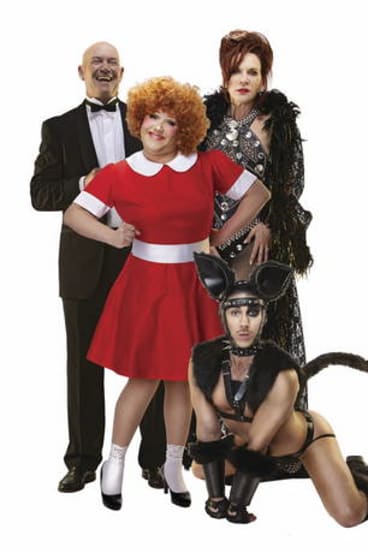 Neither was Anthony Warlow, who has recently made his Broadway debut in Annie playing the part of millionaire Daddy Warbucks.
"Put it this way," Ashley says. "A lot of people seem to have lost their sense of humour in recent times."
Ashley says he was never out to cause offence. Rather, it's all part of his mission to reinvigorate the tradition of the festive seasonal panto. But it's strictly for adults only.
His love of the form goes back to his childhood in suburban Bexley, he says. "My mum took me to all the pantos that used to play around that area. I've never really forgotten them. I love the fun of it.''
Conversations with performers Genevieve Lemon and Garry Scale filled Ashley in on the Tilbury pantos of the 1990s. ''I'd heard of them but had never actually seen one because the venue was all over by the time I was legally able to go into a pub," he says.
All of this inspired Ashley to create his first adults-only pantomime, Fat Swan, which played sell-out seasons in Sydney and Melbourne and is about to play in Brisbane.
TrAnnie/Little Orphan trAshley arose directly from its success. "We were kicking ideas around at the Fat Swan closing party. Annie was about to open [at the Lyric] and I thought it might be funny to make Annie a kid who wants to undergo gender reassignment surgery.
''The more I thought about it, the more I saw the potential to get political commentary into the show … and I thought it would be fun playing a child when you're obviously a grown man in a dress."
Little Orphan trAshley borrows from the Annie story, but then "goes completely sideways", Ashley says. "I start it at the Sutherland Shire Orphanage for Talented Children, which is run by Rhonda Burchmore as Miss Trannigan. She's my Sliding Doors version of what Rhonda might have become if she had never made it."
Ashley stars as little orphan Fannie, who escapes and finds her way to the Cross, which is where she meets her trusty dog (a former drug-sniffing dog in this case played by Rhys Bobridge), is captured by an undercover cop, and is eventually dispatched to the mansion of millionaire photographer Daddy Warhorse, who will be played by Gary Sweet.
A lot of people seem to have lost their sense of humour.
"I thought it was the most brilliant thing when Gary said yes to this," Ashley says. "I didn't even have a script to show him at that stage but he laughed his head off all the way through our chat and what with Rhonda and I being such big girls, having such a straight bloke around is hilarious."
LITTLE ORPHAN TRASHLEY
December 5 (preview), then December 6-23. Tuesday-Thursday, 8.15pm; Friday and Saturday, 7pm and 10pm; Sunday, 5pm, The Studio, Sydney Opera House.
TICKETS 9250 7777, $49-$79.
TRAVEL A short walk from trains, ferries and buses at Circular Quay, Opera House car parking, taxis to the door.
SHOW Adults-only panto from the writing team responsible for the hit Fat Swan.
STARS Trevor Ashley, Rhonda Burchmore, Gary Sweet, Rhys Bobridge.
Most Viewed in Entertainment
Morning & Afternoon Newsletter
Delivered Mon–Fri.