ABC probe into Q&A security fail
ABC management has launched a review of security and will make a formal apology to Education Minister Christopher Pyne after last night's Q&A program was disrupted by a noisy student demonstration.
The broadcaster was forced temporarily to suspend transmission when the protesters unfurled a banner over the set and began chanting "no cuts, no fees, no corporate universities" in protest at proposed changes to higher education funding.
"We are now reviewing our procedures to make sure we reduce that risk and the program does what it should do – provide an opportunity for citizens to ask tough questions and get answers from our politicians," said the ABC in a statement. "Illegible banners and chants aren't a substitute for intelligent debate.
"Q&A already identifies all audience members and puts together a representative audience based on voting intention but as we saw it only takes a small group to disrupt the discussion.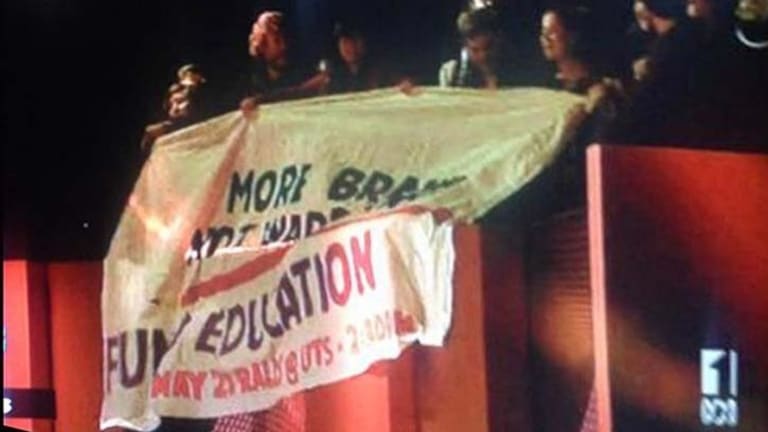 "We have already apologised on-air and after last night's program to the panellists and we will be making a further apology to education minister Christopher Pyne today."
Earlier Mr Pyne had taken two questions from university students who identified themselves as members of the Socialist Alternative.
One heckled the minister as he tried to answer questions about whether he'd like to see Australia's university system become more like that of the United States.
The ABC said Q&A afforded Australians a "valuable opportunity to question the politicians and others whose decisions affect their lives".
"Inevitably that creates the risk that someone will try and hijack Q&A to make a point," it continued. "This happened on Monday's program, despite a clear conversation with the audience prior to broadcast insisting on courteous and polite debate, respectful of others views.
"When the program was disrupted, host Tony Jones condemned the protestor's actions before the decision was made to suspend the live telecast."
During the interruption Mr Pyne joked to host Tony Jones: "Does this mean you won't have me again?"
The incident sparked ferocious debate on Twitter with messages both attacking and praising the students' actions.
Matthew Lesh, a spokesman for the Australian Liberal Students' Federation, condemned the protest.
"This demonstration displays the willingness of the extreme left to use disruptive and ferocious methods," he said. "Tonight's protests are an embarrassment to students, and do not in any sense represent the regular student body."
with AAP

Nick Galvin is a journalist with The Sydney Morning Herald
Most Viewed in Entertainment
Morning & Afternoon Newsletter
Delivered Mon–Fri.